At least four people have died as a result of flash floods in North and South Carolina, as the states endured a weekend of torrential downpours described as a "once in 500 years" weather event. 
Though Hurricane Joaquin veered away from the US East Coast at the end of last week, a separate storm system moved in, bringing with it the record-breaking rainfall. Floods engulfed the streets of historical central Charleston, in South Carolina, as the city's airport experienced its wettest day on record, with 11.5in of precipitation on Saturday. 
In Berkeley County, just north of the city, more than 18in of rain fell in 24 hours.
The local office of the National Weather Service described the situation as "extremely dangerous and life-threatening", in a flash-flood warning issued yesterday, which directed residents to move to higher ground.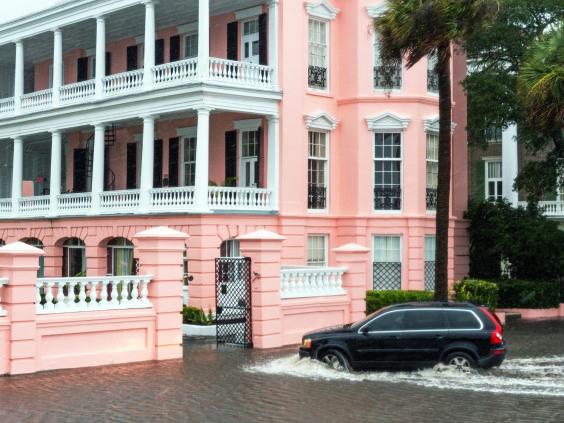 Three people were killed in weather-related traffic accidents in South Carolina, while a fourth died in North Carolina after a tree fell on their car. A firefighter who went missing during a rescue in Richland County was later found alive and clinging to a tree.
South Carolina Governor Nikki Haley had declared a state of emergency in readiness for the floods, telling residents of Palmetto state on Friday: "We are about to go through something we've never gone through before." 
President Barack Obama directed federal agencies to provide aid to the region. Though the floods were focused on the Carolinas, there was heavy rain on the East Coast all weekend.
"Swift-water" emergency rescue teams sprang into action across South Carolina, with some 37 people plucked from the floods in Charleston on Saturday night. In Columbia, the state capital, the teams made more than 50 rescues. Many victims could be reached only by boat. By Sunday morning more than 100 people had reportedly been rescued from vehicles as they tried to cross flooded roads in Richland County, which encompasses Columbia.
More than 29,000 were left without power due to the flooding. The rainfall, which began in earnest on Friday, was expected to continue through Monday and possibly beyond.
Reuse content