Google has released search results showing what was on the minds of Americans in each state in the tragic aftermath of the shootings in Virginia, in which two journalists were murdered by a former colleague.
The tech giant mapped the Google searches in the 12 hours after the shooting, to see which states were searching for 'gun control' and which were looking for 'gun shop'.
The results give a surprising insight into the thoughts of Americans in the immediate aftermath of the deaths of reporter Alison Parker and cameraman Adam Ward.
In the majority of states, 'gun control' was the most-searched term.
#guncontrol or "gun shop"? Which was more searched in each state in the 12 hours after the #VirginiaShooting pic.twitter.com/rtmLh9wpKF

— GoogleTrends (@GoogleTrends) August 27, 2015
However, in a significant number of states, more people were looking into gun shops.
Many of these states were in the south - in Mississippi, Tennessee, Kentucky, South Carolina and North Carolina, 'gun shop' was the more popular search.
However, there were some outliers to the stereotypical north-south divide.
In northern east-coast states like Philadelphia, Vermont and New Hampshire, 'gun shop' was the bigger search, as it was in South Dakota and New Mexico.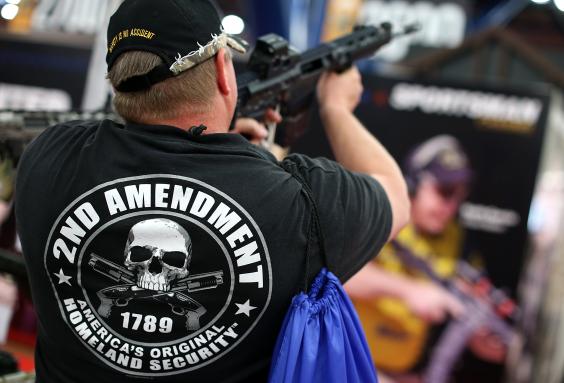 It's important not to extrapolate too much information from these searches. Only one state which searched more for 'gun shop' - New Mexico - makes it into the top 10 list of states with the most guns per capita, so the Google search map doesn't suggest any kind of divide between states according to the popularity of guns.
But it does provide an interesting insight into the national mood in the wake of a shooting that has thrust the issue of gun control to the forefront of American culture yet again.
The famous for and against US gun control
The famous for and against US gun control
1/29 Against: Robert De Niro

Despite the actor being a gun-wielding fast-talker, he told Daily Mail: "There should be more control. It has just gotten out of hand, how easily you can get guns."

2/29 For: Brad Pitt

"America is founded on guns. It;s in out DNA. It's very strange but I feel better having a gun."

Getty Images

3/29 For: Angelina Jolie

"Brad and I are not against having a gun in the house, and we do have one. If anybody comes into my home and tries to hurt my kids, I've no problem shooting them."

AFP/Getty

4/29 For: Johnny Depp

"When I was a kid it was a controlled atmosphere, we weren't shooting at humans - we were shooting at cans and bottles mostly. I will most certainly take my kids out for target practice."

Getty Images

5/29 For: Bruce Willis

"Everyone has a right to bear arms. If you take guns away from legal gun owners, then the only people who have guns are the bad guys."

Getty Images

6/29 For: Clint Eastwood

"I have a very strict gun control policy: if there's a gun around, I want to be in control of it."

Reuters

7/29 For: Whoopi Goldberg

"I'm an NRA member, as you know or probably don't know... I want to know that there's at least some way to prevent folks who are just getting out from mental institutions [from getting guns]."

8/29 For: Vince Vaughn

"Banning guns is like banning forks in an attempt to stop making people fat. Taking away guns, taking away drugs, the booze, it won't rid the world of criminality... I support people having a gun in public full stop, not just in your home."

Getty Images

9/29 For: Donald Trump

"Democrats want to confiscate all guns, which is a dumb idea because only the law-abiding citizens would turn in their guns and the bad guys would be the only ones left armed. The Republicans walk the NRA line and refuse even limited restrictions"

Getty

10/29 Against: Matt Damon

"I actually hate guns. They freak me out."

Rex

11/29 Against: Mark Wahlberg

"Well, I would love it if they could take all the guns away. Unfortunately, you can't do that so you hope that good people in the world have them to protect the people who can't protect themselves."

AP

12/29 Against: Sean Connery

"It is said that a total ban on handguns, including .22s, would take away innocent pleasure from thousands of people. Is that more or less pleasure than watching your child grow up?"

Rex Features

13/29 Against: Arnold Schwarzenegger

"I'm for gun control. I'm a peace-loving guy."

Lionsgate

14/29 Against: Sylvester Stallone

"Until America, door to door, takes every handgun, this is what you're gonna have. It's pathetic. It really is pathetic. It's sad. We're living in the Dark Ages over there."

Getty Images

15/29 Against: Susan Sarandon

"How much more suffering & loss will it take before we better regulate the sale of arms in our country?"

Getty

16/29 Against: Beyonce

Queen B was part of the Demand a Plan campaign against guns after Newton shooting, by appearing in a video alongside a bunch of celebrities.

AP

17/29 Against: Jamie Foxx

A Hollywood gang joined Beyonce in the campaign...

GETTY IMAGES

18/29 Against: Cameron Diaz

Took part in the Demand a Plan campaign.

Getty Images

19/29 Against: Jessica Alba

Took part in the Demand a Plan campaign.

Getty Images

20/29 Against: Jennifer Aniston

Took part in the Demand a Plan campaign.

Jason Merritt | Getty Images

21/29 Against: Jon Hamm

The Mad Men actor also appeared in the video...

22/29 Against: Reese Witherspoon

Took part in the Demand a Plan campaign.

Getty Images

23/29 Against: Ellen DeGeneres

Took part in the Demand a Plan campaign.

Reuters

24/29 Against: Julianne Moore

Took part in the Demand a Plan campaign.

25/29 Against: Selena Gomez

Took part in the Demand a Plan campaign.

GETTY IMAGES

26/29 Against: Peter Dinklage

The Game of Thrones also appeared in the video...

Getty Images

27/29 Against: Zooey Deschanel

alongside the New Girl star.

Getty Images

28/29 Against: Steve Carell

Took part in the Demand a Plan campaign.

Getty Images

29/29 Against: Gwyneth Paltrow

Took part in the Demand a Plan campaign, too.
Alison Parker's father, Andy, said it is his "life's mission" to tighten gun control in the aftermath of his daughter's death. "We need to do something about crazy people getting guns," he said.
The President has also weighed in, pointing out that guns killed more people that terrorism in the USA, but stopping short of addressing gun control measures directly.
As the murders continue to be discussed, the arguments on whether to make it more difficult for people to get guns will continue.
Reuse content