An Islamic centre that had one of its buildings burned down in a suspected arson attack has hit back at hateful comments on Facebook with a dose of kindness.
One of three buildings at Quba Islamic Institute in Houston, Texas, was set alight at 5am on Friday.
In pictures: the Chapel Hill shooting
In pictures: the Chapel Hill shooting
1/8 Chapel Hill shooting

Deah Barakat (centre)

2/8 Chapel Hill shooting

Deah Barakat posted this image to Facebook writing: 'Tonight we provided free dental supplies and food to over 75 homeless people in downtown Durham'

3/8 Chapel Hill shooting

A 46-year-old man, named by police as Craig Stephen Hicks, has been arrested on suspicion of three counts of first-degree murder

Chapel Hill Police

4/8 Chapel Hill shooting

Deah Barakat, pictured here with his wife Yusor, was a keen basketball player

5/8 Chapel Hill shooting

The victims of the shooting, from left to right: Deah Shaddy Barakat, 23, his wife Yusor Mohammad, 21, and her sister, Razan Mohammad Abu-Salha, 19

6/8 Chapel Hill shooting

Deah Barakat was a dental student at UNC who worked for a charity giving dental care to Palestinian children and refugees

7/8 Chapel Hill shooting

Deah Barakat and his wife Yusor at an American football match

8/8 Chapel Hill shooting

One of the victims, Razan Abu-Salha, pictured in a post by Deah Barakat describing her as 'the best third wheel ever'
It was not an accident that caused the $100,000 (£65,000) worth of damage, Houston Fire Department investigators said. Authorities said the incident could be deemed a hate crime.
As well as a flood of supportive messages and donations, some people believed that the centre deserved a few taunts and put-downs too.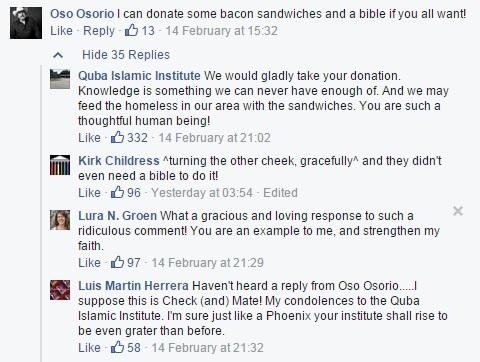 On the centre's Facebook page, one user going by the name Oso Osorio wrote: "I can donate some bacon sandwiches and a bible if you all want!"
But instead of showing any kind of hostility or anger, the imam's 25-year-old son Ahsan Zahid replied: "We would gladly take your donation. Knowledge is something we can never have enough of.
"And we may feed the homeless in our area with the sandwiches. You are such a thoughtful human being!"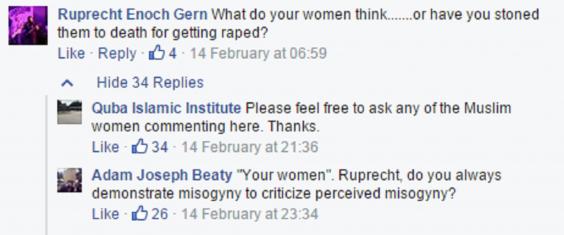 His replies to comments that were laden with intolerance and hate were praised by others as being graceful and successful in "turning the other cheek."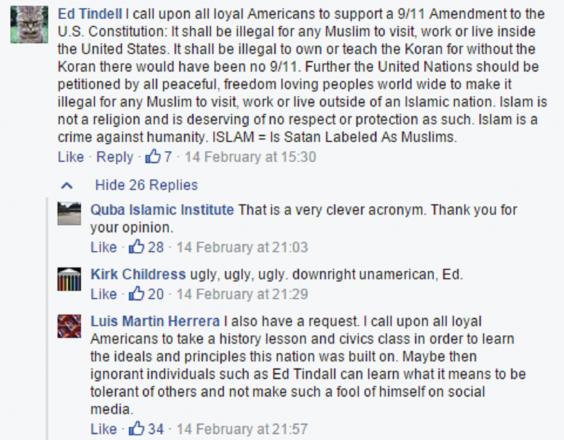 The fire incident, in which no one was hurt, happened days after three Muslims – newly-weds Deah Barakat and Yusor Abu-Salha, and her sister Razan – were shot dead in Chapel Hill, North Carolina.
The two-day gap between the events has sparked theories that the suspected arson is the latest attack amid a wave of growing Islamophobia currently being experienced in the US.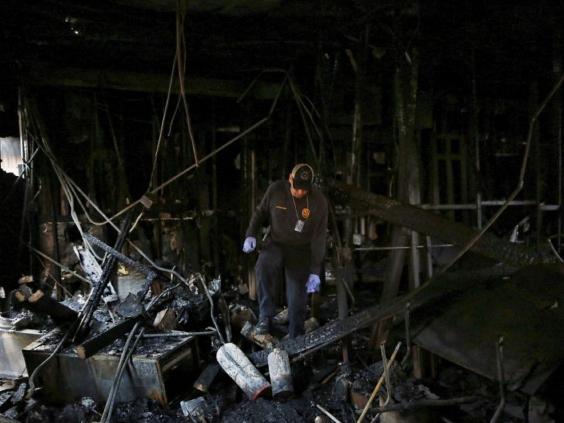 The building that was ruined in the blaze had stored computers and renovation materials that were hoped to be used to turn it into a family centre. It now stands charred and blackened with its roof having fallen in.
However, the centre is set to rebuild the destroyed unit with donations and words of encouragement received from people all around the world.
In a video posted today, Mr Zahid said: "I just want to take this opportunity to thank all of those hundreds and hundreds of people who have been so supportive of us through Facebook by posting beautiful comments of love, harmony, solidarity and support."
"What we have lost in that building is just material things, but these words that you have given us are priceless and they give us the strength to move forward, to pick up the pieces and make something better," he added.
Reuse content