The ex-fiancee of Steven Avery - the subject of Netflix's true crime series Making a Murderer - has said he is guilty.
Jodi Stachowski has given an interview to an American TV channel saying her support for Avery - who was convicted of the 2005 murder of photographer Teresa Halbach in Wisconsin - in the documentary was "all an act".
She told HLN she believed he was "not innocent" because "he threatened to kill [her] and [her] family and a friend of [hers]" in the past. 
When asked why he threatened her she said it was because "he was sick". 
Describing her former fiance as a "monster" she said she had asked documentary makers not to use footage of her in the programme and had not watched it. 
She said she had "never loved him", that he was abusive and claimed she drank rat poison to get away from him. 
She also alleged he had written her threatening letters from prison.
Avery was convicted of Ms Halbach's murder in 2007 just four years after he was exonerated for the 1985 rape of Penny Beernsten - a crime for which he was sentenced to 32 years in prison and served 18. 
He has always maintained his innocence over the murder of Ms Halbach - who was reported missing after she went to Avery's salvage yard to photograph a minivan for Auto Trader magazine.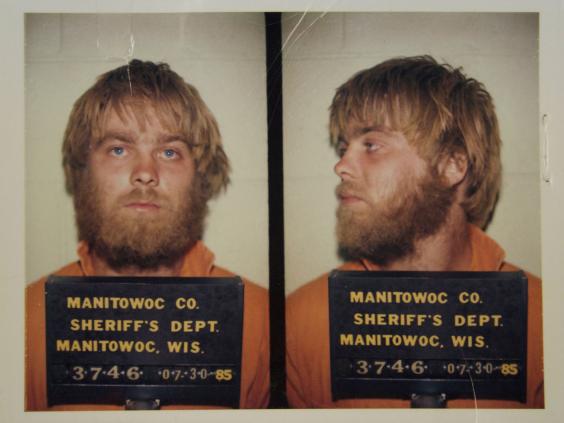 He has claimed that he was framed by the local Manitowoc County sheriff's office because he was suing them for $36m (£24.7m) over his wrongful conviction for the 1985 rape at the time of Ms Halbach's murder. 
He is currently serving a life sentence without the possibility of parole.
Ms Stachowski said he had never told her he committed the murder but he believed all women "owed him" due to his wrongful conviction. 
Timeline: Steven Avery's convictions
Timeline: Steven Avery's convictions
1/5 1985: Steven Avery is falsely convicted of raping a Penny Beernsten

She was jogging along the shore of Lake Michigan when she was threatened with a knife and attacked. Ms Beernsten identified Avery as her rapist from a line-up that did not include the actual attacker.

AFP/Getty Images

2/5 2003: Conviction overturned

Avery's 32-year prison sentence was overturned after DNA testing by the Wisconsin Innocence Project proved his innocence and found a hair from Gregory Allen. He was convicted of the rape and Avery was released.

3/5 2004: Avery files federal lawsuit against Manitowoc County police

A Wisconsin Department of Justice investigation found police had committed no criminal offences or ethics violations, sparking a lawsuit from Avery seeking $36 million compensation.

4/5 2005: Avery is arrested for Teresa Halbach's murder

His Avery Auto Salvage business was the freelance photographer's last appointment of 31 October. She was reported missing four days later and police later found her car, bones, teeth and belongings at the site. Avery pleaded not guilty but was sentenced to life in prison in 2007.

5/5 201: Netflix releases Making a Murderer

The 10-episode documentary came after Avery's conviction was upheld in a 2011 appeal.
She said: "He told me once, excuse my language, all bitches owe him, because the one that sent him to prison the first time.
"We all owed him and he could do whatever he wanted. Steven's the one person I can't trust … he's a monster." 
She said she wanted to recant the her claim in the documentary that investigators put pressure on her to turn against Avery saying "they were just trying to get to the truth".
Reuse content