The White House has said it cannot pardon Making a Murderer subjects Steven Avery and his nephew Brendan Dassey for their role in the 2005 murder of photographer Teresa Halbach after more than 100,000 people signed a petition demanding their release.
A petition on the government's We The People website called for the Obama administration to free Avery after the 10-part Netflix documentary series highlighted what it was said were serious flaws in the judicial process.
The Making a Murderer series scrutinised the details of the case and the claim by Avery's defence team that some of the evidence against him had been planted by the Manitowoc County sheriff's department in Wisconsin. 
Petitions that reach over 100,000 signatures on the US government's website automatically receive an answer, but in its official response to the 129,886 signatures the White House said it was unable to intervene as it was only able to grant pardons for offences committed "against the United States" as a whole and Avery's conviction was decided at state level.
The Governor of Wisconsin, Scott Walker, previously said he has not watched the programme and will not pardon Avery, saying he should use the court system to appeal. 
Timeline: Steven Avery's convictions
Timeline: Steven Avery's convictions
1/5 1985: Steven Avery is falsely convicted of raping a Penny Beernsten

She was jogging along the shore of Lake Michigan when she was threatened with a knife and attacked. Ms Beernsten identified Avery as her rapist from a line-up that did not include the actual attacker.

AFP/Getty Images

2/5 2003: Conviction overturned

Avery's 32-year prison sentence was overturned after DNA testing by the Wisconsin Innocence Project proved his innocence and found a hair from Gregory Allen. He was convicted of the rape and Avery was released.

3/5 2004: Avery files federal lawsuit against Manitowoc County police

A Wisconsin Department of Justice investigation found police had committed no criminal offences or ethics violations, sparking a lawsuit from Avery seeking $36 million compensation.

4/5 2005: Avery is arrested for Teresa Halbach's murder

His Avery Auto Salvage business was the freelance photographer's last appointment of 31 October. She was reported missing four days later and police later found her car, bones, teeth and belongings at the site. Avery pleaded not guilty but was sentenced to life in prison in 2007.

5/5 201: Netflix releases Making a Murderer

The 10-episode documentary came after Avery's conviction was upheld in a 2011 appeal.
Avery initially came to public attention after he was wrongfully convicted for the 1985 rape of Penny Beernsten. He was exonorated by DNA evidence in 2003.  
Two years later, Ms Halbach went missing on the same day she visited Avery's salvage yard to photograph a minivan for Auto Trader magazine. 
Avery was convicted of her murder and sentenced to life in prison without the possibility of parole but alleges Manitowoc County framed him.
At the time of his arrest for Ms Halbach's murder he had filed a $36m (£24.7m) civil suit against the department for his wrongful conviction for Ms Beernsten.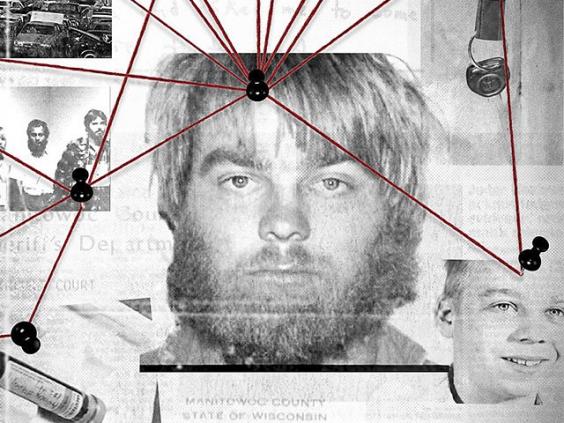 His nephew Dassey - who was 16-years-old at the time and has learning difficulties - was also sentenced to life in prison after he confessed to being Avery's accomplice.
He has since claimed he was coerced into confessing and has recanted his testimony. But the prosecutor, Ken Kratz, who convicted Avery alleged there were crucial pieces of evidence against Avery that were omitted from the Netflix programme and he was not given an opportunity to respond to the series' claims. 
Reuse content