A passenger on the New York subway was filmed giving his T-shirt and hat to a shivering homeless man.
Lazar Nolaco, a passenger on the Brooklyn-bound A train, filmed the act of kindness and uploaded it to Facebook.
Mr Nolasco told the New York Daily News the elderly man, who was sitting alone, didn't have a shirt on and his "body looked sick."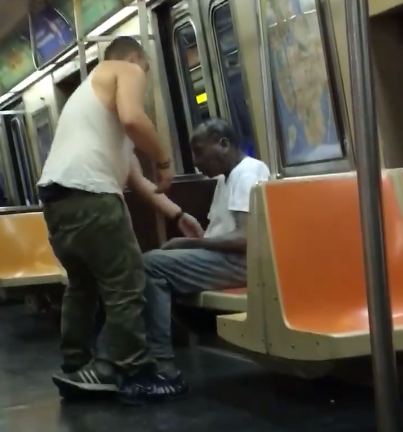 The man, who is unnamed and refered to only as Jay on the Daily News, can be seen shaking out his t-shirt and offering it to the shivering man. He then helps him to put it on.
A few moments later, the Good Samaritan returns with a black hat and puts it on the man as well. Mr Nolasco said that temperatures at night in Manhattan drop to near freezing at this time of year.
The video has been viewed more than nine million times and it has been shared more than 200,000 times on the social media site.
Comments on the video praised the generosity of the unknown stranger.
World news in pictures
World news in pictures
1/30 25 September 2016

A dog wipes out during the Surf City Surf Dog competition in Huntington Beach, California

REUTERS

2/30 25 September 2016

Indian folk dancers from the Panghat Group of Performing Arts perform during a dress rehearsal for an event to mark the forthcoming Hindu festival 'Navaratri', or the Festival of Nine Nights, in Ahmedabad

AFP/Getty Images

3/30 25 September 2016

An artisan hangs decorative pieces at a pandal, or a temporary platform, for the upcoming Hindu festival of Durga Puja, in Kolkata, India

REUTERS

4/30 25 September 2016

Runners take the start of the 43rd Berlin Marathon in Berlin

AFP/Getty Images

5/30 25 September 2016

The Five-hundred-metre Aperture Spherical Radio Telescope (FAST) is seen on its first day of operation in Pingtang, in southwestern China's Guizhou province. The world's largest radio telescope began operating in southwestern China, a project which Beijing says will help humanity search for alien life

AFP/Getty Images

6/30 25 September 2016

Australian knight Philip Leitch (R) has a floral basket on his helmet smashed by an opponent at the St Ives Medieval Fair in Sydney, one of the largest of its kind in Australia

REUTERS

7/30 25 September 2016

A security guard working at the Cascade Mall places flowers at a makeshift memorial in Burlington, to the five victims killed in a shooting at the mall. The 20-year-old man suspected of killing the five people with a rifle at a Macy's makeup counter had a string of run-ins with the law in recent years, including charges he assaulted his stepfather

AP

8/30 25 September 2016

A man works in a rice field where rice crop is planted in a shape which looks like a map of China, ahead of China's National Day, in Shanghai, China

REUTERS

9/30 25 September 2016

Law enforcement officials inspect a boat overturned on a jetty, off Miami Beach. Authorities said that Miami Marlins starting pitcher Jose Fernandez was one of three people killed in the boat crash the day before. Fernandez was 24

AP

10/30 24 September 2016

Syrians await to receive treatment at a make-shift hospital following air strikes on rebel-held eastern areas of Aleppo. Heavy Syrian and Russian air strikes on rebel-held eastern areas of Aleppo city killed at least 25 civilians, the Britain-based Syrian Observatory for Human Rights said, overwhelming doctors and rescue workers

AFP/Getty Images

11/30 24 September 2016

A fire broke out on a tanker belonging to the Mexican state oil company PEMEX, causing no injuries, according to a company official, in the Gulf of Mexico off the coast of Boca del Rio in Veracruz state, Mexico

AFP/Getty Images

12/30 24 September 2016

Participants attend a competition of the 2016 XTRAIL Expedition at Kanas National Geological Park in Altay, China's Xinjiang Uygur Autonomous Region

REUTERS

13/30 23 September 2016

Protesters march in the streets during another night of protests over the police shooting of Keith Scott in Charlotte, North Carolina

REUTERS

14/30 23 September 2016

Campaigners pose on a 'United To Stop Trump' cardboard wall in front of the Brandenburg Gate to urge Americans living abroad to register and vote in Berlin, Germany

REUTERS

15/30 23 September 2016

A man rests on his cart after unloading plastic jugs near a shop at a main market in Colombo, Sri Lanka

REUTERS

16/30 23 September 2016

Staff inspect the presentation before the Swiss Cheese Awards competition in Le Sentier, Switzerland. One hundred and fourty-two experts have to choose the best out of 777 cheeses from 353 producers competing in 28 categories

REUTERS

17/30 23 September 2016

Israeli settler bride Yael Levi (C) is surrounded by friends and relatives during her wedding ceremony at the plaza outside the Cave of the Patriarchs also known as the Ibrahimi Mosque, which is a holy shrine for Jews and Muslims, in the heart of the divided city of Hebron in the southern West Bank

AFP/Getty Images

18/30 22 September 2016

A South Korean army special forces soldier breaks bottles with his hand during the Naktong River Battle re-enactment in Waegwan, South Korea. South Korean Defense Ministry reenacted one of the important battles as part of commemoration events for the 66th anniversary of the Korean War

AP

19/30 22 September 2016

Women wait on a street in Pyongyang, North Korea

AFP/Getty Images

20/30 22 September 2016

A general view shows buildings destroyed during Saudi-led air strikes in the rebel-held Yemeni port city of Hodeida the previous day. Saudi-led coalition air strikes have killed 20 civilians in a rebel-held port city in Yemen, a government official said in a rare admission of a possible "error" by the alliance. The strikes came as Riyadh faces mounting international scrutiny over civilian casualties in its 18-month campaign against rebels in Yemen

AFP/Getty Images

21/30 22 September 2016

An Indian woman carries her belongings as she wades through flood waters following heavy rain in the low-lying area of Quthbullapur on the outskirts of Hyderabad. Rains that have caused heavy flooding around Hyderabad are expected to continue in the coming days, Indian meteorological officials said

AFP/Getty Images

22/30 21 September 2016

A protester, center, is taken into custody by Charlotte-Mecklenburg police officers in Charlotte. Authorities in Charlotte tried to quell public anger after a police officer shot a black man, but a dusk prayer vigil turned into a second night of violence, with police firing tear gas at angry protesters and a man being critically wounded by gunfire. North Carolina's governor declared a state of emergency in the city

AP

23/30 21 September 2016

A view of Sainte Marie neighborhood while a lightning strikes in the sea during an evening thunderstorm in the Haitian Capital, Port-au-Prince

AFP/Getty Images

24/30 21 September 2016

A student from the University of the Witwatersrand (Wits) is detained by South African police forces following clashes during a protest against the university fee increase in Johannesburg, South Africa

AFP/Getty Images

25/30 21 September 2016

A villager mourns outside his house after a landslide in Garut. The death toll from a series of landslides and flash floods in Indonesia climbed to 19, including several children found by rescuers scouring for survivors

AFP/Getty Images

26/30 21 September 2016

Somali women shout slogans during a demonstration against the maritime border dispute with Kenya on the rights for exploration and collecting revenue from oil discoveries in Mogadishu, Somalia

REUTERS

27/30 21 September 2016

A man carries an injured girl after airstrikes on the rebel held al-Qaterji neighbourhood of Aleppo, Syria

REUTERS

28/30 20 September 2016

A protester stands with his left arm extended and fist clenched in front of a line of police officers in Charlotte. Authorities used tear gas to disperse protesters in an overnight demonstration that broke out after Keith Lamont Scott was fatally shot by an officer at an apartment complex

AP

29/30 20 September 2016

An Israeli soldier kicks a Palestinian man as troops try to arrest him in the flashpoint city of Hebron, in the Israeli occupied West Bank. The man was named by family members, who witnessed his arrest, as Mohammed al-Kawasmi, 30, whom they said suffers from psychological troubles

AFP/Getty Images

30/30 20 September 2016

View of ash spewed by the Turrialba volcano in Cartago, 35 Km east of San Jose. The Costa Rican authorities suspended operations at the country's main airport after the nearby Turrialba volcano erupted, sending a thick ash cloud into the sky

AFP/Getty Images
Facebook user Andrea-Christina Nurnberg said: "You can't save the whole world, but you can make it for one human a little bit better. Bless them both."
Another viewer, Paula See, commented: "All I can say is NY is a tough tough city to live in! And unfortunately there are so many "lost souls" in it! Thank God for those who see them and help out the needy."
The conversation between the two men is not audible on the video, but Mr Nolaco heard Jay ask the man if he needed a shirt and if he wanted to go to hospital, which he answered "yes" to both, according to the Daily News.
"The guy did a good deed, so I wanted to record it," Mr Nolasco told the Daily News.
"I would tell him 'God bless him'. That's thoughtful," he added.
Reuse content