To get from Sunset Park in Brooklyn to Astoria in Queens -- two New York City neighborhoods only 12 miles apart -- would take 70 minutes today on the subway, and that's without delays. Or hop on the bus and it would take more than two hours.
The lack of efficient public transportation options between Brooklyn and Queens has long been a point of contention for residents in the city's two most populous boroughs.
But on Thursday, New York Mayor Bill de Blasio is set to propose a solution, a $2.5 billion streetcar plan that would connect Astoria and Sunset park -- and numerous neighborhoods in between, the New York Times reported. The streetcar would run along the East River waterfront, on tracks embedded in existing streets, coexisting with traffic.
Mr. de Blasio is expected to unveil the streetcar plan during his State of the City address on Thursday.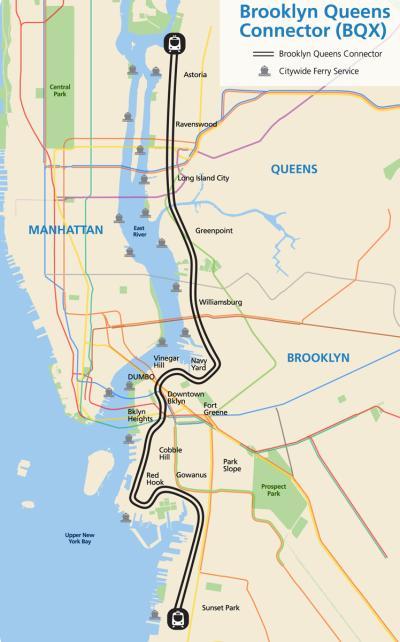 Far from a done deal, construction on the streetcar wouldn't begin until 2019, if it were approved. Service would be unlikely to begin before 2024. The Times reported that since it would be a street-level project, the streetcar would not need state approval. Gov. Andrew Cuomo and Mr. de Blasio have butted heads over many issues in the past year.
While $2.5 billion would dent the city's coffers, it's significantly cheaper than building another underground subway line, the report says, adding that the streetcar route would serve some 45,000 public housing residents and hundreds of thousands of New Yorkers.
In 2011, the city's Department of Transportation released a feasibility study done for a possible streetcar in the Red Hook neighborhood of Brooklyn, but that plan never came to fruition.
Streetcars have been popping up in cities across the United States, with varying degrees of success, but New York has the highest public transit usage in the U.S. by a wide margin, according to the American Community Survey.
Follow @PaytonGuion on Twitter.
Reuse content