The head of the women's health care provider Planned Parenthood has said she is proud of the organisation's provision of foetal tissue for research.
In her first appearance before Congress since the emergence of sting videos that claimed to show officials illegally offering to sell tissue recovered from aborted foetuses, Cecile Richards sought to take the initiative as many on Capitol Hill looked to shut off federal funding for her group.
And as an investigation in Missouri found no evidence that Planned Parenthood's St Louis clinic mishandled foetal tissue or engaged in unlawful activity, Ms Richards called for a probe into the anti-abortion activists, led by David Daleiden, who produced the video. Independent examination of the activists' videos have shown them to have been cut and edited.
"It is clear that they acted fraudulently and unethically — and perhaps illegally," Ms Richards said in remarks prepared for her appearance before the House Oversight and Government Reform Committee.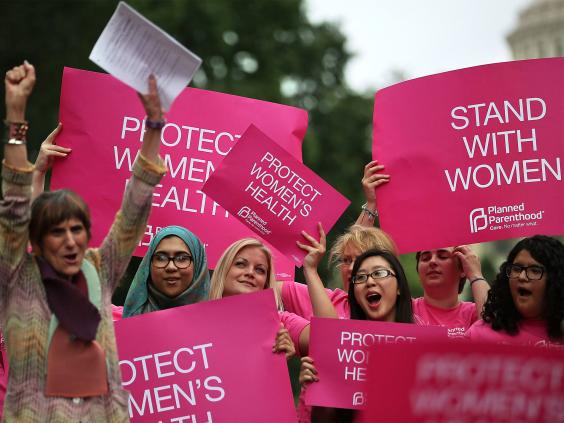 According to the Associated Press, she added: "Yet it is Planned Parenthood, not Mr Datelined, that is currently subject to four separate congressional investigations." 
Several Republican presidential hopefuls have condemned Planned Parenthood for the procedures. And conservatives' demands that Congress cut the group's federal payments — for which Republicans lack the votes to succeed — indirectly contributed to the unrest that prompted House Speaker John Boehner to announce his resignation last week. 
In her written remarks, Ms Richards said just one per cent of Planned Parenthood's nearly 700 clinics obtain fetal tissue for researchers seeking disease cures. She said that work is just a "minuscule" part of her organisation's services, which include sexual disease testing and the provision of contraception and abortions. 
"Planned Parenthood is proud of its limited role in supporting foetal tissue research," she said. 
Public opinion polls show the majority of Americans oppose blocking Planned Parenthood's taxpayer dollars. A USA TODAY/Suffolk University Poll found 65 per cent said funding should continue for the group while 29 per cent said it should be cut off. Sixty per cent of respondents in a Pew Research Centre poll said Planned Parenthood funding should be part of any budget agreement, with 32 per cent demanding that the government end support
Mr Boehner and Senate Majority Leader Mitch McConnell fearing voter anger, have rebuffed conservatives who would shut down the government if Mr Obama doesn't agree to halt Planned Parenthood's money. 
Reuse content