After touching down at Joint Base Andrews and greeting President Barack Obama, the Pope hopped into a much different vehicle from his usual white 'Popemobile'.
Waiting for the Pope on the tarmac was an all-black Fiat 500, which was dwarfed by the huge blacked-out SUVs that made up the rest of his motorcade.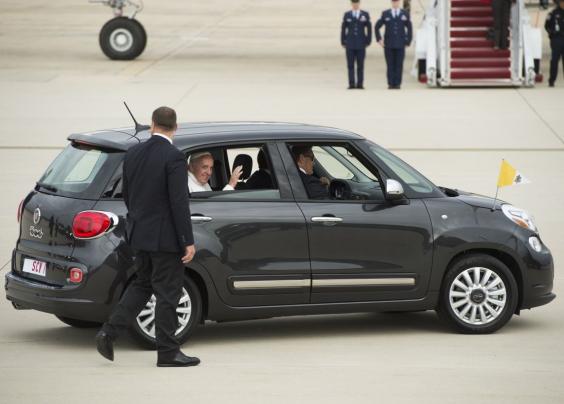 The Pope remained in the Fiat to travel to some of his first public engagements, bringing a little bit of Rome with him to Washington, where he will remain on an official visit until Thursday 24 September.
The most famous pontifical vehicle is the so-called 'Popemobile', which has appeared in various iterations over the years.
Pope has just climbed into a little Fiat 500 to leave the airport. All others are in massive 4x4 monsters. Brilliant. pic.twitter.com/OGfRZyIM0O

— Harriet Alexander (@h_alexander) September 22, 2015
Typically, it takes the form of a large vehicle with some amount of armour or bulletproof glass, often with a raised platform for the Pope to sit or stand on whilst driving through crowds.
However, today's Fiat 500 was understated in comparison, and brought some much-needed Italian flair to the pontiff's first visit to America as pope.
Reuse content