A teenager who shot and killed a student with a rifle and injured a teacher at a US high school on Tuesday morning, was later found dead in a bathroom, according to police.
It is believed the gunman had killed himself following the incident at Reynolds High School in Troutdale, near the US city of Portland, Oregan, police officers said.
Authorities had tentatively identified the gunman, but released neither his name, nor that of his victims, Troutdale Police Chief Scott Anderson said.
Anderson added that a teacher had suffered non-life threatening injuries and was treated at the scene.
The situation at the school was stable by around 9am, an hour the gunman fired shots Multnomah County sheriff's office said.
Special Weapons and Tactics teams were sent to investigate the school room by room, KGW-TV reported.
Police officers had cordoned off the area and did not allowing people to pass through. Fire engines were also at the scene.
During the incident, students were told over the intercom system that the building was in lock-down and to quietly go to their classrooms, according to eye-witnesses.
Pupils were then evacuated from the school with their hands on their heads to a nearby supermarket car park, where their parents waited to meet them.
Students inside the school during the shooting had texted their parents to alert them to the situation.
Daniel DeLong, 15, told reporters after the shooting that he saw a PE teacher at the school with a bloodied shirt.
"I'm a little shaken up," DeLong said, adding: "I'm just worried."
15-year-old Morgan Rose said she hid in a locker room with another student and two teachers. 

"It was scary in the moment now knowing everything's OK I'm better," she said.
One mother interviewed on TV said she had heard from her son inside the school that he was okay, but added that she was still worried.
The shooting comes after a lone gunman entered a small university in Seattle in early June, and shot and killed one person and injured two.
A 26-year-old suspect was being held without bail. Police said he had no connection to the university, but had allegedly planned to kill as many people as he could before turning the gun on himself.
Meanwhile on Monday, two officers were shot dead by a man and a woman in Las Vegas. The pair are believed to have links to the white supremacist movement.
Gun control is a fiercely divisive issue in the United States, where the right to bear arms is enshrined in the Constitution, alongside free speech and freedom of religion.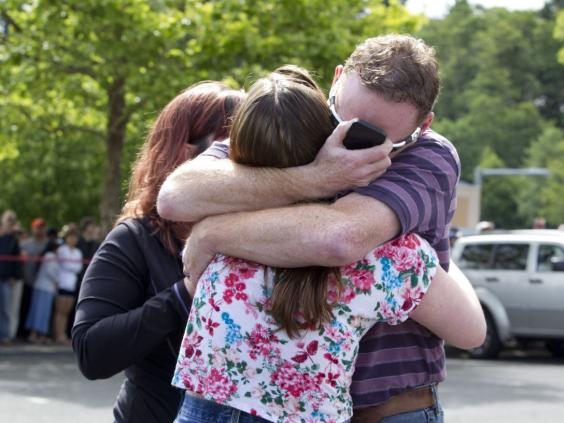 President Barack Obama's failed last year to introduced measures for broader background checks on gun purchases, along with proposals for a ban on military-style assault rifles and limits on ammunition capacity.
Pressure to tackle gun laws increased in December 2012, when 20 children and six adults were shot at an elementary school in Newtown, Connecticut.
During a question-and-answer session after the shooting on Tuesday, President Obama said his biggest frustration so far as President is that American society has not been willing to take steps to strengthen gun control, adding the US should be ashamed.

He added that there is no place else in the world where mass shootings are a once-a-week occurrence.

Citing the political strength of the National Rifle Association and gun manufacturers, he added that while he respects gun rights, he was stunned that Washington could not pass universal background checks despite the Connecticut shooting.

He added that the problem will not change until there is a fundamental shift in public opinion, which he said scares him as a parent.
Anyone who is struggling to cope can contact the Samaritans on their helpline: 08457 909090
Additional reporting by AP