President Barack Obama has revealed plans to greatly reduce the number of US forces in Afghanistan by the end of the year – seeking to end the US military presence in the Middle Eastern country by 2016.
In an attempt to turn the page on the occupation which started within a month of the 9/11 attacks in 2001, Obama said 9,800 American troops of the 32,000-strong current force would be kept in Afghanistan after the US combat mission formally ends later this year.
The fewer than 1,000 remaining troops would not engage in combat, but would be assigned with training Afghan security forces and focusing on counterterrorism efforts.
"We have now been in Afghanistan longer than many Americans expected," Obama acknowledged during an appearance in the White House Rose Garden. "Now we're finishing the job we've started."
Noting the complexity of the plans, Obama said: "It's harder to end wars than to begin them," he added.
But the move is likely to garner criticism at home. Before the address, Tony Blinken, Obama's deputy national security adviser, said that the US had allocated about $20 billion (£11.8 billion) on the continued military presence. Asked if such a cost was worth it, Blinken replied: "We want to complete the job that we started." At the same time, he said "we can't be in an endless war posture."
During his address, Obama described how American forces eliminated Osama bin Laden and prevented Afghanistan from being used as a base against the US.
Obama added that his timetable was contingent on the Afghan government signing a bilateral security agreement with the US, which Afghan President Hamid Karzai has refused to do.
However, the White House is optimistic that the two candidates seeking to replace him in the ongoing Afghan elections will finalize the agreement.
Senior administration officials said that Obama had called Karzai earlier on Tuesday to brief him prior to his announcement.
Obama also discussed his plans with several European leaders, including German Chancellor Angela Merkel, British Prime Minister David Cameron and Italian Prime Minister Matteo Renzi.
Germany and Italy have said they will continue as lead nations in the north and west of Afghanistan, and there has been some discussion that the U.S. would also have some troops in those areas to work with the allies.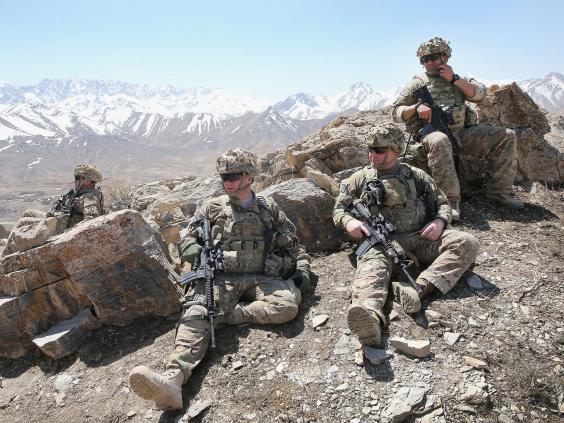 Obama announced the drawdown plan a day after returning from a surprise weekend trip to Afghanistan where he met with US commanders and American forces serving in the closing months of America's longest war.
Top Republicans criticized the plan before Obama had even announced it, taking issue with his decision to publicly declare that troops would be out of Afghanistan after 2016.
"President Obama is not ending wars, he's losing them," Sen. Lindsey Graham, R-South Carolina, a frequent critic of Obama's foreign policy, wrote on Twitter.
House Armed Services Committee Chairman Howard "Buck" McKeon, R-California, praised Obama's troop levels but questioned his timing and said that in Iraq he had "abandoned the region to chaos."
"Holding this mission to an arbitrary egg-timer doesn't make a lick of sense strategically,"McKeon said.
Additional reporting by agencies
Reuse content