The US' former ambassador to Russia has accused Donald Trump of emulating Vladimir Putin's "autocratic" style in his opening weeks in office.
Michael McFaul, who was Barack Obama's envoy to Moscow between 2012 and 2014, said the President's "warm statements" over his Russian counterpart were worrying.
"I know what kind of a leader Putin is and he's an autocratic ruler, so I don't want to see that replicated here," he told BBC Radio 4's Today programme.
"I'm not against getting along with Russia, I worked very hard to try to do that when I was in the Obama administration for five years, but getting along cannot be the goal of US foreign policy."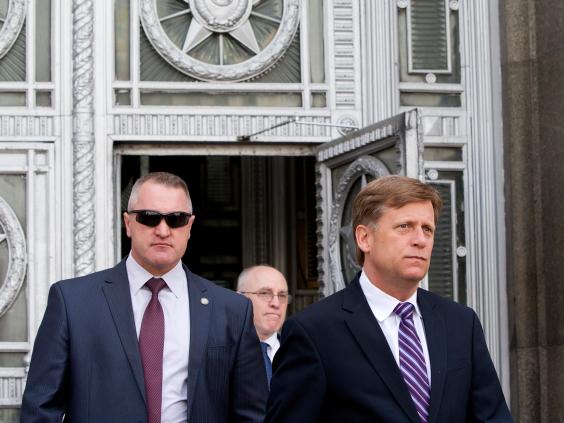 Mr McFaul, who was placed on the Kremlin's sanctions list and banned from entering Russia last year, drew comparisons between Mr Trump's conduct and that of Mr Putin during his first presidential term in the early 2000s.
"When [Mr Trump] calls the press the enemy, for instance, that reminds me of Vladimir Putin in 2000 when he declared that the press was the enemy and went after them," he said.
"When President Trump questions our rule of law, our judges, that reminds me of an earlier period of Russian history in the early Putin years when over time the judiciary became more subservient to the presidency."
But Mr McFaul, now a Stanford University professor, said he was optimistic that America's "democratic institutions are much more robust" than Russia's when Mr Putin's presidency started in 2000.
He pointed to a judge's suspension of Mr Trump's executive order banning migration from seven Muslim-majority countries and the national security adviser's resignation as encouraging signs of an independent judiciary and free press.
But Mr McFaul cautioned that people must remain "vigilant" as Mr Trump's aims towards Russia remain unclear as tensions over its backing for Syrian President Bashar al-Assad, involvement in the Ukrainian war and disputes with Nato continue.
Despite his complimentary statements towards Russia and vows to improve relations, the White House said the President was "incredibly tough on Russia" and would maintain sanctions, as well as demanding it deescalates violence in Ukraine and withdraws from Crimea.
Trump Inauguration protests around the World
Trump Inauguration protests around the World
1/14

Activists from Greenpeace display a message reading "Mr President, walls divide. Build Bridges!" along the Berlin wall in Berlin on January 20, 2017 to coincide with the inauguration of Donald Trump as the 45th president of the United State

Getty

2/14

An activist holds up a sign at the "We Stand United" rally on the eve of US President-elect Donald Trump's inauguration outside Trump International Hotel and Tower in New York on January 19, 2017 in New York

Getty

3/14

Protesters burn a U.S. flag and a mock flag with pictures of U.S. President-elect Donald Trump outside the U.S. embassy in metro Manila, Philippines

Getty

4/14

Filipino protestors hold placcards during a protest rally in front of the US embassy in Manila, Philippines, 20 January 2017. On the eve of President-elect Donald Trump's inaguration as the 45th president of the United States, Filipinos and Fil-Americans held a protest in front of the US embassy in Manila to denounce the incoming US president.

Getty

5/14

Hong Kong police officers and security guards look on as an anarchist protester belonging to the Disrupt J20 movement sits after using a heavy duty D-lock and motorcycle lock to chain himself to a railing at the entrance gate to the Consulate General of the United States of America in Hong Kong to protest the inauguration of United States President-elect Donald Trump, Hong Kong, China, 20 January 2017. Two activists were arrested and taken away by Hong Kong police during the demonstration.

Getty

6/14

A banner is unfurled on London's Tower Bridge, organised by Bridges Not Walls - a partnership between grassroots activists and campaigners working on a range of issues, formed in the wake of Donald Trump's election, which aims to build bridges to a world free from hatred and oppression.

Getty

7/14

Protesters chain themselves to an entry point prior at the inauguration of U.S. President-elect Donald Trump in Washington, DC, U.S.

Getty

8/14

Bridges Not Walls banner dropped from Molenbeek bridge in Brussels, Belgium, 20 January 2017, in an Greenpeace action part of protests Wolrd protest in solidarity with people in the US, the day Donald Trump sworn in as the 45th President of the United States.

Getty

9/14

A woman holds an anti-U.S. President-elect Donald Trump placard during a rally in Tokyo, Japan,

Getty

10/14

A Palestinian protester holds a placard during a demonstration against the construction of Jewish settlements in the occupied West Bank and against US President-elect Donald Trump, on January 20, 2017, near the settlement of Maale Adumim, east of Jerusalem

Getty

11/14

Banners on North Bridge in Edinburgh as part of the Bridges Not Walls protest against US President Donald Trump on the day of his inauguration

Getty

12/14

Russian artist Vasily Slonov (L) and his assistant carry a life-sized cutout, which is an artwork created by Slonov and titled "Siberian Inauguration", before its presentation on the occasion of the inauguration of U.S. President-elect Donald Trump, in a street in Krasnoyarsk, Russia

Getty

13/14

A woman holds a banner during a march to thank outgoing President Barack Obama and reject US President-elect Donald Trump before his inauguration at a park in Tokyo, Japan, 20 January 2017.

EPA

14/14

Palestinian demonstrators protesting this week against a promise by Donald Trump to re-locate the US embassy to Jerusalem

Reuters
The Russian government responded to the statement by saying it would not return Crimea to Ukraine, describing the occupied peninsula as "our territory" after annexing it in 2014.
Sergei Shoigu, the Russian defence minister, later reacted angrily to comments by his American counterpart James Mattis after he spoke of the need to negotiate with Russia "from a position of strength". 
"We are ready to restore cooperation with the Pentagon," he said. "But attempts to build dialogue from a position of strength with regard to Russia is futile."
The statement came just hours before General Joe Dunford and General Valery Gerasimov, the US and Russian chiefs of staff, were to hold talks in the former Soviet republic of Azerbaijan in the first meeting between the two countries' senior members of the military since Mr Trump was elected. 
The public dispute set the stage for an unexpectedly frosty meeting due later on Thursday between Russia's foreign minister and US Secretary of State Rex Tillerson, who was awarded the Russian "order of friendship" by Mr Putin in 2013. 
Mr Tillerson, who will meet Sergey Lavrov in the German city of Bonn, had close business ties with Russia through his former post as CEO of the oil giant Exxon Mobil.
The Secretary of State has yet to comment publicly on Russia's alleged meddling in the 2016 presidential election or its actions in Syria and Ukraine, which sparked continuing US sanctions against Moscow.
Revelations that former national security adviser Michael Flynn gave "incomplete information" over the contents of his phone calls to the Russian ambassador during the transition forced his resignation earlier this week.
Both Republicans and Democrats have called for an independent investigation into the scandal and whether it violated laws preventing civilians engaging in diplomacy.
Fresh allegations then emerged that members of Mr Trump's campaign team had "repeated contacts" with Russian intelligence officials during the year leading up to the November vote.
The President responded by accusing the "fake news media" of "going crazy with their conspiracy theories and blind hatred".
He tweeted: "The real scandal here is that classified information is illegally given out by 'intelligence' like candy. Very un-American!" 
The Russian government dismissed the allegations as "not based on any facts", despite deputy foreign minister Sergei Ryabkov previously saying there had been communication between the Russian government and members of Mr Trump's political team.
"There were contacts," he told Interfax in November. "We are doing this and have been doing this during the election campaign."
Hope Hicks, the spokesperson for the President's campaign, issued a denial at the time saying members "had no contact with Russian officials".