Just when you thought Chris Hadfield couldn't become any more or a Canadian national treasure, the retired astronaut has produced what he claims is "the most Canadian music video ever" to celebrate his country's birthday.
Canada was 147 yesterday, and the national holiday was marked with a host of festivities expressing people's pride at being part of one of the greatest countries in the world.
Hadfield first gained recognition on Twitter after an exchange with Captain Kirk (William Shatner), and later shot to fame with an extra-terrestrial tribute to David Bowie's Space Oddity.
That's quite a precedent to set for yourself – but his latest offering for Canada Day does not disappointment.
Writing on his official Facebook page, Hadfield said: "For fun this Canada Day, my brother and I set out to make the most Canadian music video ever."
Even the YouTube description is magnificently Canadian in tone, promising: "A polite song from two brothers who are just hoping your day is going okay."
Hadfield said the song was written by his brother Dave Hadfield, who describes himself on his website as a pilot, musician and wilderness traveller (not dissimilar from Chris himself, then).
Performing the acoustic guitar and lead vocal sections together, the brothers can be seen in the video enjoying a summer's day in Canada together playing hockey, having a barbecue and eating maple syrup.
In pictures: Why you wish you were Canadian
In pictures: Why you wish you were Canadian
1/12 Niagara Falls

The world's largest waterfall obviously straddles the US-Canadian border, but it is a truth universally accepted that the Canadian side gives you better views

2/12 Canada

They have moose. Even on their road signs

3/12 Canadian autumn

The amazing views aren't just confined to the Falls. They're everywhere - particularly with the spectacular displays of autumn colour

4/12 Ryan Gosling

Ryan Gosling. He's the hottest thing in Hollywood and he's a Canadian. Move there and, well, you never know…

5/12 Playful bears

The majestic beasts are one of Nature's great survivors - and they love to join you on a run (for added motivation)

6/12 Pancake maple syrup

Just look at that. Maple syrup and pancakes is the Canadian breakfast made for kings. Now pass me the bacon

7/12 Mounties

Where but Canada could law and order be enforced by men and women dressed in scarlet tunics, midnight blue breeches, oxblood riding boots, brown felt hats and brown gloves. On horses

8/12 Rob Ford

While we're stuck with Boris, Toronto has a colourful, crack-smoking mayor who has refused to resign, been to rehab and is out again and campaigning for another term in office

Reuters

9/12 Northern lights

Normally to see the Northern Lights you have to troop off to some tiny remote country like Iceland with little else to offer (though Iceland is, actually, a wonderful country in its own right). Not so with Canada - where the display is a bit like an incredible added bonus

10/12 Skiing

Canada has some of the finest skiing available in the whole of the Americas, and they are fantastic at winter sports. Don't have a skiing holiday next year, have a Canada holiday

11/12 Polar bears

Polar bears are extraordinary creatures generally out of reach for those who would love to see them in the wild. Not in Canada, though

12/12 Better cities

Canadian cities are brilliant, and as a whole perform superbly well on the authoritative Mercer Quality of Living Survey. Five Canadian cities make the top 30 cities in the world, including Toronto (pictured). Compare that to the UK's best offering London, in 39th place.
But it's the lyrics that really conjure up a sense of national pride – called "In Canada", the song describes how the country has "big cities but a lot of trees and rocks", "cold winters", pronounces "the letter R like we're pirates" and has a "golden rule" of politeness at all times.
The lyrics and chords to the song have also been posted on Dave Hadfield's website, so fellow Canadians can have a go at emulating the adventurous brothers.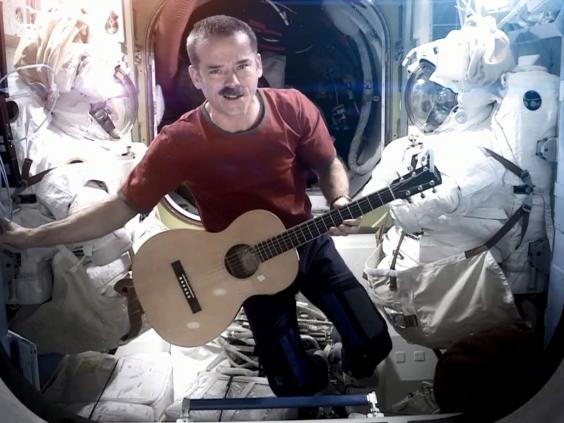 CTV News reported that it has been a big week for Chris Hadfield, who flew with the Snowbirds (the Canadian equivalent of the Red Arrows) during Canada Day festivities in Ottawa the day after it was announced he will become an officer of the Order of Canada.
The former commander of the International Space Station now has more than 1.1 million Twitter followers, and his Space Oddity video was viewed more than 22.4 million times before his one-year licensing agreement for the song expired.