It is a pretty average wedding snap. The bride, perhaps cold in her dress given the snow that surrounds her, is looking away off camera at a second photographer. Another woman, on the right, is pushed out of frame, and the group's legs have been cut off. Only one person – a young man wearing a bowtie and a neat side-parting – looks directly at us.
For 13 years, Elizabeth Stringer Keefe has looked back into this man's eyes, and the scene in the photograph, without knowing who he or anyone else is, or where they are. Yet, folded neatly inside her favourite book on a shelf at her home in Boston, the scarred and torn document has become one of her most treasured possessions.
"Sometimes I would check on it just to make sure it was still there," she tells me by phone. "I've always had the same feeling about it; for me, there is something very familiar about these strangers. And there's so much joy in the photo, which is in such striking contrast with what I saw at Ground Zero."
But, she adds: "I've always tried very hard to resist putting a story to the photo, because I didn't want to presume that everyone in it was dead."
Thirteen years ago, it would have been understandable for Keefe to have feared the worst. In the weeks after the attacks on the World Trade Centre in New York, she had travelled to the city to visit an old friend, Jennie. They, like anyone in Manhattan at the time, soon found themselves drawn downtown, where the planes had struck.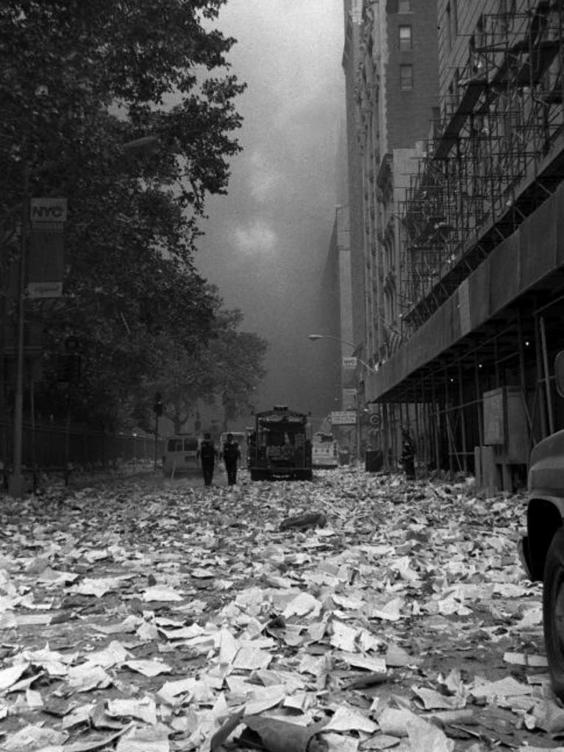 "It was about the first week of October," Keefe recalls, "and I remember what was so striking was that the site was still burning. Everything was grey from the ash, and there was still the smoke and the smell. It was incredible."
When they returned to Jennie's apartment, she showed Keefe a photo that she had discovered in the debris during her first visit to the site, days after the attacks. The bulletin boards and shrines that would become a focus of mourning and hope had not yet appeared, so Jennie had taken it home. "But she was planning to move to California," Keefe says. "So she gave me the photo with the request that I do something meaningful with it."
Keefe, who is an assistant Professor of Education at Lesley University in Boston, immediately decided she would try to find the people in the picture. She started by scouring victims' websites. No luck. She sent emails and made phone calls, but while countless personal items would be recovered, identifying bodies was still the priority. Many of these objects remain unclaimed, including letters, mobile phones and a red teddy bear now on display at the new National 9/11 Memorial Museum.
Soon Keefe, now 42, developed a routine that she repeated for more than a decade. She kept the photo inside her favourite book, a first edition of Ernest Hemingway's A Moveable Feast, his Paris memoir, between the pages that carry the following line: "You knew there would always be the spring, as you knew the river would flow again after it was frozen. When the cold rains kept on and killed the spring, it was as though a young person died for no reason."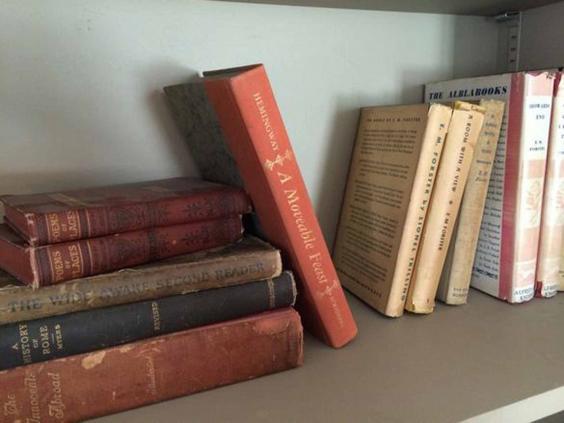 "That quote had always resonated with me," says Keefe, who collects first editions of the American writer's works. "It's such an incredible analogy because 9/11 was such a senseless thing. It seemed like a fitting place to put the photo – somewhere I couldn't forget about it."
Each year, as the anniversary of the attacks approached, Keefe would retrieve the book from its shelf and renew her efforts to solve the mystery. A loyal group of followers faithfully helped spread her net wider, but she never made progress. By 2008, she had joined social networks including Twitter, yet still had no leads. In 2011, the 10th anniversary of the attacks, she circulated the photo on the 11th of every month. "I always hoped that it was a message in a bottle, that I would throw it out there and wait," she says. "And year after year, it never happened."
Every time she looked at the photo, Keefe felt somehow closer to the people in it, particularly the man who stared out at her. Her husband, with whom she has three children, aged four to seven, supported her mission, which they talked about each year. "I think he doubted whether I would find them," she says. "He was also concerned about what would happen if I did, and that it would be devastating."
Last Thursday night, at 11:24 on 11 September, after a fruitless posting on Facebook, Keefe tweeted as usual: "Every year on #911 I post this photo hoping 2 return 2 owner. Found at #groundzero #WTC in 2001. Pls RT." On Twitter, "RT" means retweet. As more people do so, the audience for a tweet can grow exponentially: it goes viral. In less than an hour, as thousands were struck by the photo's poignancy and mystery, Keefe realised something was different.
"I was getting these alerts from a website that tracks things trending on Twitter," she says. "First they said, you're trending in Boston, then you're trending in New York City. Then it was Washington DC, Miami, Vegas, LA. I was glued to my computer watching this happen. Then it was Canada, the UK, Australia, New Zealand. It was shocking. I never even went to bed."
Soon people were replying with suggestions, many of them morbid. One thought that the woman on the right-hand edge of the image bore a resemblance to a victim featured at the Cantor Families website (Cantor Fitzgerald lost 658 employees in the attacks, two-thirds of its workforce). "I emailed the website but was wary of starting up anything painful for families in the event that this wasn't them," Keefe says.
Soon after lunchtime on Friday, more than 12 hours after her first tweet, Keefe, exhilarated by the help she was finally getting, received an email. A man called Fred Mahe in Eerie, Colorado, had been alerted to Keefe's search by a friend in New York. Mahe had already replied to her tweet, but she had missed it in the deluge. "The email said: 'I know the people in the photo. Call me'," Keefe recalls.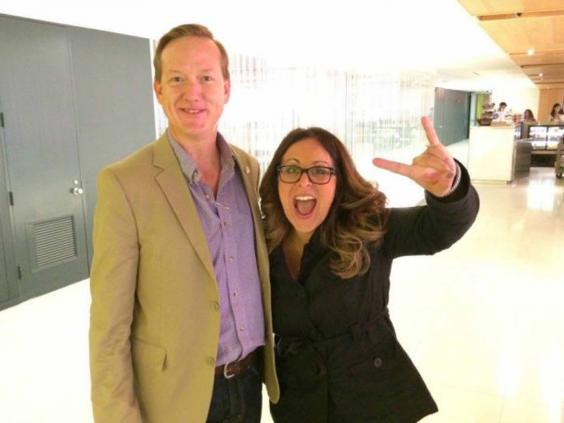 She phoned Mahe straight away. "The first thing he said was, 'You are awesome'." Mahe then told Keefe that he not only knew the people in the photograph but that it was his photograph, and that he was the man looking at the camera – the man she felt she knew so well. Moreover, everyone in the picture was alive and well. "I immediately started crying, it was just so overwhelming," Keefe says. "Then we had this wild conversation, trying to piece it all together. I just remember feeling so excited and thrilled that there was going to be a happy ending."
Mahe, an effortlessly nice man who signs off his emails "Make it a great day!", lived and worked in Manhattan at the time of the attacks. "It was the best office I ever had," he tells me from his new home in Colorado, where he now works for a software company. "I was facing south, looking over New York Harbour through floor-to-ceiling windows, up on the 77th floor of Tower 2 of the World Trade Centre."
Mahe, now 43, had pinned the picture on the wall beside his desk, alongside other snaps of family and friends. The wedding had taken place in March 2001, in Aspen, the Colorado ski resort. Mahe had gone to university with the bride, Christine, who was marrying Christian Loredo, and had been on the trip during which the couple had got engaged. Mahe had asked a friend to take the picture. "I put it on my wall there in my office, because I thought it was such a great photo of everyone," he says.
When United Airlines Flight 175 hit Mahe's tower, directly above his office, he was still on his way to work. He emerged from the subway station soon after 9am, and would spend the following two days at Ground Zero. "I saw one of the airplane tyres, all of it," he recalls. "A lot of us were lining up to go and do search and rescue but we didn't know then that it was burning 2,000 degrees in there."
Shocked and grieving for an unknown number of colleagues (he would later learn that his company, Baseline Financial Services, had lost four employees), Mahe was not thinking about the things he had left at his desk. "Months later I got a call from City Hall to come and collect a paycheck stub that was half-burned and a frequent flyer card, but otherwise I didn't think about it, and I didn't think about the photo."
Then, 13 years later, there it was, having survived the flurry of paper and debris blasted out of his building, and now being shared by millions of people around the world. "I never would have thought it," he says. "9/11 changed me. I saw the worst of humanity, the gates of hell open. But on 9/12, as I call it, we saw the best of humanity. And that's the coolest part of this story, that Elizabeth has persisted for 13 years to try and get this photo back to the people in it, to find out if they were dead or alive and get some sort of closure."
The Loredos – the bride and groom – were equally surprised to see the photo. They live in California, where Christian works in Silicon Valley. "I had no idea Fred had even posted that picture up on his wall," she tells me. "That was really special." Christine had been working in Washington DC on 9/11. Her office near the White House was evacuated when the Pentagon was hit. "There were so many people I was worried about that day, including Fred," she says. "I think we heard he was OK the following day."
Christian adds: "Any time 9/11 comes around, there's a natural sense of feeling loss and coming together. In this case it's great that we can be part of a story that is positive."
As the weekend rolled on, Mahe, who is now married and has two young children, spoke to Keefe several more times, developing the bond he never knew they shared. They talked about spending Thanksgiving together. They live almost 2,000 miles apart, but on Sunday night they returned to New York City to meet, after a news network invited them to appear on its Monday morning TV show.
Keefe carefully packed her book in her suitcase, and realised that night that Mahe was in the next room in their hotel. "We decided we wanted to wait till morning, so we spoke on the phone, in next-door rooms, catching up and filling in the details of life," she says. "Our kids' names, our schools, and we talked about 9/11 and '9/12'."
Yesterday morning, they bumped into each other in a corridor at the TV studios, minutes before they were live on air. "It was sort of surreal, and we only had time to say hello and hug, but I feel like I've known Fred since I found his photo," Keefe says, alongside her new friend back at their hotel. "We didn't get to talk until afterwards, and it's still been a frenzy."
On Saturday, Mahe said he wondered if the wedding photo wasn't already in the best place, a sentiment that made Keefe cry when I conveyed it to her. Where is it now? "It's still with us here," Keefe says in New York, before her flight home. "I'm going to give Fred the book with the photo in it, and he's going to take it home to show his family. And after that – and we've talked about this a lot – we both feel that the photo belongs in New York, in the 9/11 museum. It's a symbol of such community perseverance and that message is so aligned with 9/11, and 9/12, that it feels right to leave it here as a symbol of strength and hope that endures way beyond this event."
Reuse content