Republicans in South Carolina hoped they'd make it to voting day without disturbing the state's most gnarly scab, the proper place for the Confederate flag. After a mass shooting in a black church in Charleston in June it was removed from the grounds of the State Capitol in Columbia. That was that.
But as the candidates for the Republican nomination wooed voters all across the Palmetto State ahead of Saturday's primary election, the fate of the rebel banner was always simmering just beneath the surface and finally burst into the open in the final hours before voting as an outside political action group, or super PAC, unleashed a tirade against Donald Trump accusing him of supporting the flag's removal.
The barrage of radio spots on Friday and direct taped-message phone calls, known as robocalls, to about 180,000 homes came courtesy of the Courageous Conservatives PAC, which has been supporting Senator Ted Cruz of Texas, just as he was showing signs of catching up with Mr Trump in the state.
"People like Donald Trump are always butting their noses into other people's business," an announcer says over ominous music.  "But Trump talks about our flag, like it's a social disease."   It included small snippets of Mr Trump answering a question about the flag.  "Put it in a museum," he is heard saying. "Let it go."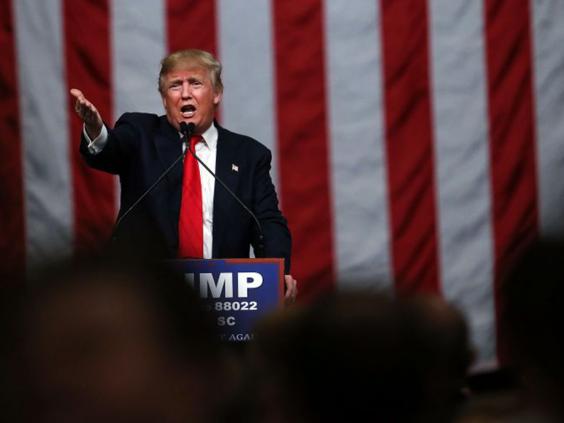 Ironically, it is to Mr Trump in particular that South Carolinians angered by the flag's removal from a memorial outside the Capitol building have mostly flocked.  The lowering of it, after a contentious vote in the state legislature, came in July, one month after a white supremacist opened fire inside a historic black church in Charleston, killing nine people at a Bible class, including a State senator and a pastor. 
In spite of his comments about the flag, Mr Trump has drawn his supporters in part with his derision of political correctness, which defenders of the flag precisely blame for its demise. A survey by Public Policy Polling last week suggested that 70 per cent of his supporters disapprove of flag's removal. Proponents of it saw the flag as symbol of bigotry that had for decades cast shame on their state.
Among those who see it differently is Edwin Darrell Sanders, 60. "That was part of our history that really has nothing to do with political incorrectness," he said, attending a Trump rally in Myrtle Beach on Friday. "I wasn't opposed necessarily to the flag going down, but what I object to is everyone running it into the ground. The flag doesn't stand for racism, it stands for the Confederacy."
In pictures: US Elections 2016
In pictures: US Elections 2016
1/15

Democratic U.S. presidential candidate Bernie Sanders speaks to supporters after rival candidate Hillary Clinton was projected as the winner in the Nevada Democratic caucuses

Reuters

2/15

Democratic presidential candidate Hillary Clinton takes photos with workers at her campaign office in Des Moines, Iowa

AP

3/15

Republican presidential candidate Mike Huckabee, second from left, prays before lunch with supporters at Drake Diner in Des Moines, Iowa

Reuters

4/15

Democratic presidential candidate and former Maryland Governor. Martin O'Malley, speaks during a campaign stop in Waterloo, Iowa

AP

5/15

Democratic presidential candidate Bernie Sanders speaks, as his wife Jane O'Meara Sanders looks on, at a campaign event at Iowa State University

Getty

6/15

Republican presidential candidate Marco Rubio speaks at St. Ambrose University in Davenport, Iowa

Reuters

7/15

Republican presidential candidate Ben Carson speaks at a campaign event at Fireside Pub and Steak House in Manchester, Iowa.

Getty

8/15

Republican presidential candidate Rick Santorum visiting supporters at a house party in West Des Moines, Iowa

Reuters

9/15

Republican presidential candidate Donald Trump at a campaign event in Cedar Rapids, Iowa

AP

10/15

Republican candidate Ted Cruz campaigns at Greene County Community Centre in Jefferson, Iowa

AP

11/15

Senator Rand Paul speaks during a Caucus rally at his Des Moines headquarters in Iowa

Getty

12/15

Republican candidate Jeb Bush speaks at a campaign event in Des Moines, Iowa

AFP

13/15

Former Alaska Governor Sarah Palin introducing the arrival of Donald Trump during a campaign rally in Cedar Rapids, Iowa

Reuters

14/15

A portrait of Democratic candidate Bernie Sanders at his campaign headquarters in Des Moines, Iowa

Getty

15/15

Campaign badges on sale ahead of a Trump rally at the Ramada Waterloo Hotel and Convention Centre in Waterloo, Iowa

Getty
"You can't destroy history, you have to learn from history, and our children have to have it in their history books" added his wife, Theresa Darrell Sanders, nodding vigorously.  "It's getting to the point where can't call a dog a dog any more, you have to call it by its breed or something,"
The final decision to take the flag away – it is now in storage at an undisclosed location – was taken by the Governor of South Carolina, Nikki Haley, drawing widespread anger from many conservatives in the state who accused of her of buckling to pressure from Washington and Republican Party leaders.
Ms Haley last week endorsed Senator Marco Rubio of Florida, who like two others in the race - Jeb Bush and Ohio Governor John Kasich - has strived to emerge as the preferred establishment alternative to Messrs Trump and Cruz, has kept far away from the flag debate.
The flag feud indeed speaks directly to an unresolved and vital tension within the Republican Party – the nativist populism of Messrs Trump and Cruz which relies on stirring white anger over immigration and race issues versus the desire of the establishment to end the alienation of minority voters, especially Hispanics, whose support they will need to stand a chance of retaking the White House. 
Hollice McCollie, an African American, was doing brisk business with Mr Trump's supporters in Myrtle Beach selling political flotsam, especially "Hillary for Prison" badges with an image of her stricken face behind bars. But he was not about to side with  his customers about the flag.  "It should have come down as soon as the Confederacy was over, that's what should have happened, but this is South Carolina and you know how they are.  This state is still racist."
Reuse content