Young Democrats in New Hampshire were siding overwhelmingly with Bernie Sanders but it was his opponent, Hillary Clinton, who seemed to have won the hearts of most among a group of British students who have been here for days knocking on doors and making calls for her campaign.
Mostly undergraduates from across the United Kingdom, they all won places in a programme dubbed '45forthe45th'; the US this year chooses its 45th president.  The original idea was to bring 45 students to this side of the water to join the election circus, but so large was the interest about 75 were selected. 
It's a non-partisan exercise, Suzanne Davies, one of the organisers, insisted, dreamed up as a way of not just educating young people about the US process but "hopefully helping later to engage young people better at home".  Political participation by the young in Britain is the lowest in Europe.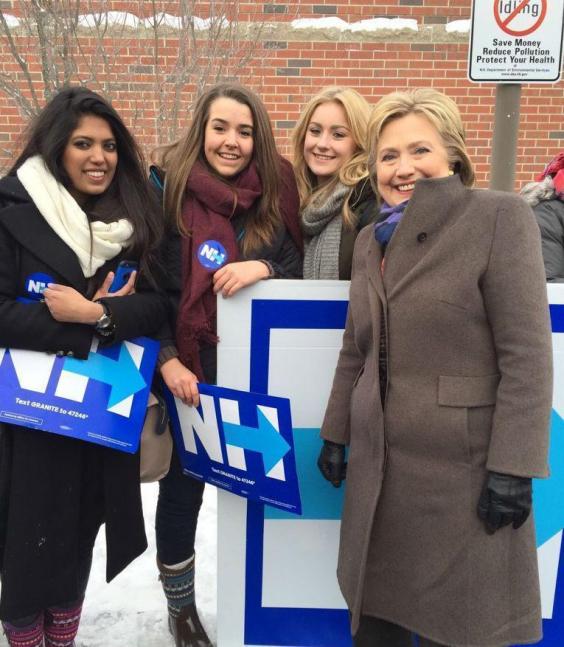 While the idea was to make the visitors useful to as many of the campaigns as possible, including on the Republican side, it turned out that most wanted to help Ms Clinton both here in Iowa for the caucuses last week and in the days leading up to the New Hampshire primary election. 
Hillary Clinton in quotes
Hillary Clinton in quotes
1/11 Hillary Clinton

After losing the 2016 election: 'To all of the little girls who are watching this, never doubt that you are valuable and powerful and deserving of every chance and opportunity in the world to pursue and achieve your own dreams.'

Getty

2/11 Hillary Clinton

On running for President in 2016: 'I'm going to decide when it feels right for me to decide. ... certainly not before then [the end of 2014].'

AP

3/11 Hillary Clinton

On the Monica Lewinsky affair: 'It's liberating to be able to reach the point in your life where you feel you can forgive. Everybody feels they have been trespassed upon and nearly everybody has trespassed on somebody else, maybe not intentionally.'

4/11 Hillary Clinton

On news and hair: 'If I want to knock a story off the front page, I just change my hairstyle.'

Getty Images

5/11 Hillary Clinton

On being asked which fashion designers she preferred: 'Would you ever ask a man that question?'

Getty Images

6/11 Hillary Clinton

On equality: 'Well I'm very conscious of how important it is for us to shatter that glass ceiling in my country. A country that has done so much for so many women and really has set the standard for women's rights and responsibilities, and I do want to see that glass ceiling shattered.'

Getty Images

7/11 Hillary Clinton

On not winning in 2008: 'I think because I really didn't have a good strategy for my campaign. I didn't plan it the right way. ... As a candidate who was already so well known ... I don't think I ever said, 'Yes, you may have known me for eight years, but I don't take anything for granted. I have to earn your support.'

Getty Images

8/11 Hillary Clinton

On self-confidence 'You have to be true to yourself. You have to be enough in touch with who you are and what you want, how you want to live and what's important to you, to make your decisions based on that. Sometimes that's very difficult.'

AP

9/11 Hillary Clinton

On 9/11: 'Every nation has to either be with us, or against us. Those who harbor terrorists, or who finance them, are going to pay a price.'

Getty Images

10/11 Hillary Clinton

On women around the world: 'If women are healthy and educated, their families will flourish. If women are free from violence, their families will flourish. If women have a chance to work and earn as full and equal partners in society, their families will flourish. And when families flourish, communities and nations will flourish.'

Getty Images

11/11 Hillary Clinton

On her political life: 'I suppose I could have stayed home and baked cookies and had teas, but what I decided to do was to fulfill my profession which I entered before my husband was in public life.'

Getty Images
"It's been such a crazy, foreign experience," said Alice Grierson, 20, an Edinburgh University student, not least caucus night in Iowa where she looked on as Democrat voters at one caucus site near Des Moines scrapped over who to support. "People literally pounced on people who were undecided and tried to bring them to their side. I have to say it may not be a particularly efficient way of doing things."
And why so little love for Bernie among the Brits?  "I think he's an idealist, but I don't think he'd be a very good general election candidate and we do not want a Republican to win the White House," Ms Grierson said.
With Iowa and New Hampshire finally over, the students will be flying home late on 10 February. But most of them plan to return to the US for Super Tuesday, when 14 states vote, on 1 March and then again for the general election in November.  Which might be good news for Ms Clinton.
Reuse content