Senator Bernie Sanders wants a "revolution" and is getting it. So, too, is Donald Trump, even if he doesn't say the word. They laid waste to their opponents in the New Hampshire primary and yesterday America awoke to a stunning notion: will one of these men become president?
Granite State voters say why not? Senator Sanders – the first Jewish-American to win a presidential primary – buried Hillary Clinton by a margin no one has seen since John F Kennedy won the state in 1960. And it's been at least since 2000 that a Republican has done as well as Mr Trump. 
The nomination contests will now pick up pace, moving first to Nevada and South Carolina and then a whole parade of states on 1 March, dubbed Super Tuesday. Neither of the New Hampshire winners are immune to reversals of fortune, however.
Yet, who could have imagined this a few months ago? Certainly not the increasingly appalled elders of each of the parties. Mr Trump had never held or ran for office. He hasn't himself voted in a Republican primary for decades. And Mr Sanders has never even belonged to the party he is running for.
"This election is the most unpredictable election that I have ever seen," Senator John McCain, the Republican nominee in the 2008 race, told reporters. Even that, however, may be wishful thinking.  
Mr Trump, 69, could quickly become unstoppable. Exit polls in New Hampshire showed the breadth of his appeal. Compared to second-place Ohio Governor John Kasich, he took women voters by a margin of two to one. Same for all voters under 30. Among men, however, it was a thumping three to one. 
Hence his mildly self-congratulatory tone at his victory speech, where he ranged wildly over domestic and foreign policy. "I am going to be the greatest jobs president that God ever created," he averred and one who would "knock the hell out of Isis".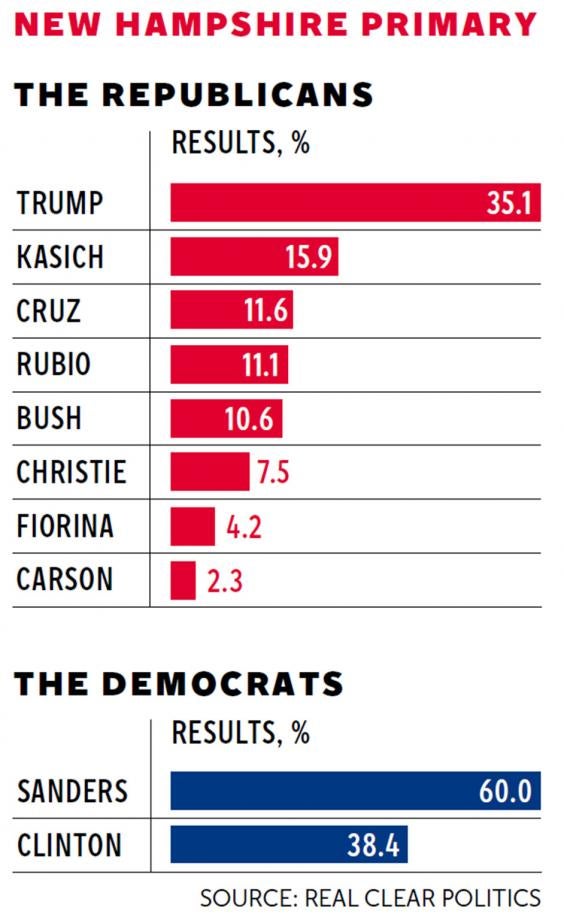 Mr Sanders, 74, also started from nowhere when he declared nine months ago. As expected, he easily outpolled Ms Clinton among young and blue-collar voters with his relentlessly liberal message of raising taxes, breaking up the big banks and offering government-guaranteed healthcare for all with a campaign mounted without the help of billionaires and the political action committees they fund. 
"Together we have sent a message that will echo from Wall Street to Washington, from Maine to California," he said in a victory speech. "And that is that the government of our great country belongs to all of the people, and not just a handful of wealthy campaign contributors and their Super-PACs."
But Mr Sanders showed other strengths in New Hampshire that will sound loud alarm bells in the Clinton campaign. Women voters of all ages defected to the senator by a margin of 11 points. Yet Nevada and South Carolina may be different. In both states, he must deal with a much-vaunted Clinton firewall: African-Americans and Hispanics.
He is chipping at it already, taking breakfast in Harlem with civil rights veteran Al Sharpton. Voicing concern that issues of most interest to blacks could fall off the radar when President Obama leaves office, Mr Sharpton said: "Senator Sanders coming here this morning further makes it clear that we will not be ignored." But he offered no endorsement. 
Quickly upon the Republicans will be their primary in South Carolina a week from Saturday and a ferocious brawl is already breaking out beneath Mr Trump involving Ted Cruz, the winner in the Iowa caucus, who came a decent third in New Hampshire and second-placed Ohio Governor John Kasich, who has big appeal for moderates.  Also still in the ring are Jeb Bush, who came back from the dead to score fourth and Marco Rubio who must now recover steam after a limp fifth place.  
The most lethal fighter, New Jersey Governor Chris Christie, won't be there to add to the blood. It was a savage attack from him that badly rattled Senator Rubio at a debate last Saturday and stopped his momentum out of Iowa. The stalling of Mr Rubio may long be remembered as a signature moment in the New Hampshire contest. "I did not do well on Saturday night, so listen to this: that will never happen again," the candidate himself admitted on Tuesday night.
That so many Republicans are still scrapping to emerge as has his only foe can only help Mr Trump. The party establishment had hoped by now to have a single non-Trump contender to rally around. They still hope it is not Mr Cruz, who is almost as far out of the Republican mainstream as Mr Trump.
"I think they're all really potential threats," Mr Trump said of his rivals. "But I'm OK at handling threats." If Mr Trump can hold on until Super Tuesday, his perceived weakness – poor ground organisation – may become less important as the candidates rely more on the power of television and social media. Which Mr Trump is rather good at.
Reuse content