Donald Trump's decision to fire FBI director James Comey is an "unprecedented act of presidential imperialism," according to historians.
The FBI director was fired as the agency investigates allegations staff from the Trump campaign had ties to Russia.
"This is bad," Julian Zelizer, a history professor at Princeton, told The Atlantic.
"There's no way to see it other than: this is a high point of tension and it is in some ways an act of presidential imperialism against the point man in this investigation."
It is only the second time the head of the FBI has been fired. 
"I don't see how you can't conclude that a cover-up is likely to be in the works," David Greenberg, a professor of history at Rutgers, told the magazine.
Many have drawn comparisons with the "Saturday Night Massacre" of 1973, when President Richard Nixon fired the special prosecutor investigating the Watergate scandal.
"This is Nixon all over again," Mr Zelizer added.
"Lots of other presidents had tension with the FBI — that's Lyndon Johnson or John F Kennedy. Even Clinton had tension. But this is more Nixonian."
"And the irony is this comes after the FBI director played a big role in making him win," he added, referring to Mr Comey's decision to reopen the FBI's investigation into Hillary Clinton's use of a private email server in the final weeks of the presidential election.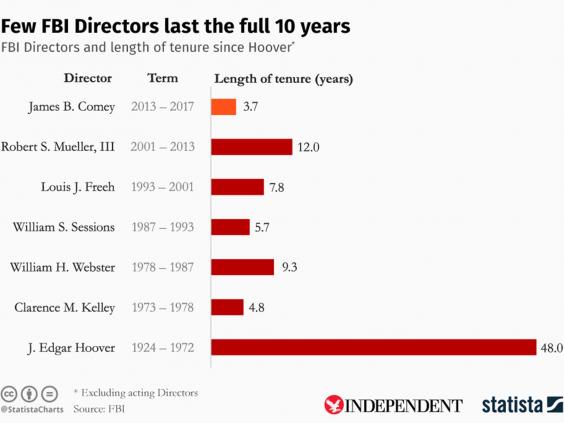 The New York Times said in an editorial the President fired Mr Comey to halt an investigation which could have "potentially ruinous consequences for the administration."
The paper said that by firing Mr Comey, the President has cast doubt on further investigation into the Trump campaign's potential links to Russia, which could become "one of the biggest political scandals" in American history.
Reuse content