The issues of gun control and mental illness have taken on new prominence after the father of the female journalist shot dead in Virginia said he would work to restrict access to weapons for "crazy people".
Andy Parker, the father of slain at WDBJ-7 journalist Alison Parker, said he supported the right to bear arms, but vowed to dedicate himself to making it harder for people with mental health problems to purchase them.
"I'm not trying to take away guns," he said. "There has to be a way to force politicians who are cowards and in the pockets of the National Rifle Association to make sensible laws so that crazy people can't get guns. It can't be that hard."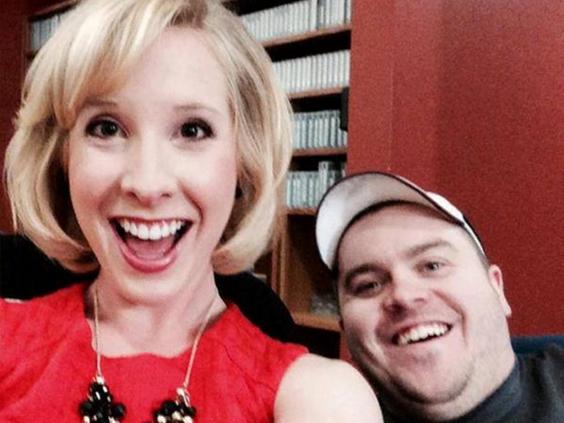 Mr Parker's comments on CNN came the day after 24-year-old Ms Parker and cameraman 27-year-old Adam Ward were shot dead during a live broadcast. The person they were interviewing was seriously injured.
As tributes to the reporters poured in and the station held a minute's silence, more details emerged of the mental health problems facing Vester Flanagan, the disgruntled former colleague who killed them. Mr Flanagan, who also used the on-air name Bryce Williams, subsequently killed himself.
Documents first obtained by the Guardian showed that Mr Flanagan had been ordered to seek mental health assistance or face termination from his past employer. They include emails between the gunman, WDBJ7's news director Dan Dennison, and several senior colleagues at the station.
In one memo, Mr Dennis warned Flanagan, 41, that in one month he had "behaved in a manner that has resulted in one or more of your co-workers feeling threatened or uncomfortable".
After an initial warning to seek "employee assistance professionals" at a company called Health Advocate on 30 July 2012, he was given a final chance on Christmas Eve that year. Mr Dennison reportedly emailed colleagues saying: "I'm not entirely sure where his head is at."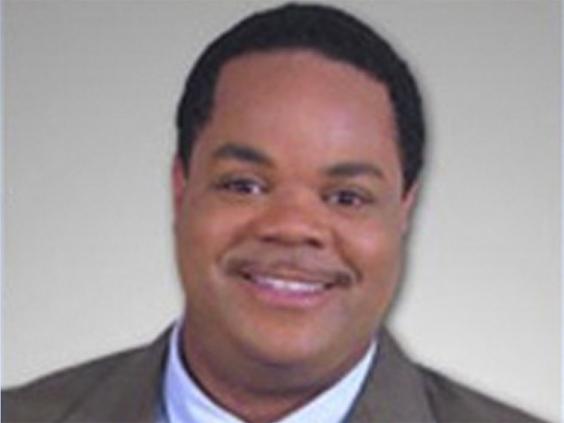 He was fired three months later when police escorted him from the newsroom's building.
The internal memos indicating the confrontation surfaced as part of a $25,000 lawsuit Flanagan brought against the news station in 2014, claiming wrongful dismissal.
When presented with a dismissal letter in February 2013, Flanagan allegedly told WDBJ7 employees: "You better call police because I'm going to make a big stink."
Staff called police and Flanagan was allegedly escorted from the building by officers. It was then that Mr Ward reportedly caught Flanagan leaving on camera.
In 2014, he filed racial and sexual discrimination lawsuits against the station. The case was eventually dismissed.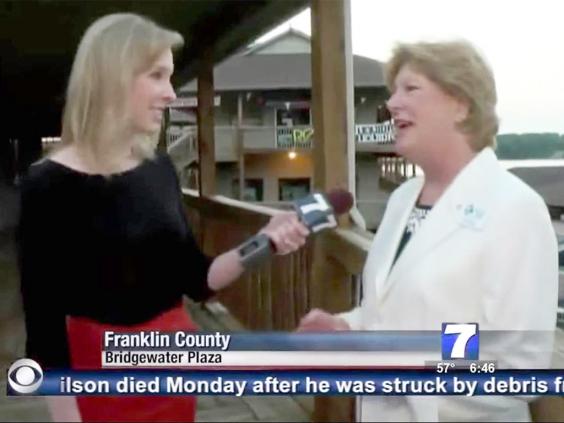 "Your Honour, I am not the monster here. I get along with my current co-workers. That sure doesn't sound like the monster I was painted to be," he wrote in the filing.
In a lengthy fax sent to ABC News shortly after Wednesday morning's shooting in Moneta, in the south-east of Virginia, Mr Flanagan said he had faced repeated discrimination at work because he was black and gay. He said he had been inspired by several incidents, including the shooting dead of nine people in a Charleston church.
He wrote: "The church shooting was the tipping point…but my anger has been building steadily...I've been a human powder keg for a while…just waiting to go BOOM!!!!"
Friends of his family apologised to the victims, telling reporters his actions were "a shock to everyone".
"It is with heavy hearts and deep sadness we express our deepest condolences to the families of Alison Parker and Adam Ward," Amber Bower, who went to secondary school with Flanagan, said in a statement from his family.
Donald Trump stepped into the fall-out from the shooting, insisting that controlling access to guns was not the solution but that tackling mental health issues could help.
Also speaking on CNN, Mr Trump, the Republican frontrunner, said: "This isn't a gun problem, this is a mental problem. It's not a question of the laws, it's really the people."
Meanwhile, Walmart has said it will pull high-powered assault rifles. It said the decision was being taken, not in relation to the shooting but because of falling demand.
Reuse content