He still has almost three more years in office, and formal planning for the project has only just begun. But a battle royal is already shaping up in Barack Obama's spiritual hometown, the ever disputatious city of Chicago, over the site of his future presidential library.
Rahm Emanuel, the Chicago Mayor and former Congressman who was President Obama's first White House chief of staff, has made clear he wants a unified bid. "We are going to run a process," he told The Chicago Sun-Times last month, "but my goal is to have the City of Chicago have a single proposal." If so, some serious mayoral arm-twisting will surely be required.
Right now no less than six separate groups, most of them linked to various educational institutions in the city, have thrown their hats in the ring. In the process, they have not only exposed old Chicago social and racial fault lines, but raised the prospect that somewhere else could steal the prize.
Presidential libraries are a uniquely American institution. There are currently 13 of them in the federally-run system, dating back to the 31st president Herbert Hoover (not to mention unofficial ones devoted to earlier ones like Abraham Lincoln and William McKinley) and Mr Obama's will be the 14th.
The sites are chosen by the presidents themselves, usually in places where they were born, or made their careers. There are exceptions: among them that of George H.W. Bush, East Coast and Ivy League patrician par excellence, to be found in College Station, Texas, and Dwight Eisenhower's library in Abilene, Kansas, where he grew up. Increasingly, libraries tend to be linked with local universities, and as respositories of a president's papers they are a magnet for scholars and historians. But the term 'library' is also something of a misnomer.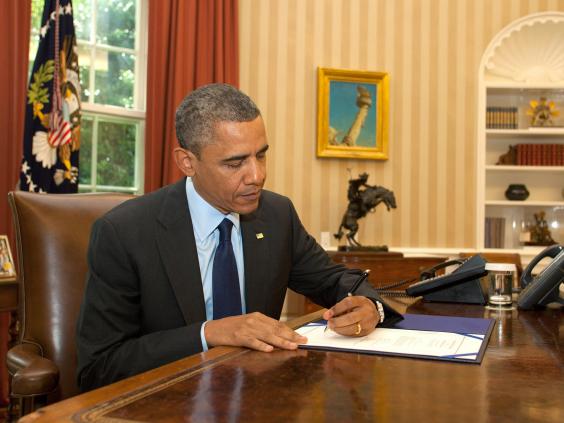 They are in essence museums celebrating the life and times of a president, especially his years in office, full of personal artefacts and historical mementos.
As such they are lucrative tourist attractions, keenly fought over for the millions of dollars they can bring to the local community. Rarely, however, has the contest been as visible and sharp-elbowed as that over the Barack H. Obama Presidential Library – wherever it ends up.
Chicago, where the 44th president served as a community organiser and launched his political career, and where he still has his home, is the clear front runner. And among the various local contenders, the most powerful candidate is the University of Chicago, where the president taught constitutional law for 12 years and his wife Michelle was an administrator of its prestigious Medical Center.
But Mr Obama is also America's first black president, and if the University of Chicago has the money, connections and clout, it is also an emblem of the city's old white establishment – as two of its strongest rivals to host the library are quick to point out.
One of them is the predominantly black Chicago State University, on the southern edge of Chicago's poorer south side. Another, even more vociferous, is the Bronzeville district, the historic centre of black culture in the city. "They think that they can get whatever they want," Harold Lucas, a community organizer in Bronzeville and head of the "Black Metropolis" Tourism Council, said of the University of Chicago.
"If you compare the cranes in the sky and that opulent growth of this university to the surrounding, predominantly African-American community, it's a travesty. It's a clear tale of two cities." Mr Lucas also argues that Bronzeville, closer to the downtown Chicago hub, makes a better geographic choice.
Mayor Emanuel now has to reconcile the competing claims, or face the possibility that Chicago could lose the library entirely. One possible destination is Honolulu, where Mr Obama was born and went to high school, and where he has returned each year as President for a Christmas/New Year break – and which has been quietly angling for the project from the moment he was sworn in in 2009.
Hawaii's remoteness, however, may count against it. Another contender is New York City, more specifically Columbia University which Mr Obama attended between 1981 and 1983. A precedent of sorts, moreover, exists for New York. Bill Clinton's Presidential Library is in Little Rock, in his home state Arkansas. But he does most of his post-presidential business out of his Harlem office and Clinton Foundation headquarters in Manhattan.