A bookseller who has not been seen since October has made a "confession" on Chinese TV saying he handed himself over to authorities for a drink-driving offence which caused a death in 2004.
Gui Minhai, a 51-year-old naturalised Swedish national, who is a bookseller and publisher in Hong Kong, went missing from his holiday home in Thailand in October.
It has been feared he may have been taken by Chinese agents. 
Mr Gui is one of five members to go missing from the publishing house, Mighty Current, and bookstore Causeway Bay Books. Both specialise in selling gossipy political books - which are legal in Hong Kong - on China's ruling Communist Party leaders. 
Three of his colleagues went missing while separately visiting family in mainland China, Sky News reported, which has caused substantial protests on the streets in Hong Kong. 
Chinese state news agency Xinhua said on Sunday he had "surrendered to public security organs" in October and voluntarily returned to China to answer a conviction from 2004, in what they called an "exclusive interview". 
The CCT tweeted the bookseller had "turned himself in" as breaking news. 
#BREAKING HK bookstore owner Gui Minhai, reportedly missing, turns himself in for hit-and-run 11 years ago (Xinhua) pic.twitter.com/IGA4zpDJ2C

— CCTVNEWS (@cctvnews) January 17, 2016
While Xinhau tweeted: "'Missing' bookseller hands himself in".
"Missing" HK bookseller Gui Minhai turns himself in to police https://t.co/ILwpDtafCr pic.twitter.com/itMrheW9r7

— China Xinhua News (@XHNews) January 17, 2016
CNN reported the Mr Gui said went to China voluntarily because he wanted to see his aging mother.  
But the Chinese news agency did not give details on his surrender or how he got from Thailand to China. 
Activists believe Mr Gui was unlawfully transported to China because of an unpublished book aout the private life of the Chinese president. 
In a report the Chinese agency published, it said Mr Gui fled two years after the incident, in which a female student was killed, and say he is now suspected of other crimes.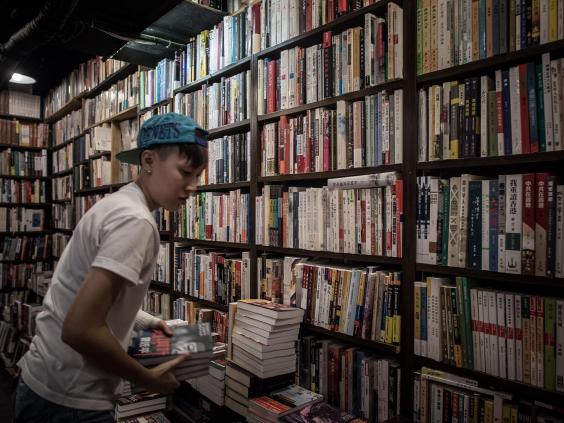 Mr Minhai said in the CCT broadcast: "I am returning to surrender by personal choice, it has nothing to do with anyone," on Sunday night.
"This is a personal responsibility that I ought to bear." 
Mr Minhai went on to say: "Even though I am a Swedish national, I truly feel that I am still Chinese and my roots are still in China.
"So I hope that the Swedish side would respect my personal choice, rights and privacy and let me solve my own problems."
He is thought to be in a detention centre in mainland China, according to the BBC. 
Gabriella Augustsson, head of diplomacy for the Swedish embassy in Beijing said: Sweden is continuing to "seek clarifications from the Chinese authorities.
"We still have no information regarding he man's exact whereabouts. This is serious and we continue to work intensively to find out what has happened," she added. 
World news in pictures
World news in pictures
1/30 23 September 2016

Campaigners pose on a 'United To Stop Trump' cardboard wall in front of the Brandenburg Gate to urge Americans living abroad to register and vote in Berlin, Germany

REUTERS

2/30 23 September 2016

A man rests on his cart after unloading plastic jugs near a shop at a main market in Colombo, Sri Lanka

REUTERS

3/30 23 September 2016

Staff inspect the presentation before the Swiss Cheese Awards competition in Le Sentier, Switzerland. One hundred and fourty-two experts have to choose the best out of 777 cheeses from 353 producers competing in 28 categories

REUTERS

4/30 23 September 2016

Israeli settler bride Yael Levi (C) is surrounded by friends and relatives during her wedding ceremony at the plaza outside the Cave of the Patriarchs also known as the Ibrahimi Mosque, which is a holy shrine for Jews and Muslims, in the heart of the divided city of Hebron in the southern West Bank

AFP/Getty Images

5/30 22 September 2016

A South Korean army special forces soldier breaks bottles with his hand during the Naktong River Battle re-enactment in Waegwan, South Korea. South Korean Defense Ministry reenacted one of the important battles as part of commemoration events for the 66th anniversary of the Korean War

AP

6/30 22 September 2016

Women wait on a street in Pyongyang, North Korea

AFP/Getty Images

7/30 22 September 2016

A general view shows buildings destroyed during Saudi-led air strikes in the rebel-held Yemeni port city of Hodeida the previous day. Saudi-led coalition air strikes have killed 20 civilians in a rebel-held port city in Yemen, a government official said in a rare admission of a possible "error" by the alliance. The strikes came as Riyadh faces mounting international scrutiny over civilian casualties in its 18-month campaign against rebels in Yemen

AFP/Getty Images

8/30 22 September 2016

An Indian woman carries her belongings as she wades through flood waters following heavy rain in the low-lying area of Quthbullapur on the outskirts of Hyderabad. Rains that have caused heavy flooding around Hyderabad are expected to continue in the coming days, Indian meteorological officials said

AFP/Getty Images

9/30 21 September 2016

A protester, center, is taken into custody by Charlotte-Mecklenburg police officers in Charlotte. Authorities in Charlotte tried to quell public anger after a police officer shot a black man, but a dusk prayer vigil turned into a second night of violence, with police firing tear gas at angry protesters and a man being critically wounded by gunfire. North Carolina's governor declared a state of emergency in the city

AP

10/30 21 September 2016

A view of Sainte Marie neighborhood while a lightning strikes in the sea during an evening thunderstorm in the Haitian Capital, Port-au-Prince

AFP/Getty Images

11/30 21 September 2016

A student from the University of the Witwatersrand (Wits) is detained by South African police forces following clashes during a protest against the university fee increase in Johannesburg, South Africa

AFP/Getty Images

12/30 21 September 2016

A villager mourns outside his house after a landslide in Garut. The death toll from a series of landslides and flash floods in Indonesia climbed to 19, including several children found by rescuers scouring for survivors

AFP/Getty Images

13/30 21 September 2016

Somali women shout slogans during a demonstration against the maritime border dispute with Kenya on the rights for exploration and collecting revenue from oil discoveries in Mogadishu, Somalia

REUTERS

14/30 21 September 2016

A man carries an injured girl after airstrikes on the rebel held al-Qaterji neighbourhood of Aleppo, Syria

REUTERS

15/30 20 September 2016

A protester stands with his left arm extended and fist clenched in front of a line of police officers in Charlotte. Authorities used tear gas to disperse protesters in an overnight demonstration that broke out after Keith Lamont Scott was fatally shot by an officer at an apartment complex

AP

16/30 20 September 2016

An Israeli soldier kicks a Palestinian man as troops try to arrest him in the flashpoint city of Hebron, in the Israeli occupied West Bank. The man was named by family members, who witnessed his arrest, as Mohammed al-Kawasmi, 30, whom they said suffers from psychological troubles

AFP/Getty Images

17/30 20 September 2016

View of ash spewed by the Turrialba volcano in Cartago, 35 Km east of San Jose. The Costa Rican authorities suspended operations at the country's main airport after the nearby Turrialba volcano erupted, sending a thick ash cloud into the sky

AFP/Getty Images

18/30 20 September 2016

Models parade on a catwalk in Yellow River Stone Forest for iconic French fashion designer Pierre Cardin in Baiyin, Gansu province, Northeastern China. 120 outfits were presented for the 2017 Spring-Summer new collection 38 years after he first launched a collection in China

AFP/Getty Images

19/30 20 September 2016

Aid is seen strewn across the floor in the town of Orum al-Kubra on the western outskirts of the northern Syrian city of Aleppo, the morning after a convoy delivering aid was hit by a deadly air strike. The UN said at least 18 trucks in the 31-vehicle convoy were destroyed en route to deliver humanitarian assistance to the hard-to-reach town

Getty

20/30 20 September 2016

Pedestrians holding umbrellas struggle against strong wind and heavy rains caused by Typhoon Malakas in Nagoya, central Japan

REUTERS

21/30 20 September 2016

Birds sit in their cages during a bird-singing contest in Thailand's southern province of Narathiwat. Over one thousand birds from Thailand, Malaysia and Singapore take part in the annual contest

AFP/Getty Images

22/30 20 September 2016

A man takes out a quail from a net after catching it on a beach in Khan Younis, in the southern Gaza Strip

REUTERS

23/30 19 September 2016

A veterinary from Saving the Survivors and RHINO911 crew treat a Rhino that was wounded during dehorning by poachers during an operation of RHINO911 Non Governmental Organisation at the Pilanesberg National Park in the North West province, South Africa

AFP/Getty Images

24/30 19 September 2016

People onboard fishing boats heading out to sea in order to catch crabs, in Xianrendao in China's northeastern Liaoning province

AFP/Getty Images

25/30 19 September 2016

Women and children queue to enter one of the Unicef nutrition clinics in Muna informal settlement, which now houses more than 16,000 IDPs (internaly displaced people) in the outskirts of Maiduguri the capital of Borno State, northeastern Nigeria. Aid agencies have long warned about the risk of food shortages in northeast Nigeria because of the conflict, which has killed at least 20,000 since 2009 and left more than 2.6 million homeless

AFP/Getty Images

26/30 19 September 2016

A Yemeni artist sprays graffiti on a wall in the capital Sanaa criticising the limitations on the freedom of press in Yemen

AFP/Getty Images

27/30 19 September 2016

People run away from waves as they watch tidal bore in Hangzhou, Zhejiang Province, China

REUTERS

28/30 19 September 2016

Demonstrators gather in front of a burning car during an opposition rally in Kinshasa. Police fired tear gas at scores of opposition supporters rallying in Kinshasa to demand that DR Congo's long-serving President Joseph Kabila step down this year. Kabila, who has ruled DR Congo since 2001, is banned under the constitution from running again -- but he has given no sign of intending to give up his job in December

AFP/Getty Images

29/30 18 September 2016

New York Mayor Bill de Blasio (R) and New York Governor Andrew Cuomo (C) stand in front of a mangled dumpster while touring the site of an explosion that occurred the night before in the Chelsea neighborhood of New York City. An explosion in a construction dumpster that injured 29 people is being labeled an "intentional act". A second device, a pressure cooker, was found four blocks away that an early investigation found was likely also a bomb

Getty Images North America

30/30 18 September 2016

Participants hold a rainbow flag during an annual LGBT (Lesbian, Gay, Bisexual and Transgender) pride parade in Belgrade, Serbia

REUTERS
It is not clear whether he has had access to a lawyer, but his daughter, Angela, who lives in Britain said she believed the Swedish authorities were doing everything they could to try and help with the case. 
She also said she believed her father had been abducted in relation to his work. 
"There's got to be a reason it happened now and that the others were taken as well," she said. 
The Swedish Foreign Ministry raised Mr Gui's case with the Chinese ambassador to Stockholm, earlier this month. 
Included in the missing five from the same publishing house is Lee Bo, the fifth person reported missing, who is the chief editor was reported missing on January 1. He was last seen in the publishing house's warehouse in Hong Kong. 
The other men reported missing are Lui Bo, the general manager of Mighty Current, last seen in mainland China in October, Cheung Jiping, 32, the publishing house's business manager and Lam Wingkei, 60, the manager of the book store, who was last seen in Hong Kong in October. 
Hong Kong leader Leung Chun-ying said on Monday the government was taking the case seriously and would continue to investigate the circumstances of those missing. 
Under the "one country, two systems" law, Hong Kong is supposed to be autonomous from China. 
Additional reporting from Reuters
Reuse content