A landslide in a rural part of western India has killed at least 17 people and trapped up to 150, after heavy rainfall caused thick mud to crush thatched huts and brick houses on Wednesday.
A national disaster official confirmed the death toll as seven teams of rescue workers and local residents attempted to save people from the sludge and place them on stretchers. The village 60 km (37 miles) is from the city of Pune, in Maharashtra state.
With 70 homes buried and reports of another 158 hit by the landslide, rescuers anticipate more dead in the village, home to 704 people in the foothills of the Sahyadri Mountains.
A combination of heavy rainfall, mud, poor telecommunications and looming nightfall hampered rescue efforts. By Wednesday evening, only two residents had been rescued, Sandeep Rai Rathore, inspector general of the national disaster force, told Reuters.
Rescuers planned to use floodlights mounted on two jeeps sent from Pune to continue their efforts overnight. Earthmoving vehicles were also being put to use, according to officials.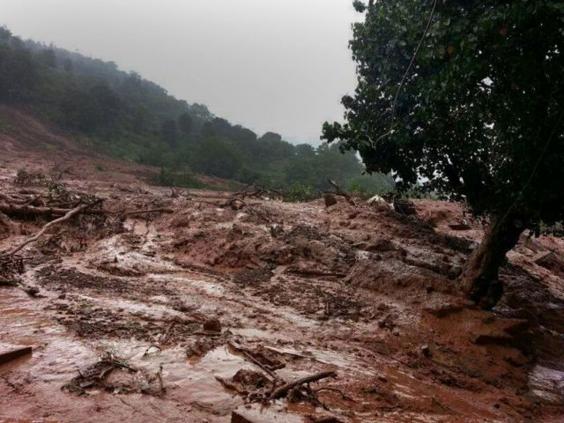 Those who are pulled from the mud must travel 9 miles to reach the nearest medical centre.
"The area is quite a difficult terrain," said Rathore, adding that rescuers were trying to determine how many people were caught in the landslide, amid fears the number could be as high as 150.
Indian Prime Minister Narendra Modi sent Home Affairs minister Rajnath Singh to Pune to assess the situation.
"The Prime Minister has condoled the loss of lives in the landslide, and directed all possible efforts to help the affected people," a government statement said.
While the downpours of the rainy season from June to September are essential to India's agriculture, they often bring disaster.
Unprecedented rain in June last year wreaked havoc across India's Himalayan state of Uttarakhand, causing rivers and lakes to burst their banks, inundating towns and villages and killing thousands of people.
Poorly managed hydro-power projects were partly to blame for those floods, an environment ministry panel said in April.
Additional reporting by agencies.
Reuse content