State officials in north India fired two police officers on Friday after they failed to investigate the disappearance of two teenage girls, who were gang-raped and found hanging from a mango tree.  
On Thursday, officials suspended the two local police officers after they ignored the father of one of the girls reported they were missing.  
The constables have since been charged with criminal conspiracy for refusing to file a complaint or take any action, according to top state official Anil Kumar Gupta.
On Friday, the former chief minister of Uttar Pradesh lashed out at the current government of India's most populous state.
"There is no law and order in the state," said Mayawati, who uses only one name. "It is the law of the jungle."
Hours later, the chief minister ordered that suspects in the attack be tried in special "fast track" courts, to bypass India's notoriously slow judicial system.
The cousins, aged 14 aged 15, disappeared from Katra village early on Wednesday morning after they went into a field near their home to relieve themselves, as their house does not have a lavatory.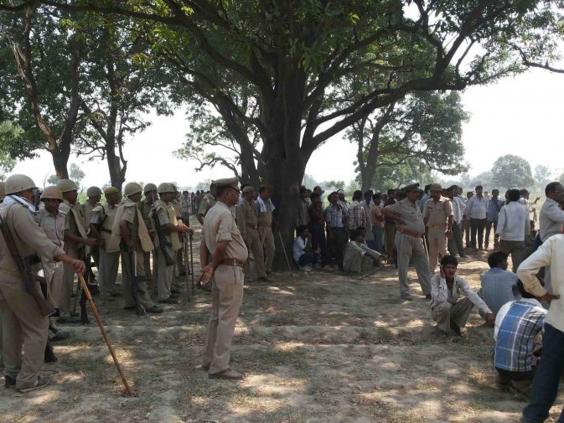 A day later, the girls' abused bodies were discovered hanging from a tree in the village, about 180 miles (300 km) from Lucknow, the capital of Uttar Pradesh.
Angry villagers and the girls' families silently protested against police inaction by refusing to allow officials to cut down the bodies from the tree.
After the first arresters were made on Wednesday, the villagers enabled officers to carry the girls away, and carry out a post-mortem examination.
The police arrested two police officers and two men from the village, and were searching for three more suspects.
The two girls were members of the Dalit community, previously known as 'untouchables' - traditionally at the very bottom of the now illegal ancient Hindu caste system.
Campaigners say Dalits are often the victims of sexual attacks and rapes and that often police are slow to respond.
The fired policemen and the men accused in the attack are Yadavs, a low-caste community that dominates that part of Uttar Pradesh. The current chief minister is from the same caste.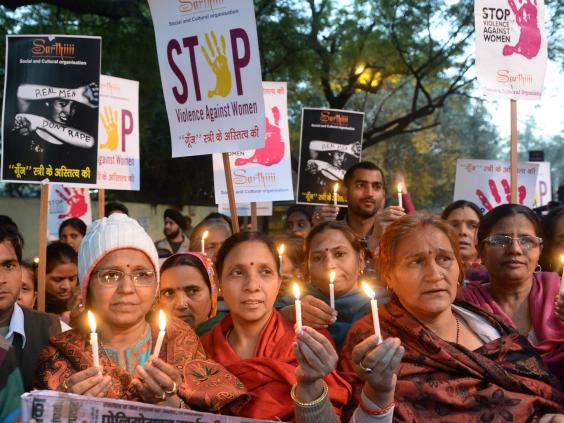 Mocking journalists on Friday after being asked about the attack, Uttar Pradesh Chief Minister Akhilesh Yadav said in Lucknow: "Aren't you safe? You're not facing any danger, are you? Then why are you worried? What's it to you?"
Last month, Yadav's father — a former chief minister and head of the state's ruling party — told an election rally that the party opposed a law calling for gang rapists to be executed. 

"Boys will be boys," Mulayam Singh Yadav said. "They make mistakes."
Kavita Krishnan, a women's rights activist, said such comments make clear to police that rape isn't taken seriously by officials. 

She called the chief minister's Friday comments "a trivialization of rape."
The suspensions come days after the mother of a rape victim brutally attacked and a 17-year-old girl gang-raped by four men.
Around 25,000 people are raped in the 1.2billion-strong nation each year, according to official statistics. But activists say that number iis likely much higher, as women feel pressured to stay silent about sexual assaults.
Indian police and politicians have faced growing public anger against sexual violence in the country after a woman was gang-rape and murdered bus in New Delhi December 2013.
Reuse content