Najiba Ahmadi is quiet and unassuming – mild-mannered even. She is far from your typical revolutionary. Last week, Ms Ahmadi was among the suited government officials gathered in Britain to discuss Afghanistan's future.
For the past five years she has been working to improve the lives of women and girls. The 32-year-old runs a shelter in Bamyan province where she offers legal advice.
"In Afghanistan women aren't viewed as human beings or equal partners," she tells  The Independent. "But the work that I'm doing with women is helping them understand their rights."
Ms Ahmadi became one of the country's first female paralegals in 2009 after participating in an initiative launched by the anti-poverty charity ActionAid that aims to combat the rising tide of violence against women in Afghanistan by educating them on their rights and providing legal advice.
The refuge is a safe haven for women and girls, and provides practical support, counselling and legal advice. It even offers literacy classes and vocational training in areas such as needlework and handicrafts.
Women in Politics 2014: Females in Parliaments across the world
Women in Politics 2014: Females in Parliaments across the world
1/9 4th: Sweden

Swedish European Affairs Minister Birgitta Ohlsson pictured at the EU headquarters in Brussels. After Nicaragua, Sweden has the highest number of women in cabinet, with 56.5 per cent of Swedish ministers being female. 157 of the 349 seats in the single parliamentary house are held by women.

JOHN THYS/AFP/Getty Images

2/9 Afghanistan: 41st

Leading Afghan women's rights champion, author, lawmaker and former presidential hopeful Fawzia Koofi talks during an interview with AFP in Kabul. Not well known for its women's rights record, Afghanistan beats the UK. Of the 249 seats in the Afghan lower house, 69 are held by women. 28 of its the 102 seats in its upper chamber are taken by women.

JOHANNES EISELE/AFP/GettyImages

3/9 64th: UK

Home Secretary Theresa May leaves Downing Street in London, England. 147 out of 650 seats in the House of Commons are held by women, compared to 182 of 778 in the House of Lords.

Oli Scarff/Getty Images

4/9 1st: Rwanda

Rwanda Minister of Agriculture and Animal Resources Dr Agnes Kalibata, speaks at the African green Revolution Forum. 39 per cent of ministers in Rwanda are women, holding 51 out of 80 seats in the lower house. 10 of the 26 seats in the upper house are taken by women.

ISSOUF SANOGO/AFP/Getty Images

5/9 China: 61st

Chinese Vice Premier Liu Yandong pictured at the People-to-People Exchange at Diaoyutai State Guest House in Beijing, China. Outdoing the UK by three places, women hold 699 seats in the country's 2987-member-strong single house.

Feng Li/Getty Images

6/9 US: 83rd

Republican Senator Susan Collins speaks onstage at the FORTUNE Most Powerful Women Summit in Washington, DC. Hold its ranking joint with San Marino, only 79 of the 432 lower house members are women. 20 members of the 100-strong upper house are women.

Paul Morigi/Getty Images for FORTUNE

7/9 France: 47th

French minister Aurelie Filippetti attends the Opening ceremony and the 'Grace of Monaco' Premiere during the 67th Annual Cannes Film Festival. Sharing its ranking with El Salvador, 151 members of the 577-member-strong lower house are women. Meanwhile, female members hold 78 of the 347 seats of the upper house.

Pascal Le Segretain/Getty Images

8/9 Italy: 31st

Italy's Integration Minister Cecile Kyenge poses as she arrives for a lunch at the French embassy in Rome. 198 women of a possible 630 seats in the lower house are filled by women. 92 women hold seats in the 317-member-strong upper house.

GABRIEL BOUYS/AFP/Getty Images

9/9 South Sudan: 45th

South Sudan's Water Minister Jemma Nunu Kumba at the 10-nation Nile River forum in the Sudanese capital Khartoum. The world's newest country has 88 women in its lower house of 332 members. Of 50 seats in its upper house, women hold 5.

EBRAHIM HAMID/AFP/Getty Images
Ms Ahmadi is well-known in the community now. "Most of the women have my contact number. If they have a problem they just call me and I advise them," she says.
"Whenever I meet women, I talk to them about their rights. It has become normal for me to speak with women wherever I go and give them advice. It is nice to know I'm helping."
But community leaders have attempted to smear the campaigner by questioning her "honour", she says, and malicious rumours have been spread claiming the shelter is in fact a brothel and that she has sold women into slavery.
"In Afghanistan women who speak out for rights are stigmatised," Ms Ahmadi says.
Perhaps unsurprisingly, there is an exceptionally high turnover of staff at the shelter. "Some women leave after a week, some of them, a month. The maximum time anyone has stayed there is a year because they can't withstand the threats," she says.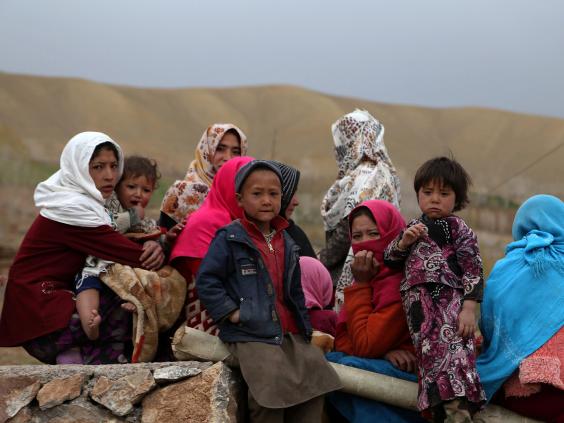 At one point, every member of staff tendered their resignation at once. Devastated,  Ms Ahmadi considered following suit but her husband – a proud advocate of her work – urged her not to give up.
"He said, 'If you resign, all the people who have spread rumours about you will believe they have been proved right. Don't resign – stand and fight and prove them wrong'."
A visit from Habiba Sarobi, a former Governor of Bamyan and the first Afghan woman to reach that position in any province of the country, helped boost the team's morale.
"She said: 'You are champions...  if you don't do this work who else do you think will do it?'" Ms Ahmadi recalls.
Nevertheless, she has been subjected to a sustained campaign of intimidation and a string of death threats – and her family has been targeted too. Recently, Ms Ahmadi says, she was forced to send her three young children away to live with their grandparents for six months after she received an anonymous phone call warning her that they would "bear the consequences" of her actions.
But she refuses to bow to pressure. Ms Ahmadi says that, for her, intimidation, slurs and death threats "have become routine".
She does, however, fear that the withdrawal of international troops from Afghanistan will lead to a spike in violent crimes against women, and is appealing to policymakers to earmark funds to help protect them.
ActionAid has thrown its weight behind her cause and is calling for at least £4m of the £178m of aid that the UK gives to Afghanistan each year to be spent on tackling violence against women and girls.
Reuse content