Kim Jong-un's sister bears a striking resemblance to her brother, if this image is to be believed, right down to his trademark clapping and black collared suit.
It is the first photo to appear for anyone searching Google for Kim Yo-jong, illustrating the search engine's profile of her.
But a closer look reveals that the image is of the Supreme Leader himself, albeit with some carefully photoshopped make-up, nail polish and a new and unsanctioned hair do.
Google's algorithms appear to have mistakenly sourced the image from taringa.net, an Argentinian social network.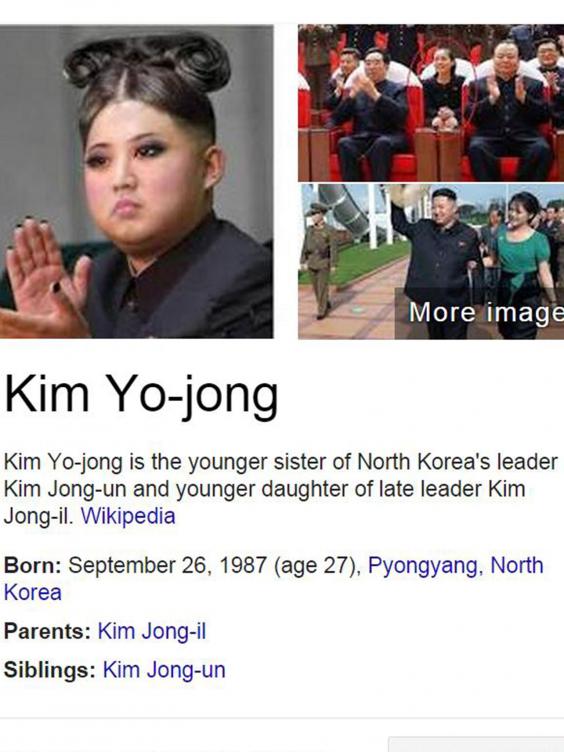 Kim has long been meme fodder on the internet and a quick search produces several versions of the picture used to represent his sister, including a "goth" Kim sporting eyebrow piercings, purple eyeshadow and black lipstick.
The blunder, spotted by Twitter user Alistair Coleman, is not the first time Google's algorithms have failed, while compiling biographies with pictures from popular sources for well-known people and companies.
No Google, that's not a picture of Kim Jong Un's sister pic.twitter.com/KjGD8TmMPI

— Alistair Coleman (@scaryduck) January 2, 2015
In August, the Google profile for bakery chain Greggs turned up a most definitely unofficial logo reading "Greggs – Providing sh*t to scum for over 70 years".
PC World suffered a similar fate in March when a search returned an official-looking logo with the strapline: "Like hell, but with worse customer service".
Pictures of Ms Kim are as sparse as official information about her. She is believed to be 27 years old and reportedly studied with her brother in Switzerland from 1996 to 200, then at Kim Il-sung Military University.
Ms Kim did not officially exist in state media until last year, when she was identified as a deputy director of the ruling Workers' Party.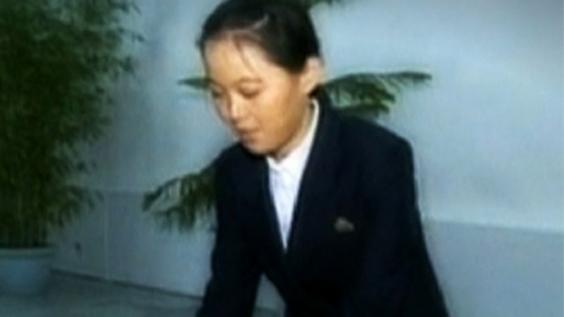 She had previously appeared in footage from official party conferences and at the funeral of her father, Kim Jong-il, but was not named.
Information about her is so sparse that reports have only just emerged of her possible marriage last year to the son of one of North Korea's most powerful officials, Choe Ryong Hae.
Yonhap news agency said a photo of Ms Kim released by state media this week showed her wearing a wedding ring, naming her husband as Choe Song.
In pictures: Kim Jong-un on tour
In pictures: Kim Jong-un on tour
1/3 North Korea

Kim Jong-un smiling broadly along with other officials during his visit to a youth camping site in Wonsan on the southeastern coast in North Korea

EPA

2/3 North Korea

North Korean leader Kim Jong Un stands in the August 25 Fisheries Station under KPA 313 Unit

Reuters

3/3 North Korea

North Korean leader Kim Jong Un inspecting the Masik Pass Hotel, ski service and lodging buildings and rest areas in the skiing courses of the Masik Pass Ski Resort in Kangwon province

Getty Images
His father met Chinese President Xi Jinping in Beijing in 2013 following tension after nuclear tests and was the Supreme Leader's envoy on trips to South Korea and Russia last year, where he met President Vladimir Putin.
Reuse content