North Koreans were filmed clapping, cheering and breaking down into overwhelmed tears as they gathered in Pyongyang to watch state media announce the country's latest nuclear test.
Hundreds of people dressed in thick coats watched a news anchor hail the development of an "H-bomb of justice standing against the US" on a huge screen outside the capital's main railway station.
Footage showed some taking photos or filming the moment on their mobile phones, while others raised their hands, applauded and cheered.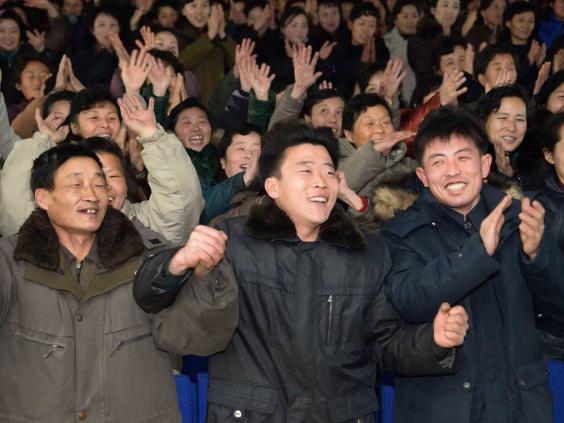 Some analysts claimed international media were allowed to filmed the "staged" reaction for propaganda purposes.
Kim Sok Chol, a 32-year-old man who watched the announcement, told the Associated Press that he does not know exactly what a hydrogen bomb is, but added that "since we have it, the US will not attack us. I think the first successful H-bomb test is a great national event." 
Ri Sol Yong, a 22-year-old university student, said the test "gives us more national pride", adding: "Thanks to the fact that our country is a nuclear weapons state, I can study at the university without any worries. If we didn't have powerful nuclear weapons, we would already have been turned into the slaves of the US."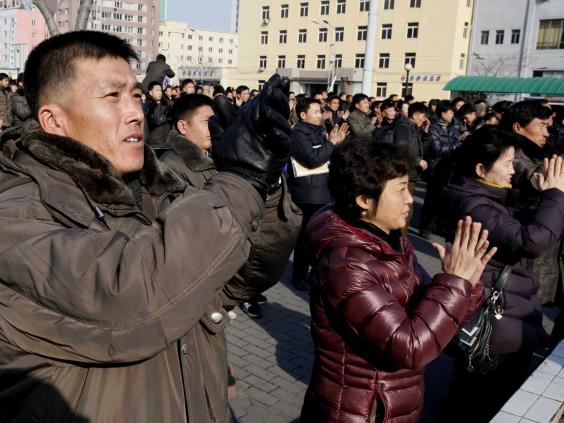 The US, Britain, China, Russia, EU, United Nations and countries around the world have condemned the test as illegal and are urging North Korea to re-engage with talks aiming to secure a lasting commitment on nuclear disarmament in the region.
But North Korean state media said the country would not suspend or dismantle its weapons programme until the US "rolled back its vicious hostile policy".
"It's very refreshing," a man who watched the broadcast in Pyongyang told Reuters. "As long as the United States retains its policy of aggression against North Korea, I think developing a hydrogen bomb is inevitable."
Another told journalists: "I feel so relieved – I think it's very obvious to counter a robber waving a nuclear weapon with another nuclear weapon."
A patriotic song was played as the news broadcast ended, with some onlookers singing along.
South Korean intelligence services and security experts have raised doubts over the existence of a hydrogen bomb, claiming the seismic wave the test sent out at 10.30am on Wednesday morning was too small to come from a thermonuclear weapon.
They suggested it could be a less powerful atomic bomb like those reportedly developed for three previous tests.
But the North Korean government hailed a "higher stage of nuclear force", claiming the test was "a historic event (that) guarantees the eternal future of the nation".
Additional reporting by agencies