At least six people have died and more than 150 have been reported missing at a Sri Lankan tea plantation after a monsoon-triggered mudslide buried scores of workers and their homes.
Government officials initially said that over 100 people had died, but have since significantly reduced the death toll and said a clearly pictured would emerge on Thursday morning.
The mudslide struck the Koslanda plantation in the Badulla district at around 7:30am local time, destroying the homes of 120 workers, according to Lal Sarath Kumara of the Disaster Management Centre.
Witness reports from the scene painted a picture of devastation, amid fears that the ongoing deluge would trigger further mudslides.
Around 500 army personnel and civilians used heavy machinery in an attempt to rescue workers, as monsoon rain saw water gush down the nation's central hills - swallowing some homes in mud while merely the roofs of others were visible.
Scores of children who had left for school early morning returned only to see their homes vanished without a trace along with their parents.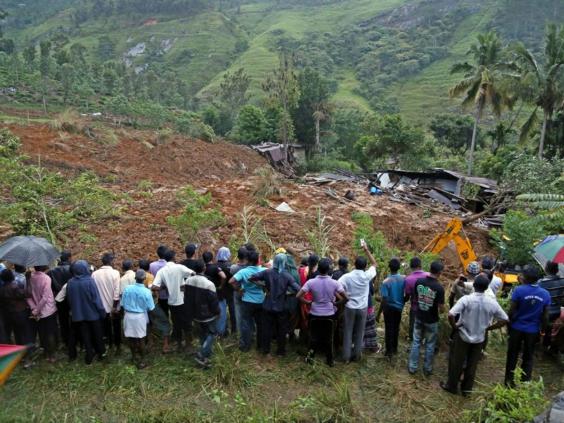 A driver on the plantation, identified as P. Arumugam, told reporters that he rushed to Koslanda when he heard about the mudslide.
"Everything that I saw yesterday I could not see today — buildings, the temple and shops had all disappeared. I could only see mud everywhere," he said.
Military spokesman Brigadier Jayanath Jayawerera told reporters that the search operation has been called off for the night because of rain and muddy conditions.
Over the past few weeks, most of Sri Lanka has experience heavy rain, prompting the Disaster Management Centre to issue warnings of mudslides and falling rocks.
A local government official said that the area had been marked vulnerable since 2008 and even evacuation drills had been conducted.
But workers had not been given alternative homes to move into, the official said on condition of anonymity.
He said the absence of a proper rain water draining system on the hill may have loosened the soil over time.
The monsoon season in the Indian Ocean island nation runs from October through December.
Reuse content