At just 4.5 metres above sea level, the tiny island of Tuvalu in the Pacific Ocean is precariously positioned on the front line of climate change.
Global sea levels have risen seven inches over the past 100 years and rising water threatens to entirely destroy Tuvalu in the next 50.
The nation's Prime Minister, Enele Sosene Sopoaga, is one of a number of leaders from some of the world's smallest and most vulnerable states to appeal for decisive action to tackle climate change at this year's UN Climate Change summit in Paris.
Speaking at the summit this week, Mr Sopoaga said: "Pacific islanders are facing the brunt of climate change impacts and are increasingly finding themselves with few options."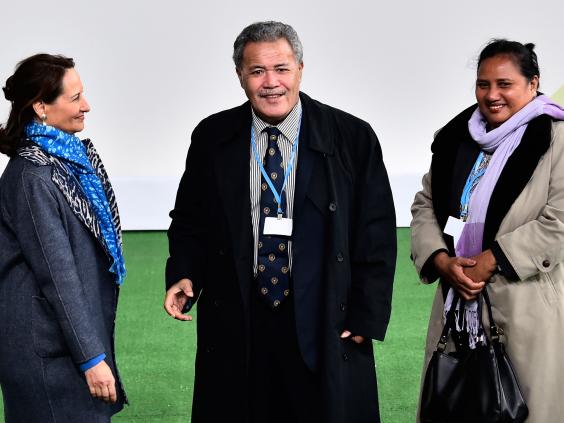 "Tuvalu's future at current warming, is already bleak, any further temperature increase will spell the total demise of Tuvalu.
"No leader in this room carries such a level of worry and responsibility. Just imagine you are in my shoes, what would you do."
"To save our people, we must stay below 1.5C, if the world heats up above this then Tuvalu will sink" #COP21 pic.twitter.com/fDyFKFqQdu

— Larissa Waters (@larissawaters) December 1, 2015
Tuvalu, which has a population of around 11,000, is already suffering the impacts of climate change.
Cyclone Pam, which devastated the island earlier this year had a huge influence on the island's economy, affecting about 188,000 people in the surrounding area and destroying 95 per cent of its agricultural sector, according to the United Nations Development Programme.
A national survey on climate change and migration in the Pacific, conducted by the UN ESCAP, found more than 70 percent of households in Kiribati and Tuvalu said they would migrate if "climate stressors" - including drought, sea-level rise, or flooding - continued.
Already, an estimated 15 per cent of people from Tuvalu have migrated over the past 10 years, and researchers expect that number will double by 2055.
However, many island residents lack the financial means to facilitate such a move.
A member of The Alliance of Small Island States, Tuvalu, along with 43 other coastal and low lying islands, are calling for a Paris agreement that will limit global warming to 1.5 degrees by 2100, rather than the proposed two degrees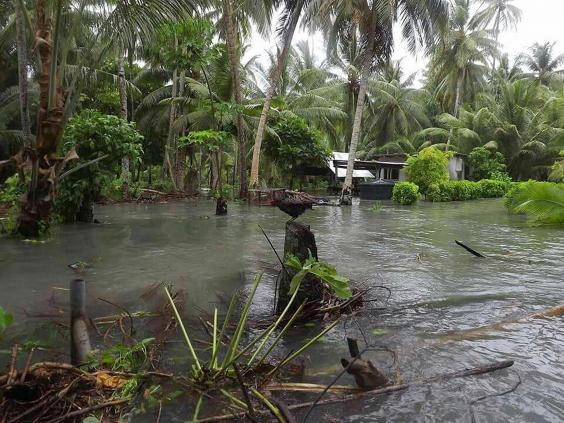 ASIS are also demanding a loss and damages clause in the final agreement, allowing small states compensation for the devastating impacts of weather related events.
"While we are grateful for the assistance we received from the relief community, this ad hoc response to the impacts of climate change cannot continue," said Mr Sopoaga. "We need a permanent mechanism of Loss and Damage anchored in the Paris Treaty."
Our #COP21 quotes of the day: Strong words from the prime minister of Tuvalu & US lawmakers https://t.co/W6XFLrOLv6 pic.twitter.com/ybY1r9eU6y

— C&EN (@cenmag) December 1, 2015
US President Barack Obama met with some of the island nations' leaders on Tuesday and urged the conference to listen to their concerns.
Mr Obama said: "Their population are amongst the most vulnerable to the ravages of climate change.
"Some of their nations could disappear entirely and as weather patterns change, we might deal with tens of millions of climate refugees in the Asia Pacific region."
He said the Paris summit must "serve the interests of the most vulnerable" as well as the most powerful.
Reuse content