Angela Merkel has told Turkey to stop comparing German authorities to the Nazis in a deepening diplomatic row over the cancellation of rallies supporting increased powers for Recep Tayyip Erdogan.
The Turkish President accused Germany of "fascist actions" reminiscent of the Third Reich after several municipalities moved to block events involving his ministers.
Mevlut Cavusoglu, the Turkish foreign minister, also made the parallel ahead of a visit to Hamburg as he attempted to drum up support for President Erdogan ahead of an upcoming referendum.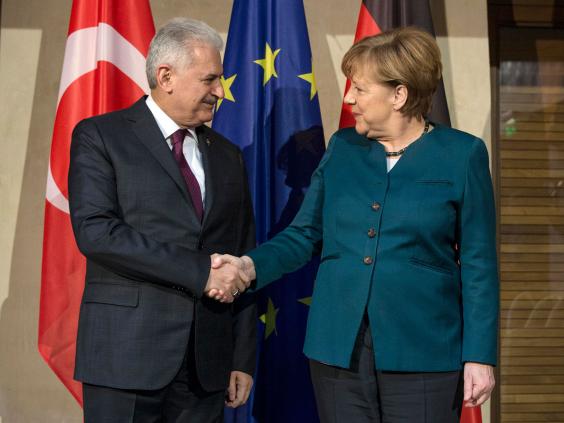 "This is a totally repressive system," he told the Hürriyet newspaper. "All practices resemble those of the Nazi era."
Ms Merkel told the Bundestag she was saddened by the deepening divisions between allies despite common causes, such as fighting Isis.
She said they should try to overcome their differences but that Nazi comparisons were unjustifiable and "so misplaced that you can't seriously comment on them".
"We will not allow the victims of the Nazis to be trivialised – these comparisons of Germany with Nazism must stop," the Chancellor added.
"They are unworthy of the close ties between Germany and Turkey and of our peoples."
Turkey's foreign minister effectively repeated the comparison within hours, saying that he was not calling current German ministers Nazis, but that their actions were reminiscent of that era.
"We have not called anyone a Nazi," Mr Cavusoglu said. "Our President made a comparison in reference to certain practices. The trend in Europe at the moment reminds us of pre-World War Two Europe." 
In pictures: Turkey coup attempt
In pictures: Turkey coup attempt
1/17

Turkish President Erdogan attends the funeral service for victims of the thwarted coup in Istanbul at Fatih mosque on July 17, 2016 in Istanbul, Turkey

Burak Kara/Getty Images

2/17

Soldiers involved in the coup attempt surrender on Bosphorus bridge with their hands raised in Istanbul on 16 July, 2016

Gokhan Tan/Getty

3/17

A civilian beats a soldier after troops involved in the coup surrendered on the Bosphorus Bridge in Istanbul, Turkey, 16 July, 2016

REUTERS/Murad Sezer

4/17

Surrendered Turkish soldiers who were involved in the coup are beaten by a civilian

Reuters

5/17

Soliders involved in the coup attempt surrender on Bosphorus bridge

Getty

6/17

Supporters of Turkish President Recep Tayyip Erdogan wave flags as they capture a Turkish Army vehicle

Getty

7/17

People pose near a tank after troops involved in the coup surrendered on the Bosphorus Bridge in Istanbul, Turkey, 16 July, 2016

Reuters

8/17

Turkish soldiers block Istanbul's Bosphorus Brigde

Getty

9/17

A Turkish military stands guard near the Taksim Square in Istanbul

Reuters

10/17

Pierre Crom/Twitter

11/17

Turkish soldiers secure the area as supporters of Recep Tayyip Erdogan protest in Istanbul's Taksim square

AP

12/17

Murad Sezer/Reuters

13/17

Turkish soldiers detain police officers during a security shutdown of the Bosphorus Bridge

Reuters

14/17

Turkish Army armoured personnel carriers in the main streets of Istanbul

Getty

15/17

Chaos reigned in Istanbul as tanks drove through the streets

EPA/TOLGA BOZOGLU

16/17

Turkish President Tayyip Erdogan speaks to media in the resort town of Marmaris

Reuters

17/17

Supporters of President Erdogan celebrate in Ankara following the suppression of the attempted coup

Reuters
The Prime Minister, Binali Yildirim, told reporters in Ankara that Germany seems to be taking sides in the upcoming referendum when asked about Ms Merkel's comments.
He said Germany "may be disturbed" that a yes vote is likely in the referendum, but that if it is interfering in the process it amounts to meddling in another country's affairs and is "very wrong". 
Around 1.4 million Turks living in Germany will be eligible to cast a ballot in the vote on 16 April, which could replace the parliamentary system with an executive presidency using constitutional amendments that have alarmed human rights groups.
At least four German local authorities have withdrawn permission for pro-Erdogan campaign events, while several rallies have gone ahead and the central government has emphasised it was not involved in the decisions.
A spokesman for Mr Erdogan lambasted Germany over the bans, claiming they revealed a "tragicomedy" on attitudes towards the Turkish government and interference in the referendum. 
Ibrahim Kalin said: "A huge anti-Turkey, anti-Erdogan attitude is being systematically produced and serviced to the world, especially through Germany." 
Accusing authorities of favouring "no" campaigners including Kurdish groups classed as terrorists by Ankara, he added: "This is a worrying picture for Europe's future and fundamental values." 
All cancellations have cited safety and administrative issues but the move has been linked to concern over the post-coup crackdown seeing thousands of people detained in Turkey, including a Die Welt journalist jailed on terror charges after reporting on government corruption.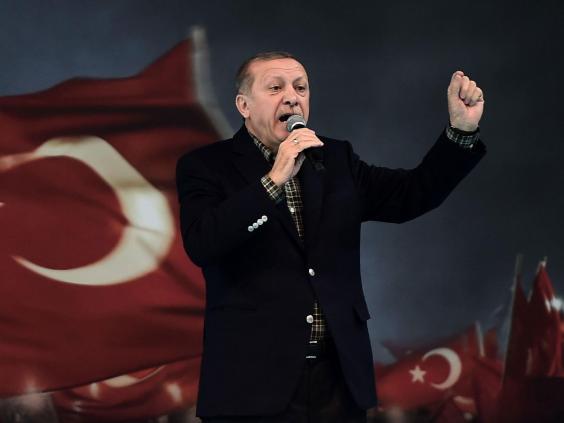 The German government has called the allegations against Deniz Yucel, whom President Erdogan has accused of being both a German spy and a "representative" of the outlawed Kurdish PKK rebel group "absurd" and vowed to fight for his release.
Bilateral ties have deteriorated significantly in the last year over a series of rows, from a legal case over a German comedian who poked fun at President Erdogan to a parliamentary vote calling the 1915 massacre of Armenians by Ottoman forces "genocide".
Relations have also worsened between the two countries over alleged orders for Turkish authorities to spy on members of the Hizmet movement in German schools, Ankara's operations against Kurdish groups and threats to renege on the EU-Turkey refugee deal.
President Erdogan has threatened to scrap measures aimed to prevent asylum seekers crossing to Greece over diplomatic rows with Europe, while Germany also has reconnaissance aircraft stationed at a Nato base in Turkey for anti-Isis missions.
Some politicians have called for an outright ban on any Turkish campaigning in Germany but Ms Merkel said the country would continue complying with the values of freedom of expression, the press, speech and assembly.
"These values apply, and they also guide us when it comes to whether Turkish politicians can appear in our country," she added.
"As difficult as everything is at the moment, and as unacceptable as some things are, it's not in our foreign security or geopolitical interests that Turkey, still a Nato partner, becomes further distanced from us."
Germany is also working to retain relations with Russia as divisions continue over the Kremlin's involvement in the Ukrainian conflict.
During a visit to Moscow, foreign minister Sigmar Gabriel warned of the danger of a new arms race, expressing concern over both military build-up in the Baltic region by Russia and "exorbitant military spending increases" in Washington.
Reuse content