Denmark's former children's ombudsman has accused the government of "criminalising decency" as hundreds of people are prosecuted under human trafficking laws for helping refugees.
Lisbeth Zornig is one of almost 300 Danes to be taken to court for giving asylum seekers lifts around the country or to neighbouring Sweden.
She and her husband Mikael Lindholm say they did not mean to contravene any laws when they helped a family of Syrians in September, driving from southern Denmark to Copenhagen.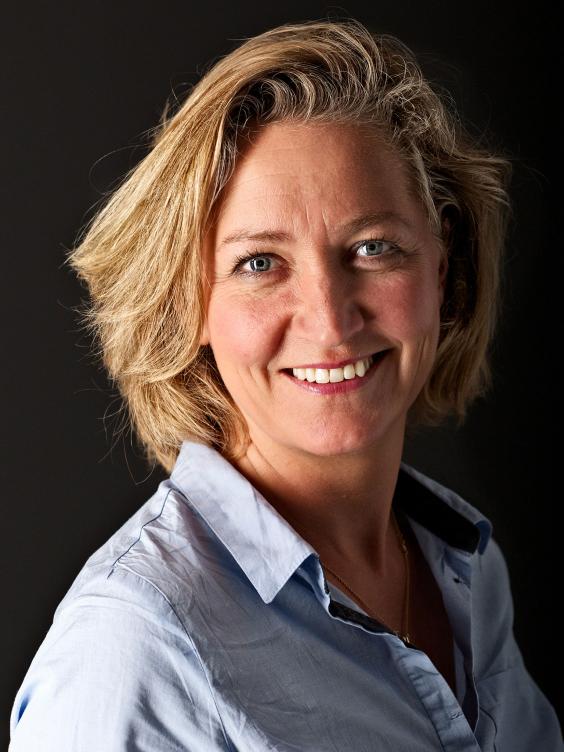 The couple, who are appealing their sentence, were handed a combined fine of 45,000 krone (£4,700) by judges in the city of Nykøbing Falster on Friday after being convicted under the Danish Aliens Act.
They are among the first to be sentenced out of almost 300 Danes being prosecuted for transporting refugees in what has been condemned as a "clear political signal" aimed at dissuading volunteers.
"We were found guilty of human smuggling," Ms Zornig told The Independent. "But I didn't smuggle anyone – that's something you do in secret but there were at least three police officers around my car."
She was one of dozens of Danes who picked up refugees on 7 September last year after a train from Germany was stopped in the Danish border town of Rødby.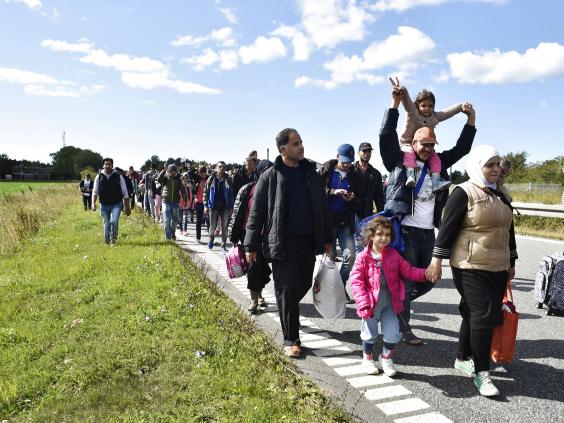 Footage showed scenes of confusion and panic as asylum seekers fled police on the station platform, running into the surrounding fields to start their long walk along a motorway to Sweden.
Ms Zornig described how she was driving through the Danish island of Lolland when she came to a column of migrants trudging along the side of the road, escorted by authorities.
She said: "We had only seen scenes like it on the television and suddenly they were walking in Denmark carrying their children, without anything but the clothes they were wearing."
Feeling unable to drive past, she stopped and got talking to a Syrian family of two twin sisters, their mother and three others who were attempting to reach family in Sweden.
"They were six people and I had six places in my car," Ms Zornig said. "There were small children and I couldn't leave them, I thought 'I'm going to Copenhagen anyway, so I'll give them a lift'.
"I didn't know it was illegal."
But there was already news in Denmark of possible prosecutions for "human trafficking" in similar circumstances, and her husband called the police to check if they would be arrested.
Mr Lindholm did not get a definite response, so he invited his wife to bring the refugees to their home for a brief break before they continued their journey.
"The police didn't seem to know themselves at that time because no one had experienced this before," Ms Zornig said.
"We stopped at the house for a cup of coffee and some cookies, then my husband drove them to the railway station. 
"That's what he was prosecuted for – giving them coffee and a lift. It only lasted an hour."
The couple received a letter in October announcing the prosecution and were each fined 22,500 krone (£2,300) in a sentence decided by three judges at Nykøbing Falster court.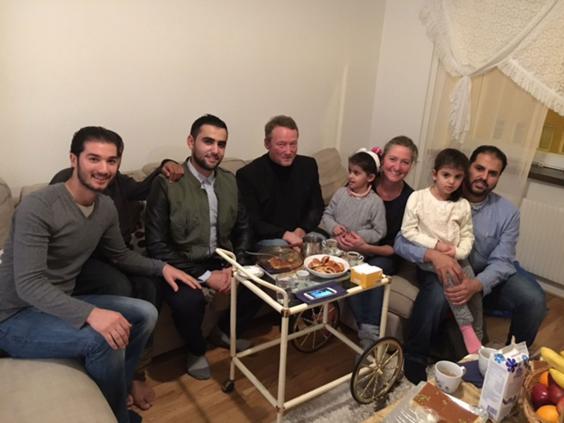 "We have jobs so we will manage but other people awaiting sentencing are poor – they are studying or retired – they can't afford it," Ms Zornig said.
Within hours of Friday's verdict, outraged Danes had started raising money to cover their fine but the couple want to pass the money on to those who need it more as the prosecutions continue.
Since 6 September last year, at least 279 Danes have been charged with people smuggling and the number is expected to rise as the refugee crisis continues.
Ms Zornig said she was "shocked and angry" at the move, which she said amounted to "criminalising decency".
"I think they want to send a clear signal that refugees have to stay away from Denmark," she added.
"A lot of people are very angry – the government doesn't have to do this but it is choosing not to apply exemptions to the law."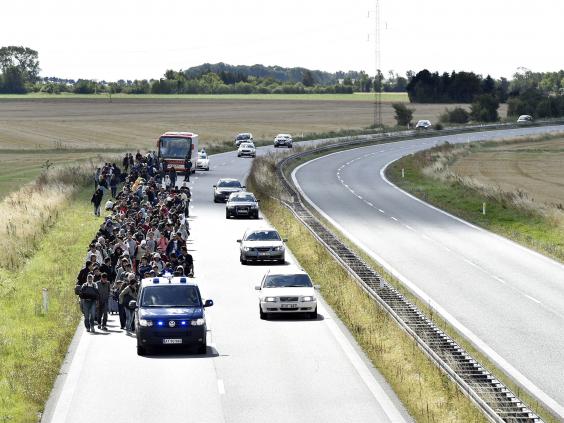 Ms Zornig, who served as the head of Denmark's National Council for Children from 2010 to 2012, rose to prominence after a documentary on her abusive childhood and an ensuing autobiography, and has gone on to campaign for abuse victims and vulnerable groups.
Her supporters have organised several protests and rallies, writing on Facebook to hail the compassion shown by the author and other volunteers.
"It is not a criminal offence to help fellow human beings fleeing from war," a statement said. "Let us show that decency and sense of duty still exists in Denmark…civil society showed courage and stepped in where politicians failed."
Denmark's controversial law allowing authorities to seize asylum seekers' cash and valuables to "pay for their stay" sparked international condemnation earlier this year but several other countries have introduced similar measures as Europe's attitude towards asylum seekers hardens.
Volunteers across Denmark have continued to help migrants on their journeys but could be discouraged by a mounting wave of prosecutions, which could see people punished with large fines or up to two years imprisonment.
Refugee crisis - in pictures
Refugee crisis - in pictures
1/27

A child looks through the fence at the Moria detention camp for migrants and refugees at the island of Lesbos on May 24, 2016.

AFP/Getty Images

2/27

Ahmad Zarour, 32, from Syria, reacts after his rescue by MOAS (Migrant Offshore Aid Station) while attempting to reach the Greek island of Agathonisi, Dodecanese, southeastern Agean Sea

3/27

Syrian migrants holding life vests gather onto a pebble beach in the Yesil liman district of Canakkale, northwestern Turkey, after being stopped by Turkish police in their attempt to reach the Greek island of Lesbos on 29 January 2016.

Getty Images

4/27

Refugees flash the 'V for victory' sign during a demonstration as they block the Greek-Macedonian border

5/27

Migrants have been braving sub zero temperatures as they cross the border from Macedonia into Serbia.

6/27

A sinking boat is seen behind a Turkish gendarme off the coast of Canakkale's Bademli district on January 30, 2016. At least 33 migrants drowned on January 30 when their boat sank in the Aegean Sea while trying to cross from Turkey to Greece.

Getty Images

7/27

A general view of a shelter for migrants inside a hangar of the former Tempelhof airport in Berlin, Germany

8/27

Refugees protest behind a fence against restrictions limiting passage at the Greek-Macedonian border, near Gevgelija. Since last week, Macedonia has restricted passage to northern Europe to only Syrians, Iraqis and Afghans who are considered war refugees. All other nationalities are deemed economic migrants and told to turn back. Macedonia has finished building a fence on its frontier with Greece becoming the latest country in Europe to build a border barrier aimed at checking the flow of refugees

9/27

A father and his child wait after being caught by Turkish gendarme on 27 January 2016 at Canakkale's Kucukkuyu district

10/27

Migrants make hand signals as they arrive into the southern Spanish port of Malaga on 27 January, 2016 after an inflatable boat carrying 55 Africans, seven of them women and six chidren, was rescued by the Spanish coast guard off the Spanish coast.

11/27

A refugee holds two children as dozens arrive on an overcrowded boat on the Greek island of Lesbos

12/27

A child, covered by emergency blankets, reacts as she arrives, with other refugees and migrants, on the Greek island of Lesbos, At least five migrants including three children, died after four boats sank between Turkey and Greece, as rescue workers searched the sea for dozens more, the Greek coastguard said

13/27

Migrants wait under outside the Moria registration camp on the Lesbos. Over 400,000 people have landed on Greek islands from neighbouring Turkey since the beginning of the year

14/27

The bodies of Christian refugees are buried separately from Muslim refugees at the Agios Panteleimonas cemetery in Mytilene, Lesbos

15/27

Macedonian police officers control a crowd of refugees as they prepare to enter a camp after crossing the Greek border into Macedonia near Gevgelija

Getty Images

16/27

A refugee tries to force the entry to a camp as Macedonian police officers control a crowd after crossing the Greek border into Macedonia near Gevgelija

Getty Images

17/27

Refugees are seen aboard a Turkish fishing boat as they arrive on the Greek island of Lesbos after crossing a part of the Aegean Sea from the Turkish coast to Lesbos

Reuters

18/27

An elderly woman sings a lullaby to baby on a beach after arriving with other refugees on the Greek island of Lesbos after crossing the Aegean sea from Turkey

Getty Images

19/27

A man collapses as refugees make land from an overloaded rubber dinghy after crossing the Aegean see from Turkey, at the island of Lesbos

EPA

20/27

A girl reacts as refugees arrive by boat on the Greek island of Lesbos after crossing the Aegean sea from Turkey

Getty Images

21/27

Refugees make a show of hands as they queue after crossing the Greek border into Macedonia near Gevgelija

Getty Images

22/27

People help a wheelchair user board a train with others, heading towards Serbia, at the transit camp for refugees near the southern Macedonian town of Gevgelija

AP

23/27

Refugees board a train, after crossing the Greek-Macedonian border, near Gevgelija. Macedonia is a key transit country in the Balkans migration route into the EU, with thousands of asylum seekers - many of them from Syria, Afghanistan, Iraq and Somalia - entering the country every day

Getty Images

24/27

An aerial picture shows the "New Jungle" refugee camp where some 3,500 people live while they attempt to enter Britain, near the port of Calais, northern France

Getty Images

25/27

A Syrian girl reacts as she helped by a volunteer upon her arrival from Turkey on the Greek island of Lesbos, after having crossed the Aegean Sea

EPA

26/27

Refugees arrive by boat on the Greek island of Lesbos after crossing the Aegean sea from Turkey

Getty Images

27/27

Beds ready for use for migrants and refugees are prepared at a processing center on January 27, 2016 in Passau, Germany. The flow of migrants arriving in Passau has dropped to between 500 and 1,000 per day, down significantly from last November, when in the same region up to 6,000 migrants were arriving daily.
Critics have called the laws "outdated and inhumane" but campaigns to change it seem unlikely to see success as Scandinavian nations continue to tighten border controls. 
A 2002 directive from the Council of the European Union stipulates that anyone who intentionally assists irregular migrants to "enter or transit across" a country in breach of national law can be prosecuted – particularly those take payment to do so.
It says that sanctions can be lifted in cases where "the aim of the behaviour is to provide humanitarian assistance", but the waiver is optional.
A United Nations protocol on migrant smuggling, however, defines the act as exclusively motivated by a "financial or other material benefit".
The Danish Ministry of Justice declined to comment.

Reuse content