The head of the authority vetting countries aspiring to join the European Union has said Turkey's hopes have been "jeopardised" by a crackdown on press freedom.
Government administrators seized control of Zaman, the country's largest newspaper, on Friday night following a court order and police have fired rubber bullets and tear gas to disperse the ensuing protests in Istanbul.
Its editor and chief columnist were sacked on Saturday and journalists were told to expect a "change in editorial policy" as access to the website was cut and administrators reportedly started attempts to delete the media group's news archive.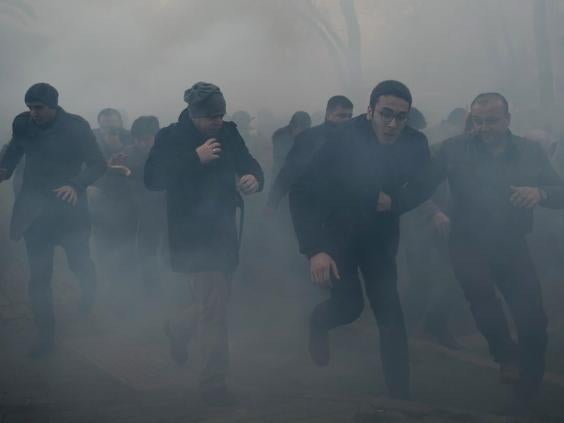 Johannes Hahn, the European Enlargement Commissioner, wrote on Twitter that human rights are "not negotiable" for prospective EU members.
"Extremely worried about latest developments on Zaman newspaper which jeopardises progress made by Turkey in other areas," he said.
"We will continue to monitor this case closely. Turkey, as a candidate country, needs to respect freedom of the media."
Turkey was declared eligible to join the EU in 1997 and started accession negotiations in 2005, but the ongoing dispute over Cyprus and other human rights issues have repeatedly delayed talks.
But the emergence of the refugee crisis and the rise of Isis amid the explosion of conflicts in Syria and Iraq has made Turkey a crucial partner to the EU as a frontline against terrorists and millions of displaced people.
Refugee crisis - in pictures
Refugee crisis - in pictures
1/27

A child looks through the fence at the Moria detention camp for migrants and refugees at the island of Lesbos on May 24, 2016.

AFP/Getty Images

2/27

Ahmad Zarour, 32, from Syria, reacts after his rescue by MOAS (Migrant Offshore Aid Station) while attempting to reach the Greek island of Agathonisi, Dodecanese, southeastern Agean Sea

3/27

Syrian migrants holding life vests gather onto a pebble beach in the Yesil liman district of Canakkale, northwestern Turkey, after being stopped by Turkish police in their attempt to reach the Greek island of Lesbos on 29 January 2016.

Getty Images

4/27

Refugees flash the 'V for victory' sign during a demonstration as they block the Greek-Macedonian border

5/27

Migrants have been braving sub zero temperatures as they cross the border from Macedonia into Serbia.

6/27

A sinking boat is seen behind a Turkish gendarme off the coast of Canakkale's Bademli district on January 30, 2016. At least 33 migrants drowned on January 30 when their boat sank in the Aegean Sea while trying to cross from Turkey to Greece.

Getty Images

7/27

A general view of a shelter for migrants inside a hangar of the former Tempelhof airport in Berlin, Germany

8/27

Refugees protest behind a fence against restrictions limiting passage at the Greek-Macedonian border, near Gevgelija. Since last week, Macedonia has restricted passage to northern Europe to only Syrians, Iraqis and Afghans who are considered war refugees. All other nationalities are deemed economic migrants and told to turn back. Macedonia has finished building a fence on its frontier with Greece becoming the latest country in Europe to build a border barrier aimed at checking the flow of refugees

9/27

A father and his child wait after being caught by Turkish gendarme on 27 January 2016 at Canakkale's Kucukkuyu district

10/27

Migrants make hand signals as they arrive into the southern Spanish port of Malaga on 27 January, 2016 after an inflatable boat carrying 55 Africans, seven of them women and six chidren, was rescued by the Spanish coast guard off the Spanish coast.

11/27

A refugee holds two children as dozens arrive on an overcrowded boat on the Greek island of Lesbos

12/27

A child, covered by emergency blankets, reacts as she arrives, with other refugees and migrants, on the Greek island of Lesbos, At least five migrants including three children, died after four boats sank between Turkey and Greece, as rescue workers searched the sea for dozens more, the Greek coastguard said

13/27

Migrants wait under outside the Moria registration camp on the Lesbos. Over 400,000 people have landed on Greek islands from neighbouring Turkey since the beginning of the year

14/27

The bodies of Christian refugees are buried separately from Muslim refugees at the Agios Panteleimonas cemetery in Mytilene, Lesbos

15/27

Macedonian police officers control a crowd of refugees as they prepare to enter a camp after crossing the Greek border into Macedonia near Gevgelija

Getty Images

16/27

A refugee tries to force the entry to a camp as Macedonian police officers control a crowd after crossing the Greek border into Macedonia near Gevgelija

Getty Images

17/27

Refugees are seen aboard a Turkish fishing boat as they arrive on the Greek island of Lesbos after crossing a part of the Aegean Sea from the Turkish coast to Lesbos

Reuters

18/27

An elderly woman sings a lullaby to baby on a beach after arriving with other refugees on the Greek island of Lesbos after crossing the Aegean sea from Turkey

Getty Images

19/27

A man collapses as refugees make land from an overloaded rubber dinghy after crossing the Aegean see from Turkey, at the island of Lesbos

EPA

20/27

A girl reacts as refugees arrive by boat on the Greek island of Lesbos after crossing the Aegean sea from Turkey

Getty Images

21/27

Refugees make a show of hands as they queue after crossing the Greek border into Macedonia near Gevgelija

Getty Images

22/27

People help a wheelchair user board a train with others, heading towards Serbia, at the transit camp for refugees near the southern Macedonian town of Gevgelija

AP

23/27

Refugees board a train, after crossing the Greek-Macedonian border, near Gevgelija. Macedonia is a key transit country in the Balkans migration route into the EU, with thousands of asylum seekers - many of them from Syria, Afghanistan, Iraq and Somalia - entering the country every day

Getty Images

24/27

An aerial picture shows the "New Jungle" refugee camp where some 3,500 people live while they attempt to enter Britain, near the port of Calais, northern France

Getty Images

25/27

A Syrian girl reacts as she helped by a volunteer upon her arrival from Turkey on the Greek island of Lesbos, after having crossed the Aegean Sea

EPA

26/27

Refugees arrive by boat on the Greek island of Lesbos after crossing the Aegean sea from Turkey

Getty Images

27/27

Beds ready for use for migrants and refugees are prepared at a processing center on January 27, 2016 in Passau, Germany. The flow of migrants arriving in Passau has dropped to between 500 and 1,000 per day, down significantly from last November, when in the same region up to 6,000 migrants were arriving daily.
As an emergency summit on migration looms in Brussels on Monday, critics have accused European leaders of turning a blind eye to Turkey's abuses as they attempt to stem the flow of asylum seekers and plough millions of pounds of funding into the country.
Daniel Calingaert, executive vice president of the US-based watchdog, Freedom House, said: "The European Union and the United States, as Turkey's partners and allies, should not trade Turkey's support on migration and Syria for silence over the dismantling of democratic institutions." 
Martin Schulz, the European Parliament President, tweeted that Zaman's takeover was "yet another blow to press freedom" and pledged to discuss the matter with Prime Minister Ahmet Davutoglu at the summit.
"If one disagrees about claims or reports of a newspaper, he should counter them with facts, not by gagging journalism," he added.
Nils Muižnieks, the European Commissioner for Human Rights, added to the condemnation with an official statement saying he "deplored" the seizure and pointing to a similar move against the Koza Ipek media group in October.
"I see this as an extremely serious interference with media freedom which should have no place in a democratic society," he wrote. 
"It is the latest in a string of unacceptable and undue restrictions of media freedom in Turkey, and it reinforces an extremely worrying pattern of judicial harassment against dissenting media and journalists in the country."
Mr Muižnieks urged Turkish authorities to reverse its intervention and prevent any similar steps in the future, vowing to raise the issue during his visit to the country next month.
The US State Department also raised concern, with its spokesperson John Kirby, calling Zaman's takeover "the latest in a series of troubling judicial and law enforcement actions taken by the Turkish government targeting media outlets and others critical of it".
He added: "Court-ordered supervision of a media company's finances and operations should not prompt changes to the newsroom or editorial policy.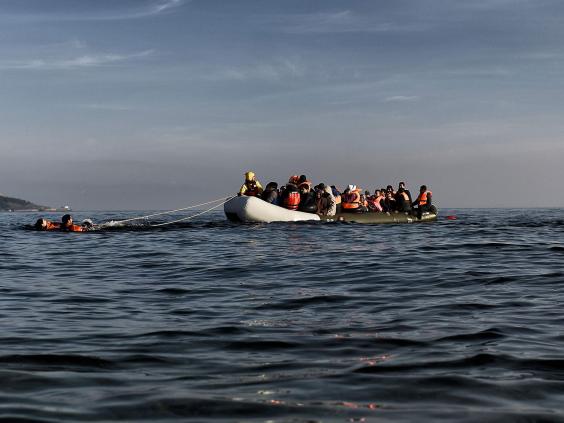 "As Turkey's friend and NATO ally – and we do count ourself as a friend of Turkey (but) we urge Turkish authorities to ensure their actions uphold the universal democratic values enshrined in their own constitution, including freedom of speech and especially freedom of the press."
The Turkish government accuses Zaman of supporting US-based cleric Fethullah Gülen, who was once an ally of President Recep Tayyip Erdogan but is now held as a "terrorist" inciting a coup through his religious Gülen movement.
The newspaper, which has a daily readership of around 650,000, was taken over days after Turkey's Constitutional Court ordered the release of two Turkish journalists charged with revealing state secrets.
Can Dundar and Erdem Gul, from the Cumhuriyet newspaper, were arrested in November over a report alleging that the Turkish government had tried to ship arms to Islamists in Syria.
The pair still face possible life sentences at their trial on 25 March.
Two newspapers and two television channels were also put under state administration over their alleged links with the Gülen, or Hizmet, movement last year.
Turkey ranks 149th among the 180 countries in the Reporters Without Borders' World Press Freedom Index.
Additional reporting by agencies
Reuse content