With Fifa facing its greatest crisis in history and two separate criminal corruption probes, it can be difficult to keep track of who is accused of what. Here's the rap sheet in full – as well as what might happen next.
What does the US indictment say?
1 Fifa 2011 presidential election
The former Fifa vice-president Jack Warner allegedly tried to rig the 2011 presidential election by paying delegates to vote for his preferred candidate. Mr Warner is said to have arranged for envelopes containing $40,000 (£26,000) in cash to be given as a "gift" to officials in return for their votes. After hearing that one of them had talked, it is claimed Mr Warner said: "There are some people here who think they are more pious than thou. If you're pious, open a church. Our business is our business." Yesterday, he stated he was "innocent of any charges".
2 The 2010 World Cup
A bribery bidding war broke out in 2004 before the awarding of the 2010 finals to South Africa. Jack Warner, then the president of the Confederation of North, Central America and Caribbean Association Football, reportedly travelled to Morocco, which was bidding to be the host nation, where a bid committee offered to pay $1m for his vote. The South African government was also prepared to pay $10m to "support the African diaspora" – a sum which was in fact offered in exchange for the votes of Mr Warner and two others.
3 The sportswear deal
Bribes were paid to secure the sponsorship rights to the Brazilian national team for US sportswear company Nike after the 1994 World Cup. It is understood that a middleman was involved rather than the company itself. Nike, sponsor of Brazil since 1996, said it was "concerned by the very serious allegations" and was co-operating with the authorities. The court document says tens of millions of dollars in bribes were also paid to South American Fifa officials to secure media and marketing rights to tournaments. Bribes were also paid to Concacaf officials to secure similar rights to Caribbean football tournaments, it alleges.
The Fifa bigwigs facing charges
The Fifa bigwigs facing charges
1/14 Jeffrey Webb, 50, Cayman Iskands

A Fifa vice president. His arrest came as a big surprise, as he had been tipped as the man to clean up Fifa once Blatter departs. Webb is also president of Confederation of North, Central America and Caribbean Association Football (Concacaf) and the Cayman Islands Football Association

Getty

2/14 Costas Takkas, 58, UK

A British citizen, Mr Takkas is currently an attache to the Concacaf president. He was previously general secretary of the Cayman Islands Football Association, of which Mr Webb is president

3/14 Jack Warner, 72, (pictured), Daryan Warner, 46 and Daryll Warner, 40, Trinidad & Tobago

The former Fifa vice president and head of Concacaf was a dominant force in football for 30 years, but was suspended from his roles in 2011 amid accusations of corruption dating back to the 1980s and an investigation by Fifa's ethics committee. He later resigned, ending the proceedings against him. Daryan Warner, the son of Jack Warner is also believed to have co-operated with the FBI. He pleaded guiltyin October 2013 to wire fraud conspiracy, money laundering conspiracy and the structuring of financial transactions, forfeiting $1.1m. Daryll Warner, another of Jack Warner's sons, he pleaded guilty to various offences in July 2013. A former Fifa development officer, he lost the job in 2012 after his father's resignation amid corruption allegations. He and his brother both face up to 10 years in prison

Getty

4/14 Charles Blazer, 70, USA

The former Concacaf general secretary reportedly turned "supergrass" to help the FBI inestigation, using a bugging device hidden inside a key fob to record meetigs with his Fifa colleagues at the London 2012 Olympics. In November 2013 he pleaded guilty to racketeering conspiracy, wire fraud conspiracy, money laundering conspiracy, and income tax evasion. Seriously ill with colon cancer

Getty

5/14 Rafael Esquivel, 68, Venezuela

Executive committee member of the South American Football Confederetion (Conmebol). It is alleged that officials at Conmebol, which organises the Copa America, received bribes from marketing executives

Reuters

6/14 Eugenio Figueredo, 83, USA/Uruguay

The Fifa vice president and executive committee member is a big name in world football, having previously been at the head of Conmebol and the Uruguayan Football Association. A former right-back

Reuters

7/14 Nicolas Leoz, 86, Paraguay

A former Fifa executive committee member and Conmebol president. When he retired in 2013 for health reasons, he said: "I've not stolen so much as a cent"

Getty

8/14 Eduardo Li, 56, Costa Rica

President of the Costa Rican Football Federation. He was elected to Fifa's executive commitee in March

Reuters

9/14 José Maria Marin, 83, Brazil

The former president of the Brazilian Football Confederation is also a member of Fifa's committee for Olympic tournaments

Reuters

10/14 Julio Rocha, 64, Nicaragua

Fifa development officer. Previously president of his country's football federation

EPA

11/14 José Hawilla, 71, Brazil

The owner and founder of the Traffic Group, a sports marketing conglomerate, pleaded guilty to racketeering conspiracy, wire fraud conspiracy, and money laundering conspiracy in 2014. Two of his companies - Traffic Sports International Inc and Traffic Sports USA Inc - have also pleaded guilty

youtube.com

12/14 Aaron Davidson, 44, USA

President of Traffic Sports USA, is a large promoter of football events in America

AP

13/14 Alejandro Burzaco, 50, (pictured), Hugo Jinkis, 70 and Mariano Jinkis, 40, Argentina

Alejandro Burzaco, a media executive who controls Torneos y Competencias, a sports marketing business. Hugo Jinkis, is the president of Full Play Group, a sports marketing business in Argentina. His son Mariano, is vice president

AP

14/14 José Margulies (AKA José Lazaro), 75, Brazil

Although he is in broadcasting, it is alleged he served as an intermediary to facilitate illicit payments between sports marketing executives and Fifa officials

youtube.com
Why have these arrests happened now?
Because enough important people were gathered in one place, Zurich, for the Fifa congress and presidential elections. And they wouldn't be there for long.
Why are there two  separate investigations?
The FBI has been investigating fraud and corruption in Fifa for years, aided by one of its own citizens, Chuck Blazer, a corrupt Fifa executive committee member turned informant. "If you touch our shores with your corrupt enterprise you will be held accountable," said the FBI's director, James Comey. The FBI's investigation and extradition requests concern transactions either with American banks or American companies, and relate almost exclusively to individuals based in the Americas with financial links to the US.
Separately, there is a Swiss investigation into corruption in the 2018 and 2022 World Cup bidding processes, won by Russia and Qatar, which began when Fifa itself called in the police in November. Now Swiss investigators have said they have found evidence of money laundering in this process. Although yesterday morning's dual strike was co-ordinated – it had to be – the investigations are separate.
Will Sepp Blatter still be re-elected as Fifa president tomorrow?
Despite the pressure today from Fifa's sponsors, the British Government, Uefa and others, in all likelihood yes, Sepp Blatter will be re-elected. Fifa maintains it is the "damaged party" in the Swiss inquiry, and it initiated proceedings by calling in the police in November. The timing is extremely unfortunate, but possible corruption in the World Cup bidding is not directly related to the Fifa president. It has already indicated the vote will go ahead. There is no reason to suspect these developments will persuade the football federations from the smaller nations in Africa, Asia and the Caribbean, on whose patronage Sepp Blatter depends, to switch their allegiance.
Mr Blatter's only opponent is the Jordanian Prince Ali bin al-Hussein. He does not have the stature within the world of football of someone such as Michel Platini. Had the Frenchman known what might happen he might have been persuaded to stand, but it is too late now.
Could Qatar or Russia be stripped of the World Cup?
It's possible, but unlikely. Fifa's own investigation into the matter concluded in November that there was not sufficient evidence of corruption to rerun the process. The Swiss attorney general's office has access only to information provided by Fifa.The office has said it has opened "criminal proceedings against persons unknown on suspicion of criminal mismanagement and of money laundering in connection with the allocation of the 2018 and 2022 football World Cups".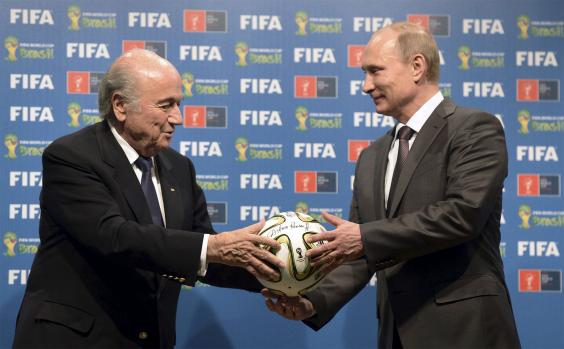 Should any of Fifa's voters be found guilty of such crimes, Fifa's statutes provide for the competition to be rerun. But it would be Fifa's decision to do so, and it has already indicated that any wrongdoing in that bid process did not "affect the integrity or the outcome"  of the bidding.
It seems unlikely that Russia could be stripped of its tournament at this late stage. If Fifa were to remove the competition from either country, it would be declaring itself not fit for purpose. How, then, it could go about holding a fair competition for a new host is very difficult to see.
Will there be more arrests?
US law enforcement agents say their work is not yet done and that their investigations are far from over – Kelly Currie, the US attorney, said Wednesday's indictment was "the beginning of our work, not the end".
Meanwhile, no arrests have yet been made by the Swiss authorities investigating the 2018 and 2022 World Cups. They are preparing to question 10 Fifa committee members, but say they could in theory want to speak to anyone involved in the voting for those tournaments – including Mr Blatter himself. It remains unclear whether arrests will follow the Swiss probe.
Reuse content