Government agencies and financial institutions are on alert across Europe amid fears a Greek anarchist group that sent parcel bombs to French and German officials will strike again.
The Conspiracy of Cells of Fire (CCF) vowed to widen their attacks on "oppressors" after claiming responsibility for an explosive device intercepted before it reached the German finance minister.
The following day, another parcel bomb exploded when it was opened by an unsuspecting secretary at the International Monetary Fund (IMF) headquarters in Paris.
She suffered burns to her face and hands, as well as a damaged eardrum in the blast, which sparked a security lockdown in the French capital's affluent 16th arrondissement.
French prosecutors said the package bomb had been posted from Greece, with fragments of stamps found at the blast site, and Francois Hollande noted similarities with the anarchist attack in Berlin.
"We are trying to establish the causes of what happened as part of an international investigation," the President added.
An official in Greece's public order ministry said anti-terror investigators had taken charge of the case, which is feared to be a repeat of a Europe-wide CCF campaign more than six years ago.
"It is very likely that they were sent by the same organisation," he added, saying there were concerns over the potential distribution of more parcel bombs. "It looks as if it could be a repeat of 2010." 
The Hellenic Police are now attempting to prevent any more explosive packages being sent out via the Greek postal service, which is investigating how they evaded airport security checks in Athens.
Greece's deputy minister for public order, Nikos Toskas, said the Paris bomb was falsely sent in the name of a senior Greek conservative politician, Vassilis Kikilias, and "the address of an office that is no longer in use."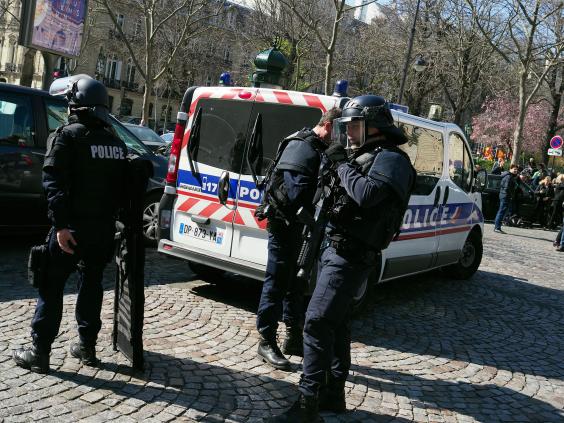 The device intercepted at the German finance ministry on Wednesday was under the name of another politician from the New Democracy party, Adonis Georgiadis. 
Mr Toskas acknowledged that the incidents would require a "re-evaluation" of procedures in Greece and abroad, adding: "Clearly they are from the same source, the same organisation...the leftovers of the CCF."
Greek investigators believe the group is the most likely culprit for both bombings, while a source close to the French inquiry said it was focusing on "an anarchist group".
The homemade devices were compared to "big firecrackers" by authorities, who said they used explosives normally seen in pyrotechnic manufacturing, crammed inside packages designed to trigger when opened.
A previous parcel bombing campaign by the CCF forced authorities to suspend international post leaving Greece for 48 hours in 2010, when devices were sent to targets including Angela Merkel, Silvio Berlusconi, Nicolas Sarkozy, Europol and international embassies.
The campaign resulted in the arrest and imprisonment of several anarchists but the group ridiculed police claims it had been "dismantled" in a propaganda statement.
Police crackdowns have resulted in a series of arrests and prosecutions but a message posted online on Thursday claimed the group's "comrades" would continue their violent struggle.
The CCF, which emerged in 2008 during the Greek financial crisis, hailed the launch of a new phase of "Operation Nemesis" – a campaign of attacks in revenge for the imprisonment of activists.
The 10 developed countries suffering the most deaths from terrorism
The 10 developed countries suffering the most deaths from terrorism
1/10 10: Greece

Greek Presidential Guards, or Evzones, take their place for a review by US President Barack Obama and his Greek counterpart Prokopis Pavlopoulos in Athens

AP

2/10 9: Denmark

Shiny hyggelige people

Shutterstock

3/10 8: Austalia

Getty Images

4/10 7: Sweden

Stockholm, capital of Sweden. The country is the best place for an expat family to raise children, a new survey has shown

Ola Ericson/imagebank.sweden.se

5/10 6: Mexico

People talk to relatives at a section of the wall separating Mexico and the United States

Reuters

6/10 5: Germany

Afghan asylum seeker Shakira Sarwari, 27, and her two children, Mohammed, 17 months, and Setayesh, 7, are taken off a Munich-bound train in Salzburg, Austria, by German police

Anthony Faiola/The Washington Post

7/10 4: Israel

Police declined to confirm or deny the Channel 10 report

AP

8/10 3: US

US police have shot 698 people in 2016 so far. Four times more black than white people have been shot

Getty

9/10 2: France

French policemen and security officers stand guard at the entrance of the Bataclan concert hall, a few hours before the reopening concert by British musician Sting to mark the first anniversary of the November 13 Paris attacks

Getty

10/10 1: Turkey

AP
"For each comrade in prison, new comrades are ready to take his place and continue the path of attack," said a Conspiracy of Fire Cells statement, signed off with the phrase "LONG LIVE ANARCHY".
"We sent parcel bomb to the German finance minister as part of the second act of the Project Nemesis campaign. 
"Watch for more announcements in the future." 
The bomb in Berlin was addressed to German finance minister Wolfgang Schäuble, a day before he was due to host his new American counterpart, Steven Mnuchin, while the Paris device was intended for the IMF's Europe director, Jeffrey Franks.
The attempted attacks followed previous targeting patterns focusing on financial authorities and countries linked to Greece's controversial bailout programme.
Many Greeks resent the austerity measures imposed by the IMF and EU in exchange for Athens to receive billions of euros, while anarchists additionally oppose state and international financial systems.
The CCF characterised its campaign as attacks on "tyrants" supported by militants in Chile and Italy.
"CCF is an idea that cannot be contained because it is like the Hydra," said a statement.
A spokesperson for the National Police Chiefs' Council urged authorities to remain alert, although it was not aware of any parcel bomb threats in Britain.
"We are not aware of any incidents of this nature in the UK but we always remind people to be vigilant," a spokesperson told The Independent. 
Reuse content