A gunman is on the run in France after killing a woman in an attack on a retirement home for Catholic missionaries near the city of Montpellier.
Armed police were deployed to the Maison de Retraite des Missions Africaines (African Missions Retirement Home) in Montferrier-sur-Lez on Thursday night.
"An individual, who was masked and armed with a knife and a sawn-off shotgun came into the retirement home where 70 missionaries live," a source told the AFP news agency, adding that the man's motivations were unknown.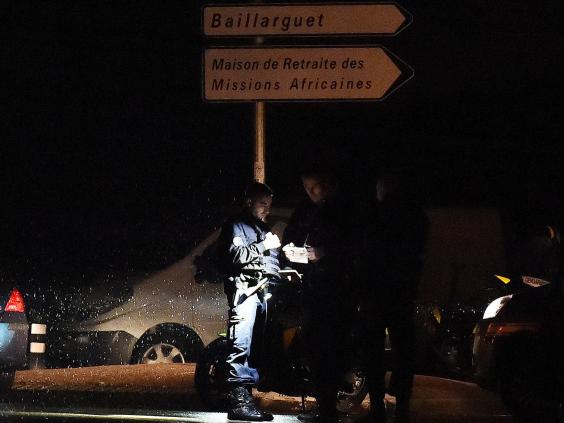 Local authorities confirmed at least one person had been found dead, with the e-Metropolitain news website reporting a female supervisor had been killed with a knife after she raised the alarm.
The woman's body was reportedly found bound and gagged, while the attacker's whereabouts remained unclear as searches continued.
"For the time being, there is only one victim," Montpellier prosecutor Christophe Barret said. "For the moment there is no particular evidence about the motive for this crime."
The assault was launched at around 9.45pm local time (8.45pm GMT), at the home run for both religious and non-religious residents.
Around 60 residents have since been rescued by police but the assailant was believed to have fled. Road blocks were set up in the surrounding area, with officers searching cars as a helicopter searched overhead.
"A large number of security forces, firefighters and ambulance personnel are at the scene," said the mayor of Montferrier-sur-Luz, Michel Fraysse.
Normandy church attack in pictures
Normandy church attack in pictures
1/16

The victim was the 84-year-old priest at the church, Jacques Hamel.

AFP/Getty

2/16

French police at the scene of the attack on a church in Saint-Etienne-du-Rouvray, northern France, on July 26

AFP/Getty Images

3/16

More police at the scene

BFM TV

4/16

French President Francois Hollande shaking hands with security personnel at the scene

AP

5/16

French soldiers standing guard outside the scene of the attack

AP

6/16

A policeman secures a position in front of the city hall after two assailants had taken five people hostage in the church at Saint-Etienne-du -Rouvray near Rouen in Normandy

Pascal Rossignol/Reuters

7/16

A policeman holds a HKG36 assault rifle as he secures the position in front of the local town hall following the attack

REUTERS

8/16

French judicial inverstigating police apprehends a man during a raid after a hostage-taking in the church in Saint-Etienne-du-Rouvray near Rouen in Normandy, France

REUTERS

9/16

AFP/Getty Images

10/16

REUTERS

11/16

REUTERS

12/16

AFP/Getty Images

13/16

AP

14/16

AP

15/16

French Interior Minister Bernard Cazeneuve visits the church

REUTERS

16/16

AFP/Getty Images
Alain Berthet, a local councillor in Montferrier-sur-Luz, said the home's residents were "very elderly with an average age of 75 although some are more than 90," with many needing assistance to walk.
News of the killing was reverberating round France late on Thursday night, with people voicing their horror on social media.
The secretary general of the French Bishops' Conference, Olivier Ribadeau Dumas, wrote on Twitter: "Our prayers tonight go to the woman who lost her life in this attack on a retirement home."
Suspicions quickly turned to terrorism just months after Isis supporters murdered a Catholic priest in an assault on a church in Normandy.
There was no immediate claim of responsibility for Thursday's incident.
France remains under a state of emergency imposed following the murder of 130 people in the Paris attacks last November.
Several terror plots have since been uncovered, including plans by Isis militants to attack Disneyland Paris and the Champs Elysees.
Reuse content