Munich police are defending their decision to evacuate two major railway stations due to warnings of a "serious, imminent" terror threat to the city's New Year celebrations.  
Authorities asked people to stay away from the city's main train station and a second train station in the city's Pasing neighbourhood overnight.
But Bavaria's Interior Minister Joachim Herrmann admitted on Friday that the police were no longer sure whether the plot was real.
He told reporters: "We no longer have concrete indications for a terror threat today or tomorrow at a specific location".
A police spokeswoman said they had received a tip off from the French security services about a "specific" Isis inspired plot.
According to local radio station BR, more than 500 police officers were deployed to hunt a seven person Iraqi-Syrian suicide cell who was allegedly poised to attack New Year revellers in an Isis inspired attack.
Local police chief Hubertus Andrae said the force had received several names but did not know whether they were real and they did not know if the suspects were still "in Munich or in fact in Germany".
He urged locals to "carry on living as you did previously" but insisted the alert was "not a false alarm", Die Welt reports.
Although the risk level has been reduced to the same level it was before the attack, a police spokesman told AFP that there was still a "high threat of terrorism".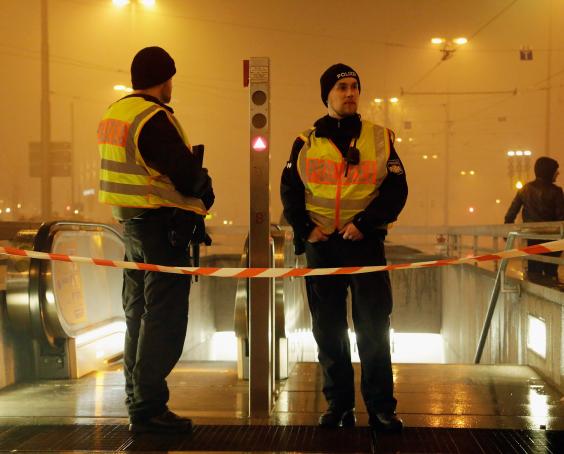 Police spokesman Werner Kraus told The Associated Press that "after evaluating the situation, we started evacuating the train stations and also asked partygoers to stay away from big crowds outside." 
The warning came only hours before the city rang in the new year. 
Despite police warnings to stay away from big crowds, thousands of people were on the streets of Munich at midnight to welcome 2016 with fireworks.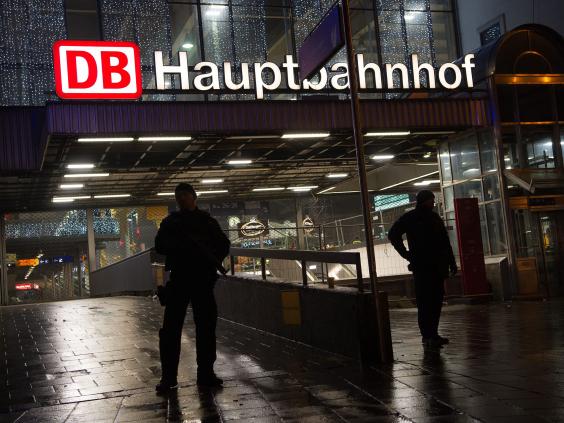 Dpa reported massive delays in the city's public transportation system after both train stations were quickly evacuated and trains were no longer stopped there. 
It comes as Paris cancelled it's traditional fireworks display in favor of a 5-minute video performance at the Arc de Triomphe just before midnight, relayed on screens along the Champs Elysee. 
Cities across Europe have been on edge since a terror attack in Paris in November killed 130 people.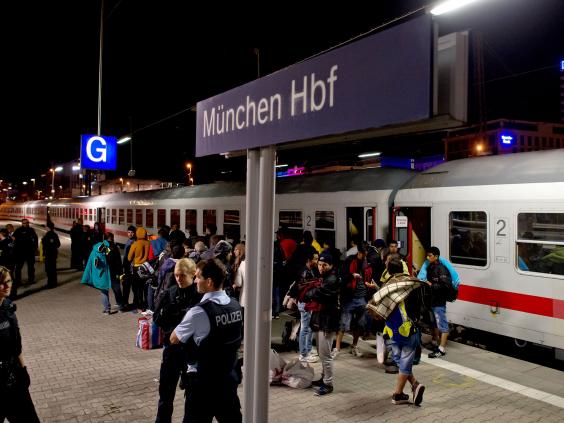 Paris Mayor Anne Hidalgo said the show was aimed at "sending the world the message that Paris is standing, proud of its lifestyle and living together." ​
Brussels cancelled its own fireworks display earlier this week after the arrest of two men in connection an alleged planned attack.
A further six people were arrested yesterday in connection with the plot. Beligan authorities also announced they had placed a tenth person under formal investigation in connection with the Paris attacks. 
New Year's Eve Around the World 2015
New Year's Eve Around the World 2015
1/17 Moscow

Fireworks light the night sky over the Kremlin's Spasskaya tower, St.Basil's cathedral and the Red square to mark the New Year in Moscow

2/17 Sydney, Australia

Fireworks above the Sydney Harbour Bridge and Opera House as over a million people throng the Harbour to bring in the New Year

Copyright (c) 2016 Rex Features. No use without permission.

3/17 Aadorp, The Netherlands

People watch explosions during a carbide shooting, a Dutch New Year's Eve tradition to scare off evil spirits, in Aadorp, The Netherlands

EPA

4/17 Kuala Lumpur, Malaysia

Fireworks explode near Malaysia's landmark, Petronas Towers during New Year's Eve celebration in Kuala Lumpur, Malaysia

EPA

5/17 Beijing, China

A group of woman uses a mobile phone to take a picture during a New Year's Eve countdown event at the Tai Miao Temple next to the Forbidden City in Beijing

AFP or licensors

6/17 Sydney, Australia

Woman celebrate the coming of a new year as they wait for the annual New Years Eve fireworks display in Sydney

AP

7/17 Bali, Indonesia

Balinese girls in traditional costumes gather during a parade for this year's last sundown in Bali island

AP

8/17 Sydney, Australia

Fireworks explode over the Opera House during a pre-New Years Eve fireworks display

AP

9/17 Manila, Philippines

Filipino Catholic devotees jostle to get closer to the image of the Black Nazarene during a thanksgiving procession on New Year's eve in Manila, Philippines

10/17 Madrid, Spain

A rehearsal of the chimes of the Puerta del Sol clock, a day before New Year's Eve at Puerta del Sol square in Madrid

EPA

11/17 London, England

The London Eye is lit up in red this evening ahead of New Year's Eve

Vickie Flores/LNP

12/17

School students offer prayers for the world peace in the upcoming year of 2016 in Ahmedabad, India

Reuters

13/17 New York City, USA

The Times Square New Year's Eve Ball is tested atop the roof of One Times Square

Reuters

14/17 Bruges, Belgium

The city hall on Brussels' Grand Place is illuminated during a light show, December 30, 2015

Reuters

15/17 Beijing, China

Workers push a 2016 countdown clock into position during a rehearsal for a New Year's Eve countdown celebration

AP

16/17 Moscow, Russia

A seasonally decorated street with illuminations for Christmas and the New Year in Moscow, Russia

EPA

17/17 Gaza City

Palestinians celebrate the last day of the year at the sea port in Gaza City

AFP/Getty
London's celebrations went ahead as planned but with unconfirmed reports that Scotland Yard cancelled the leave of all firearms officers in the capital. 
The force insisted that the deployment of 3,000 police officers for the event was a typical precaution and did not represent heightened security. 
A US man was arrested and charged on suspicion of plotting a terror style attack on a restaurant in Rochester in New York state.
New York City saw the deployment of 6,000 police officers armed with dogs, radiation detectors and sniper rifles.
Additional reporting by AP.
Reuse content