The raw figures look bad, and they are deteriorating. Experts differ on quite how much of a crisis the Russian economy is in – from the apocalyptic: the country is fast running out of money; it is on the verge of financial collapse and its reserves are not what they appear – to the phlegmatic.
Some of those in the second camp – take out oil and the Russian economy is well-managed, unencumbered by debt, and its foreign currency reserves are sufficient to see the country through another year and probably more – accuse some in the first camp of deliberately talking up the damage to open up, in effect, a third front in the bitter east-west stand-off over Ukraine, credibility being at least half the battle where a state's finances are concerned. And so far, at least, comparisons with the 1998 currency crisis are in the Kremlin's favour.
Although Russians can see the value of the rouble decreasing pretty much each day, there has as yet been no run on the banks. In an echo of the past, when payment was often demanded in "hard currency", however, the government has warned that it is illegal to price goods in any currency than the rouble, and capital flight for 2014 is said to have run at record levels. One explanation might be that those with access to other currencies have already secured their cash by whatever means, while those operating solely in the rouble economy have yet to see any substantial change.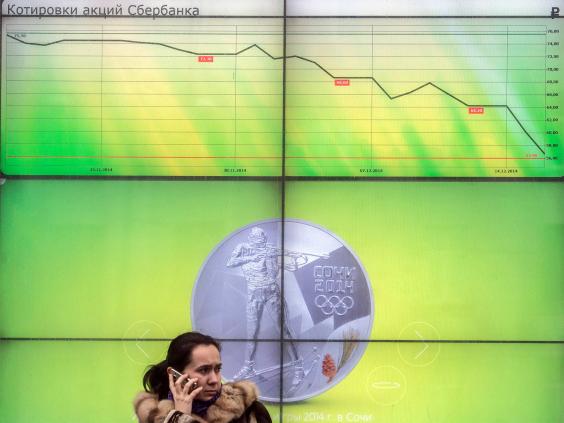 In her first official statement on Monday's dramatic rise in interest rates, the head of Russia's Central Bank yesterday defended the move as designed to curb inflation and encourage Russians to deposit more of their roubles in savings accounts. But Elvira Nabiullina, who has headed the bank since last year, said she did not expect the increase to have any immediate effect on the rate of the rouble, which has fallen sharply against the US dollar and other international currencies in recent trading.
On Monday, the Russian currency suffered its sharpest drop for 16 years, falling 10 per cent against the dollar, on rumours, it is said, that the US was preparing a new round of sanctions. Yesterday, the White House said Barack Obama was expected to sign legislation implementing new sanctions by the end of this week.
Analysts say the main reason for the rouble's demise is the fall in world oil prices, which have slid from above $100 a barrel to $60 in the past six months – oil and gas taxes making up half of all the Russian budget's revenue. The sanctions imposed by the US and EU in response to Russia's annexation of Crimea and its interference in eastern Ukraine are seen as an additional factor.
Yesterday, the rouble stabilised. Ms Nabiullina insisted in an interview that the rouble was currently undervalued in relation to the state of the Russian economy overall, but conceded that any return to what might be seen as a more normal rate would take time. Russia, she said, would have to learn to live in the "new reality".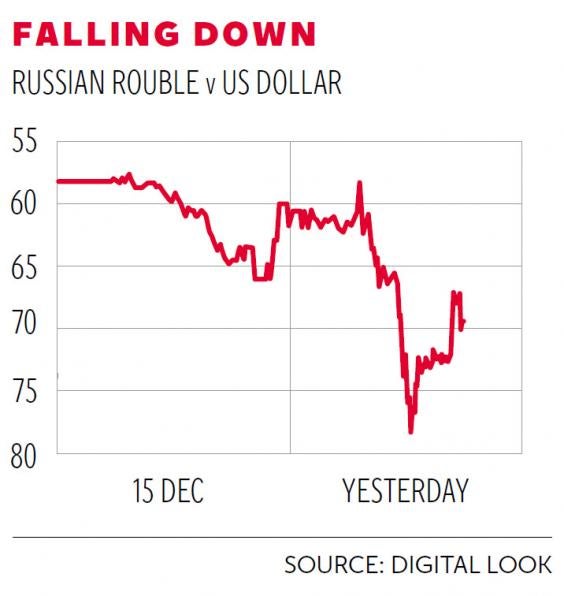 The rate rise, which is said to have been approved by President Vladimir Putin personally, is the latest and most demonstrative attempt by the Russian authorities to limit the economic damage from the debilitating conjunction of falling oil prices and Western sanctions.
If the government and Central Bank between them can retain public confidence, it is possible that Russia's exchequer will be able to ride out the crisis. President Putin's popularity rating remains only a little below the 80-plus per cent approval rating he attained after the annexation of Crimea, and most fundamentals of the Russian economy are seen as sound.
If, however, the sterling devaluation of 1992 and the UK's enforced departure from the European Exchange Mechanism are seen as any sort of precedent – and there are parallels in the self-reinforcing nature of what is going on – then the omens are not good.
The difficulty then could be disentangling cause from effect. Would a growing sense of economic doom, exacerbated perhaps by price rises and shortages of staples, bring people on to the streets in a challenge to the leadership, which in turn spurred opposition to Putin in the Kremlin and precipitated his downfall?
Or would the fall in the rouble – given that a currency is so closely bound up with national self-esteem – lead to a loss of public confidence in Putin that would trigger economic meltdown and a run on the banks. Or would a deepening crisis have the effect of boosting Putin's stature still further as the protector of the nation in its adversity – and then what if he failed?
Tensions between Russia and the Western world
Tensions between Russia and the Western world
1/7 Russia

Vladimir Putin leaves G20 early after criticism from world leaders over Ukraine. David Cameron warned Vladimir Putin, face to face, that Russia's whole post-Cold War relationship with the West is at a "fork in the road" over Ukraine

Getty

2/7 Russia

A mysterious Russian object is being tracked by space agencies, giving new life to fears about the increase of space weapons. The satellite, dubbed Object 2014-28E, has grabbed the interest of official and amateur satellite-watchers because it is taking a confusing path and its purpose has not been identified

Getty Images

3/7 Russia

Russian warplanes are risking the security of civilian passengers as they play a dangerous game designed to test Western air defences, according to Nato's secretary general

FRA

4/7 Russia

Russia has warned Ukraine that a resumption of hostilities against pro-Russian separatists in the east would be catastrophic for Ukraine

Reuters

5/7 Russia

A Swedish minesweeper searches for suspected "foreign underwater activity" near Stockholm. A Russian sub in Swedish waters has slipped away into the sea...leaving recriminations in its wake

Reuters

6/7 Russia

Russian government agencies have been accused of editing a Wikipedia article to suggest the Ukrainian military was responsible for shooting down the Malaysia Airlines flight MH17, a Twitter account monitoring state IP addresses has claimed

AFP

7/7 Russia

Australia's prime minister Tony Abbott has promised he will "shirtfront" Vladimir Putin over the downing of Malaysia Airlines flight MH17, which killed 38 Australian citizens

AP
There is already whispering about cabals in the Kremlin, with sections of the military pitted against a more peaceable Putin clan – though, again, such reports could reflect wishful Western thinking and desperate attempts to "explain" Russia's actions in relation to Ukraine.
For the short term, at least, a majority of Russians seem prepared to rally round Putin and join him in blaming Western malevolence for their plight. And if disillusionment set in, and Putin were to lose his popularity or his job, or both, what then?
The greatest danger would be for Western governments to assume that any replacement would be more to their liking. With nationalism in the ascendant, following what Russians see as the "recovery" of Crimea, a new president would need to promise more. Suing for peace would not be an option.
Reuse content