The President of Turkey has said democracy and freedom have "absolutely no value" in the country after calling for journalists, lawyers and politicians to be prosecuted as terrorists.
Recep Tayyip Erdogan spoke on Wednesday as almost 50 people, including activists and academics, were detained in a wave of police raids.
In a speech to local politicians in Ankara, he criticised critics raising concern over Turkey's record on "democracy, freedom and rule of law" as discussions over a landmark deal on the refugee crisis continue.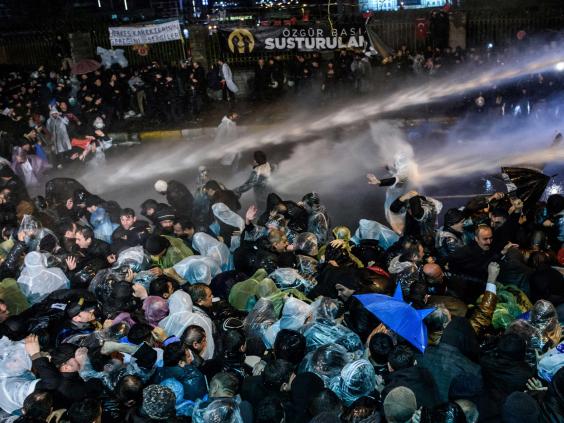 "For us, these phrases have absolutely no value any longer," he said in the televised address, according to a translation by DPA. 
"Those who stand on our side in the fight against terrorism are our friend. Those on the opposite side, are our enemy."
Recep Tayyip Erdogan's most controversial quotes
Recep Tayyip Erdogan's most controversial quotes
1/8 The Turkish President's craziest quotes

Just a week before he was elected President, he called Erdogan Amberin Zaman, the Turkey correspondent for 'The Economist', a "shameless militant woman disguised under the name of a journalist" after she had asked an opposition leader whether "Muslim society is able to question" the authorities. "Know your place," Erdoğan said. "They gave you a pen and you are writing a column in a newspaper. "And then they invite you to a TV channel owned by Doğan media group and you insult at a society of 99 per cent Muslims," he said he said according to Today's Zaman newspaper.

Sascha Schuermann/Getty Images

2/8 The Turkish President's craziest quotes

Turkish people are pictured chanting slogans during an anti-government protest on Taksim square in Istanbul, on 29 June, 2013. The protests were sparked by brutal police action against a local conservation battle to save Istanbul's Gezi Park, and soon turned into nationwide demonstrations against the government. Amid the protests - the worst in Turkey for years - Erdogan accused demonstrators of being "arm-in-arm with terrorism," according to Reuters. "This is a protest organized by extremist elements. We will not give away anything to those who live arm-in-arm with terrorism," he said.

GURCAN OZTURK/AFP/Getty Images

3/8 The Turkish President's craziest quotes

During last year's protests, activists used social media to organise and disseminate information. Several dozen tweeters were arrested following the protests, according to local media reports. Erdogan responded by calling the technology a "menace". "There is now a menace which is called Twitter," Erdogan said. "The best examples of lies can be found there. To me, social media is the worst menace to society," BBC New reported.

Vladimir Astapkovich/RIA Novosti via Getty Images

4/8 The Turkish President's craziest quotes

Not helping to allay accusations of authoritarianism, after Turkish police detained 49 people, including well-known business people and those close to the ruling party, Erdeogan ominously told reporter that Turkey "is not a banana republic" that can be affected by unnamed "operations", according to Today's Zaman newspaper. "People who are backed by the media and certain funders cannot change this country," he said. "People backed by certain dark gangs both inside and outside Turkey cannot mess with the country's path. They cannot change conditions in Turkey. Turkey is not a country that anyone can launch an operation into. The [Turkish] nation will not allow that. The AK Party, which is governing this nation, will not allow this."

Alexander Hassenstein/Getty Images

5/8 The Turkish President's craziest quotes

Friends and relatives of the miners who died in an explosion at the Soma mine are pictured praying following the burial in Soma cemetery of the last body to be recovered from the mine in May 2014. At the time, the then-Prime Minister badly misjudged the Soma mining disaster, in which 301 workers died. He told the relatives of dead and dying miners that "these types of incidents are ordinary things", following allegations that the government had ignored safety concerns about the privately owned mine, the Guardian reported. In his defence, Erdogan recounted in a separate speech a list of mining disasters which occurred abroad, including a British disaster in 1862, and one in America "which has every kind of technology".

Oli Scarff/Getty Images

6/8 The Turkish President's craziest quotes

Palestinians pictured attending Friday noon prayers in a destroyed mosque that was hit by Israeli strikes, in Gaza City. As Prime Minister, Erdogan has condemned Israel, accusing it of deliberately killing Palestinian mothers and warned that the it would "drown in the blood it sheds." Speaking to thousands of supporters during a rally in Istanbul ahead of the 10 August election, Reuters reported him as saying: "Just like Hitler, who sought to establish a race free of all faults, Israel is chasing after the same target." "They kill women so that they will not give birth to Palestinians; they kill babies so that they won't grow up; they kill men so they can't defend their country ... They will drown in the blood they shed," he said.

AP

7/8 The Turkish President's craziest quotes

Amid the worst protests in Turkey for years which had spread across dozens of cities last June, Erdogan accused demonstrators of being "arm-in-arm with terrorism," according to Reuters. A demonstration to halt construction in a park in an Istanbul square grew into mass protests against a heavy-handed police crackdown and what opponents called Erdogan's authoritarian policies. "This is a protest organized by extremist elements," Erdogan said before departing on a trip to North Africa. "We will not give away anything to those who live arm-in-arm with terrorism," he said.

Sascha Schuermann/Getty Images

8/8 The Turkish President's craziest quotes

In March 2014, Erdogan accused a 15-year-old boy who died from injuries sustained in last year's anti-government protests of being linked to terrorism. Berkin Elvan, who became a symbol of anti-government protests, had gone to pick up bread when he was hit with a teargas canister - sending him into a nine-month coma before he passed away. In a speech broadcast on state TV, Erdogan said of Berkin: "This kid with steel marbles in his pockets, with a slingshot in his hand, his face covered with a scarf, who had been taken up into terror organisations, was unfortunately subjected to pepper gas. "How could the police determine how old that person was who had a scarf on his face and was hurling steel marbles with a slingshot in his hand?"

ADEM ALTAN/AFP/Getty Images
On Monday, the President had vowed to extend the legal definition of "terrorists" to include MPs, activists and journalists.
"It is not only the person who pulls the trigger, but those who made that possible who should also be defined as terrorists, regardless of their title," Mr Erdogan said.
Police operations claim to be targeting the banned Kurdistan Workers' Party (PKK) following a bombing claimed by one of its splinter groups that killed 37 people in Ankara on Sunday.
But friends of those detained have said they include academics who signed a declaration calling for peace and a British man arrested over leaflets found at his home.
Kurdish groups are suspected of orchestrating several recent attacks across Turkey as government forces continue a crackdown in south-eastern parts of the country where the minority has been demanding greater autonomy for decades.
A ceasefire between Turkey and the PKK collapsed in July and military operations intensified in December, seeing hundreds killed including civilians, the destruction of several districts and more than 350,000 people displaced.
The violence has been accompanied by restrictions on press freedom and civil rights, seeing the Zaman newspaper taken over by the government, journalists arrested and protests crushed by riot police with tear gas and water cannons.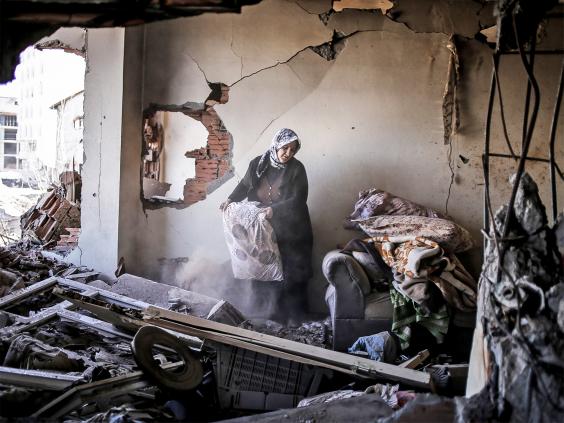 European leaders have been criticised for failing to censure Turkish politicians over the alleged abuses as they attempt to secure a controversial deal that could help stem the flow of refugees and migrants crossing the Aegean Sea.
An agreement could be reached at a summit in Brussels today, where the German Chancellor Angela Merkel, and Turkish Prime Minister Ahmet Davutoglu will continue negotiations after EU leaders agreed a common stance on Thursday.
The accord would see Turkey agree to take back asylum seekers picked up off the Greek coast in exchange for Syrian refugees being directly relocated to European nations from camps in Turkey and a series of concessions to speed up the EU membership process.
Additional reporting by Reuters