As right-wing politicians across Europe call for "economic migrants" to be deported or even left to drown in the Mediterranean Sea, analysts say the term is divorced from the harrowing reality faced by many of the men, women and children risking their lives to reach safety.
The passage from Libya to Italy, the deadliest crossing in the world, is now the dominant route after the controversial EU-Turkey deal aimed to close the comparatively safer and shorter path over the Aegean Sea.
Libya has been a draw for people seeking work across Africa for decades and the prospect of high wages and abundant construction work is still luring migrants unaware of the chaos and violence that awaits.
Over five years after Britain and allies mounted a military intervention against Muammar Gaddafi, the country remains divided between a fragile government, Isis and more than 1,700 separate armed groups battling for control.
Migrants and refugees are frequently kidnapped by gangs in exchange for ransoms, being beaten, raped and tortured in squalid makeshift prisons, while others are detained in labour camps or forced into prostitution until they pay their way out.
With routes out of Libya controlled by militias and many borders closed, the only escape is flimsy rubber boats sent into the Mediterranean Sea by smugglers, who threaten to shoot anyone attempting to resist being packed into the overcrowded dinghies.
Earlier this month, The Independent joined the largest humanitarian ship in the Mediterranean to observe its search and rescue operations as hundreds of flimsy dinghies continue to be launched from the Libyan coast.
Of the 868 migrants and refugees taken aboard the Médecins Sans Frontières (MSF) Bourbon Argos in just 10 hours of rescues, many said they had not set out to start a new life in Europe. 
Diomande Habib, a 26-year-old man from the Ivory Coast, told how he was working in Gabon when he heard about opportunities in Libya.
"My friend said there used to be a war there but now it's a country under construction, so I thought I could go there and get a good job," he told The Independent.
Mr Habib paid a smuggler 150,000 CFA francs (£200) to drive him eight days through the desert to reach what he thought was a land of opportunity, but was kidnapped and imprisoned soon after his arrival in November 2015.
"We would go three days without food and then they would give us a piece of bread to share and some water," he recalled. "They beat us, they beat us all the time."
In pictures: A day of refugee rescues in the Mediterranean Sea
In pictures: A day of refugee rescues in the Mediterranean Sea
1/7

A baby being taken on to MSF's Bourbon Argos ship from a boat carrying 130 migrants and refugees

Lizzie Dearden

2/7

A refugee boat carrying 101 people being rescued by MSF's Bourbon Argos

Lizzie Dearden

3/7

A refugee boat carrying 101 people being rescued by MSF's Bourbon Argos

all images by Lizzie Dearden

4/7

A baby among refugees on a boat carrying 185 people off the coast of Libya

Lizzie Dearden

5/7

Migrants and refugees sleeping after being rescued by MSF's Bourbon Argos ship

Lizzie Dearden

6/7

A crew from MSF's Bourbon Argos ship rescuing a boat carrying 130 migrants and refugees off the coast of Libya, at sunrise

Lizzie Dearden

7/7

A woman in a stretcher being lifted onto MSF's Bourbon Argos ship from a boat carrying 130 migrants and refugees off the coast of Libya

Lizzie Dearden
Mr Habib does not know who the gang who detained him were, describing them as "bandits", who demanded a 200,000 CFA (£265) ransom in exchange for his freedom. He called his family but the money never came.
After three months he was freed when a rival militia broke into the prison during battles, releasing the hostages, and he walked to Tripoli where he was finally able to meet a friend and get a job.
But Mr Habib's trials were not over. His new employer did not pay him for his labour and when Mr Habib demanded the agreed amount, he said the man threatened to kill him. Seeing no way back to Gabon or his home country, he boarded a smugglers' boat into the Mediterranean. 
Among the other rescued migrants on the boat was Ali Ibrahim Salman, a Syrian man who moved to Libya for work in the 1990s.
When the revolution that would lead to the ousting of Muammar Gaddafi and civil war started in 2011, he returned to Syria with his family, only for battles between Islamist rebels and government troops to later reach his hometown in Hama province.
"I went back to Syria but it was too dangerous to stay," he told The Independent. "My baby was killed. He was in the bedroom when the Islamists fired a shell. The shrapnel flew through the window and he died."
Mr Salman is planning to join relatives in Sweden and later be joined by his family, but hopes one day to return home.
The majority of asylum seekers The Independent met on the Bourbon Argos did not know or care where they were going, overcome by relief escaping Libya. Not one person interviewed intended to come to the UK.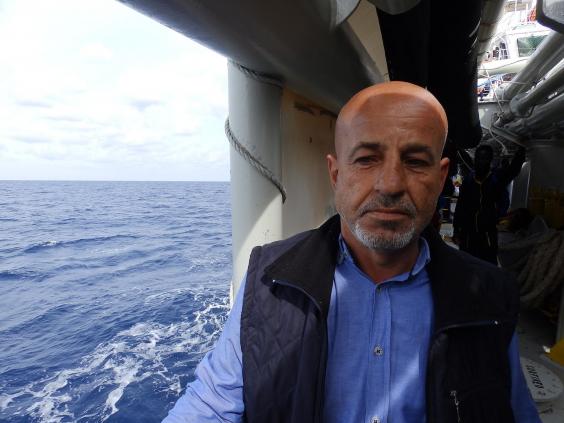 "I don't care where I go," said Didi, a 33-year-old Nigerian woman. "Anywhere as long as we are safe."
She left her home country on her own to find work, being smuggled out of the country inside a cattle lorry and later being forced to labour on a lime farm and kept in a "prison" in Libya before being able to board a boat into the Mediterranean.
"Not everyone wants to go to Europe," she said. "Some of them want to go home, but there's no way back."
Refugees who have survived labour camps have given horrific accounts of beatings and torture, including gang rape, as well as disease and starvation killing detainees who face death if they attempt to escape.
One of the men taken aboard the Bourbon Argos on a stretcher had a bullet wound in his leg that had fractured the bone in two places. He was shot just six days before the rescue while trying to flee a detention centre, narrowly escaping with his life.
Leaving Libya via land is not considered an option, with widespread reports of border guards and militias shooting those trying to get out, even setting one man attempting to leave on fire, and gangs stealing passports and documents to make legal travel impossible.
Analysts say the desperate situation is making attempts to separate "economic migrants" from "refugees" increasingly obsolete as those who originally have set out for work become victims of violence and persecution.
Marta Foresti, interim executive director of the Overseas Development Institute, said the situation was additionally complicated by changing decisions on routes to Europe that can take months or even years.
"The idea that migrants and refugees leave their homes to journey to Europe is not the majority," she told The Independent.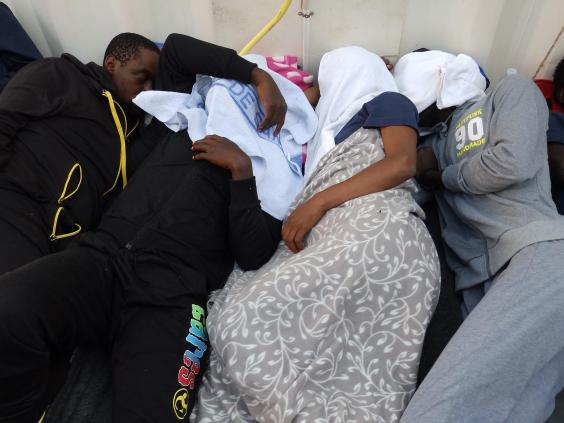 "People who gain vulnerability because of the journey itself get trapped by this increasingly negative label of 'economic migrants'.
"The whole idea about these two categories of refugees and migrants is becoming increasingly unhelpful – most people arriving are something of a mix between the two."
There is no legal definition of an economic migrant but the increasingly pejorative term has become linked to people arriving from the Middle East, Asia and Africa, rather than workers from more affluent countries in Europe and the US.
Right-wing parties and groups across Europe have called for those arriving to be deported, or for rescue missions in the Mediterranean to stop in the belief it will discourage those risking their lives to flee Libya.
Czech President Milos Zeman said he was "for the deportation of all economic migrants" last month, suggesting they could be relocated to "empty places" in North Africa or uninhabited Greek islands.
"Of course I respect the cruelty of civil war in Syria, Iraq, and so on," he said. "But we do not speak about those people, we speak about economic migrants."
In efforts to distinguish supposedly "real refugees", countries such as Macedonia have shut their borders to selected nationalities in spite of UN warnings over possible violations of the 1951 refugee convention, while nations across Europe have been increasing restrictions.
Now the dominant route to Europe, the passage between Libya and Italy has become the deadliest in the world, claiming the vast majority of almost 4,700 lives lost in attempted sea crossings so far this year.
The death rate in the Mediterranean Sea is the highest ever recorded, with hundreds of migrants drowning in a succession of disasters last week alone, as boats continue to be launched in worsening winter weather.
Around a quarter of almost 345,000 migrants and refugees to have arrived on Europe's shores this year are Syrian, followed by Afghans, Nigerians, Iraqis, Eritreans and other nationalities, with 55 per cent men, 18 per cent women and 27 per cent children.
Reuse content