John Kerry has called Russia's military incursion into Ukraine "an incredible act of aggression" and said President Putin has made "a stunning, wilful" choice to invade another country.
The US Secretary of State urged Russia to respect the democratic process through which the Ukrainian people ousted their pro-Russian president and assembled a new government.
He raised the possibility of boycotting the June meeting of the Group of Eight leading industrialised countries in Sochi, Russia, and said the country could face visa bans, asset freezes, and trade and investment penalties.
His comments came as it emerged that the newly-appointed head of Ukraine's navy had "defected" to the Crimea region, pledging allegiance to its unrecognised pro-Russian leader and surrendering the country's Sevastopol headquarters.
Russian Prime Minister Dmitry Medvedev said on Facebook on Sunday that Ukraine's leaders had seized power illegally and predicted their rule would end with "a new revolution" and new bloodshed.
Medvedev said that while Viktor Yanukovich had practically no authority he remained the legitimate head of state according the constitution, adding: "If he is guilty before Ukraine - hold an impeachment procedure ... and try him."
"Everything else is lawlessness. The seizure of power," Medvedev said on his Facebook page. "And that means such order will be extremely unstable. It will end in a new revolution. New blood."
President Putin told German Chancellor Angela Merkel on Sunday that Russian citizens and Russian-speakers in Ukraine faced an "unflagging" threat from ultranationalists, and that the measures Moscow has taken were completely fitting given the "extraordinary situation", the Kremlin said.
In a telephone conversation during which Merkel expressed concern about developments in Ukraine, she and Putin agreed that Russia and Germany would continue consultations in bilateral and multilateral formats to seek the "normalisation" of the situation, a Kremlin statement said.
The Ukrainian security council said it has fired Rear Admiral Denis Berezovsky, and that it would be opening a case against him for treason.
David Cameron announced today that British government ministers will be boycotting Russia's 2014 Sochi Winter Paralympics, which open on Friday, in the wake of the ongoing international crisis in Ukraine.
Earlier today, the country's acting prime minister saying that Ukraine is "on the brink of disaster" after hundreds of unidentified gunmen engaged in a standoff with troops at a base in the Crimean peninsula.
Emerging from a closed session of parliament in Kiev today, Arseniy Yatsenyuk described President Putin's decision to send in troops as a "declaration of war", and said: "There was no reason for the Russian Federation to invade Ukraine."
Nato secretary general Anders Fogh Rasmussen convened an emergency meeting today to call on Russia to "stop its military activities and its threats".
"What Russia is doing now in Ukraine violates the principles of the United Nations Charter," he said. "It threatens peace and security in Europe."
He was joined in his condemnation of Russia's actions by a host of western powers, and yesterday US President Barack Obama held a 90-minute phone conversation with Mr Putin himself.
"President Obama expressed his deep concern over Russia's clear violation of Ukrainian sovereignty and territorial integrity, which is a breach of international law," the White House said.
In pictures: Russian troops in Crimea as Ukraine crisis continues
In pictures: Russian troops in Crimea as Ukraine crisis continues
1/10 Pro-Russian protests in Crimea

Pro-Russian protesters, including one woman holding a sign that reads: 'The time has come to return my name! I am Russia. And not Ukraine!', hold up a giant Russian flag as they march in Simferopol, Ukraine, on 1 March.

Sean Gallup/Getty Images

2/10 Pro-Russian protests in Crimea

Pro-Russian protesters marching in Simferopol, Ukraine, on 1 March.

Sean Gallup/Getty Images

3/10 Russian troops in Crimea

A young man carrying flowers confronts heavily-armed soldiers displaying in a street in the city centre of Simferopol, Ukraine, on 1 March.

Sean Gallup/Getty Images

4/10 Russian troops enter Crimea

Two young women sit in a shop as heavily-armed soldiers stand outside in Simferopol, Ukraine, on 1 March.

Sean Gallup/Getty Images

5/10 Pro-Russian protests in Crimea

Pro-Russian protesters wave the orange and black colours of Russian military valour at an anti-American rally in Simferopol, Ukraine, on 1 March.

Sean Gallup/Getty Images

6/10 Pro-Europe protests continue in Kiev

A man walks with an EU flag at the bridge overlooking Independence Square in central Kiev on 1 March

LOUISA GOULIAMAKI/AFP/Getty Images

7/10 Russian troops guard Crimean parliament

Heavily-armed soldiers guard the Crimean parliament building shortly after taking up positions there on 1 March in Simferopol, Ukraine

Sean Gallup/Getty Images

8/10 Protests continue in Kiev

A member of a so-called 'Maidan's self defence unit' looks at pictures of protesters who were killed during recent clashes, displayed in central Kiev on March 1

Bulent Kilic/AFP/Getty Images

9/10 Russian troops in Crimea

Women look on as troops guard the Crimean parliament building in Simferopol, Ukraine, on 1 March

Sean Gallup/Getty Images

10/10 Funerals continue in Kiev

A woman holds a candle during the funerals of a man who was killed during the recent clashes with the riot police on Kiev's Independence square on 1 March.

Bulent Kilic/AFP/Getty Images
This afternoon hundreds of unidentified gunmen arrived outside Ukraine's infantry base in Privolnoye, not far from the Crimean regional capital of Simferopol.
The convoy of at least 13 vehicles with Russian licence plates - each containing around 30 soldiers - surrounded the base and refused to allow Ukrainian soldiers to enter or leave. The forces inside the base have reportedly positioned a tank at the gate.
Eyewitnesses in Crimea earlier said that a convoy including a Tiger tank and two ambulances was heading for Simferopol from the Black Sea coast.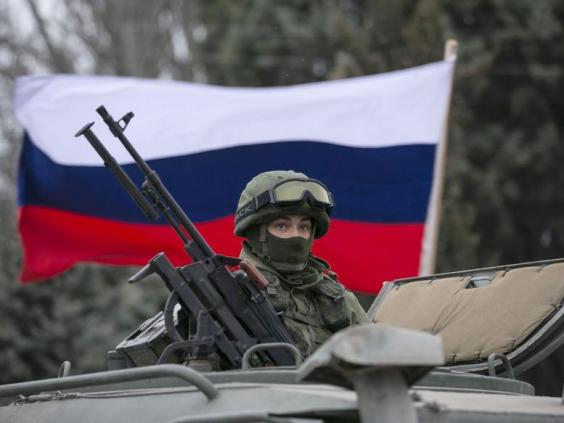 And last night, Russian warships were sighted off the coast of Crimea - in operations which violate the country's agreement with Ukraine on usage of the Sebastapol naval base.
The movements come after Mr Putin was granted permission for a military intervention by a unanimous vote in the Russian parliament.
Yesterday Mr Yatseniuk had told reporters: "Military intervention would be the beginning of war and the end of any relations between Ukraine and Russia."
Russian troops took over much of the strategic Crimean peninsula without firing a shot and the new government in Kiev has been powerless to respond.
Russia's current position is a breach of the UN Charter and the 1997 military basing agreement with Ukraine, as well as the 1994 Budapest Memorandum and the Helsinki Final Act, the White House has said.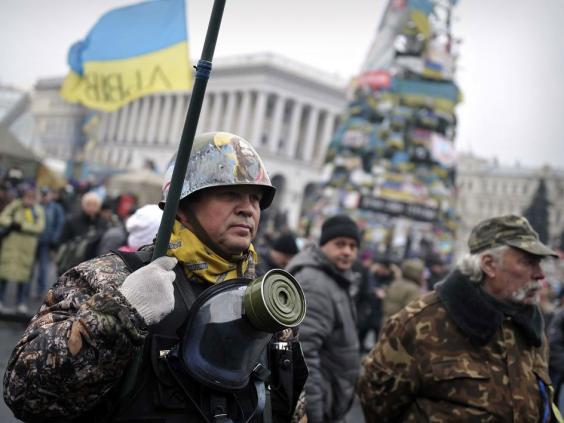 In its statement after Mr Putin and Mr Obama's conversation, the US said it had "suspended upcoming participation" in G8 preparatory meetings, adding: "Going forward, Russia's continued violation of international law will lead to greater political and economic isolation."
That decision appears likely to be matched by fellow G8 member France. Foreign minister Laurent Fabius told Europe 1 radio today: "France's position is to call for the suspension of preparation ahead of the G8 meeting in Sochi as long as the Russian partners have not returned to principles in agreement with the G8 and G7."
Meanwhile, the Ukrainian foreign minister Andriy Deshchytsya said he had met both European and US officials and sent a request asking NATO to "examine all possibilities to protect the territorial integrity and sovereignty of Ukraine".
The BBC reported that what appear to be trenches are being dug out by Russian troops on the Crimean border. No shots have yet been fired in the growing crisis.
Reuse content