The US State Department has slammed the Russian President for 'spinning fiction' over the crisis in Ukraine, accusing him of producing ten false claims in a fact sheet released on Wednesday.
In a document entitled 'President Putin's Fiction: 10 False Claims about Ukraine', the Department said President Vladimir Putin has distorted or ignored facts in "justifying Russian aggression in the Ukraine."
The document read: "As Russia spins a false narrative to justify its illegal actions in Ukraine, the world has not seen such startling Russian fiction since Dostoyevsky wrote: 'The formula "two plus two equals five" is not without its attractions.'"
Meanwhile, Russia has rebuffed Western efforts to engineer a diplomatic solution to the Ukraine crisis by refusing to enter direct talks with the new Kiev authorities in Paris.
The Russian Foreign Minister Sergei Lavrov had earlier also refused a meeting with his Ukrainian counterpart in the wings of a conference in the Elysée Palace. He had, however, shown some willingness to enter "contact" talks with Ukrainian officials, possibly through intermediaries.
French, British and German foreign ministers had hoped that a direct meeting between Mr Lavrov and Andriy Deshchytsia, Ukraine's Foreign Minister, would signal a willingness by Moscow to scale down the confrontation in Crimea and eastern Ukraine.
The US Secretary of State John Kerry said he had held "zero expectation" that the two parties would speak directly. He said the "intense discussions"  would continue towards a "de-escalation" of the crisis. "Russia made a choice. And we have clearly stated that we believe it is the wrong choice to move troops into Crimea. Russia can now make the right choice," Mr Kerry said. "We cannot and will not allow the integrity and sovereignty of the country of Ukraine to be violated."
In pictures: The crisis in Ukraine
In pictures: The crisis in Ukraine
1/15 Perevalnoye, Ukarine

Russian forces stand as they block the Ukrainian unit in Perevalnoye, not far from Simferopol

2/15 London, England

Memorials and floral tributes, dedicated to protesters who were killed in recent clashes with security forces in Kiev, surround a statue of 'Vladimir the Great', the Grand Prince of Kiev from 980 to 1015 AD, in Notting Hill in London

3/15 Kiev, Ukraine

Pallbearers carry the coffin of Andryi Pozniak (25) a self defense volunteer who was shot and killed by an unknown assailant near Kiev's Independence Square

4/15 Simferopol, Ukraine

Ukrainian police officers hold an activist of the Ukrainian women movement Femen

5/15 Kiev, Ukraine

A woman distributes food on Independence Square in central Kiev

Dimitar Dilkoff/AFP/Getty Images

6/15 Lubimovka, Ukraine

Ukrainian soldiers at the Belbek military base talk friends and family members through the gates of the base entrance in Lubimovka, Ukraine

Sean Gallup/Getty Images

7/15 Donetsk, Ukraine

Pro-Russian activists demonstrate in front of the regional administration in Donetsk. Russian military forces and planes were flowing into Crimea on March 3, in violation of bilateral accords, Ukrainian border guards said

Alexander Khudoteply/AFP/Getty Images

8/15 Donetsk, Ukraine

Riot policemen stand guard in front of the regional administration in Donetsk

Alexander Khudoteply/AFP/Getty Images

9/15 Perevalne

Pro-Russian activists stand guard in front of armed men in military fatigues blocking access to a Ukrainian border guards base not far from the village of Perevalne near Simferopol

Alexander Nemenov/AFP/Getty Images

10/15 Kirillovsky, Russia

Russia's President Vladimir Putin, accompanied by Russian Defence Minister Sergei Shoigu (front left), walks to watch military exercises upon his arrival at the Kirillovsky firing ground in the Leningrad region

RIA Novosti/Reuters

11/15 Sevastopol, Ukraine

A Russian Navy De-Gaussing Ship passes in Sevastopol harbour. The Russian Black Sea Fleet commander Aleksandr Vitko has issued an ultimatum to the Ukrainian military personnel in Crimea, according to reports

Filippo Monteforte/AFP/Getty Images

12/15 New York, USA

The UN Security Council chamber during a meeting on the situation in the Ukraine at the UN headquarters in New York City

Jason Szenes/EPA

13/15 Bakhchisaray, Ukraine

Armed men in military fatigues block access to Ukrainian military barracks in the small Crimean city of Bakhchisaray

Genya Savilov/AFP/Getty Images

14/15 Sevastopol, Ukraine

A Ukrainian soldier speaks to his daughter through a gate as he waits inside the Sevastopol tactical military brigade base near Belbek in Sevastopol

Filippo Monteforte/AFP/Getty Images

15/15 Odessa, Ukraine

A Pro-Russian activist waves a chain after an unsuccessful attempt by the demonstrators to storm a regional state administration building in the Black Sea city of Odessa

Alexey Kravtsov/AFP/Getty Images
French officials said that Mr Lavrov had refused to recognise Mr Deshchytsia's legitimacy as a representative of the Ukrainian people - sticking to Moscow's line that the change of government in Kiev last month was an "illegal" coup.
Earlier, Mr Lavrov had also rejected Western calls for Russian forces within the Ukrainian province of Crimea to end their blockade of Ukrainian military bases. He denied that troops ringing the bases were Russian, saying they were local Russian-speaking "self-defence forces".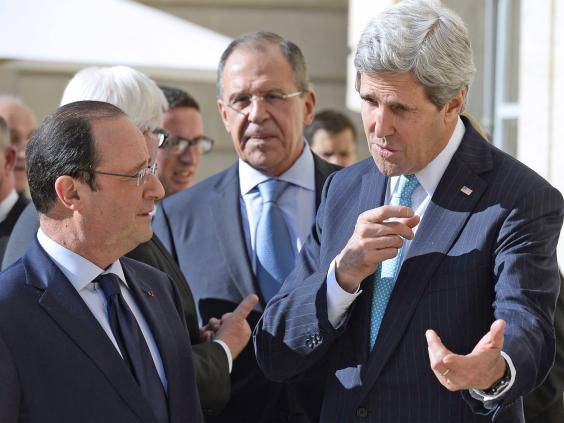 A French official at the conference, originally convened to discuss Syrian refugees, said that the Russian approach was "not helping" to break the impasse. "They deny that they have invaded Crimea and they do not recognise the interim Ukrainian government," the official said.
Nato said it was suspending contacts with Russia, including planning for a joint mission on Syrian chemical weapons. The Nato Secretary-General, Anders Fogh Rasmussen, said officials would be stepping up engagement with Ukraine's civilian and military leadership. "We have also decided that no staff-level civilian or military meetings with Russia will take place for now," he said.
The talks had been intended to lay the groundwork for an emergency summit of EU heads of state in Brussels on Thursday. EU leaders will try to agree a package of political and economic sanctions against Russia which would take effect if Moscow fails to ease its stranglehold on Ukrainian military bases in the Crimea.
Officials warned, however, of deep fissures between EU governments, with the German Chancellor Angela Merkel reluctant to commit herself to economic punishment of Moscow which might rebound against European economies.
The EU has offered a €15bn (£12bn) aid package to Ukraine. Brussels also announced plans to freeze the assets in European banks of 18 Ukrainian politicians and business leaders who are suspected of stealing billions in state funds. David Cameron will meet Chancellor Merkel and the French President François  Hollande ahead of today's European summit. It will also be attended by Arseniy Yatsenyuk, Ukraine's Prime Minister.
Amid signs of strains between EU members over how to tackle the crisis, Mr Cameron told MPs that it was important the meeting showed "unity of purpose". He added: "When we look at the diplomatic, economic and political steps we can take, nothing should be off the table."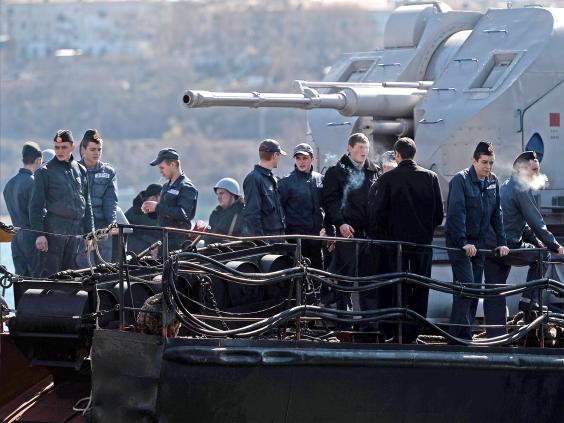 British sources said Chancellor Merkel was cautious over taking action because of Germany's reliance on gas imports from Russia. One government source said: "Unless we act together, Putin could just shrug his shoulders."
The French Foreign Minister, Laurent Fabius, said that Paris and Berlin had put forward "building blocks" for a possible diplomatic solution. This would involve a return to the agreement negotiated by EU foreign ministers - with broad Russian approval - on 21 February. There should, Mr Fabius said, be a "government of union" in Kiev and the dissolution of the extreme nationalist, right-wing militias which have allowed Moscow to paint the Ukrainian insurrection as "fascist".
In return, Russian forces within Crimea would cease to block Ukrainian military facilities. "The 2004 constitution [giving guarantees to Russian speakers and other linguistic minorities] would apply," Mr Fabius said. "We would move towards a presidential election."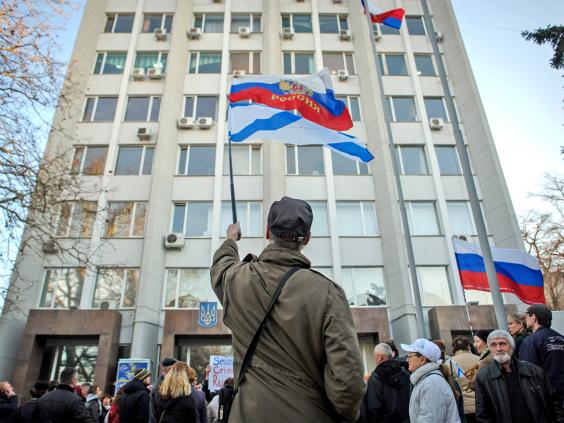 The Foreign Secretary William Hague said a key demand was for Russia's military to pull back to its Black Sea bases to show its willingness to de-escalate the crisis. 
Earlier in Madrid, Mr Lavrov said, when asked whether Moscow would order forces in Crimea back to their bases: "If you mean the self-defence units created by the inhabitants of Crimea, they take no orders from us. As for the military personnel of the Black Sea Fleet, they are in their deployment sites. We will do everything not to allow any bloodshed."
Mr Hague and Mr Kerry had earlier met the Ukrainian Foreign Minister in Paris to discuss the "Budapest memorandum" of 1994, in which the US, Britain and Russian jointly guarantee Ukraine's sovereignty. Mr Lavrov refused to attend that meeting.
"Ukraine voluntarily surrendered the world's third-largest nuclear weapons arsenal in exchange for these assurances," Mr Hague and Mr Kerry said in a joint statement. "The three governments treat these assurances with utmost seriousness, and expect Russia to [do so] as well. Russia has chosen to act unilaterally and militarily. The UK and US will continue to support Ukraine's sovereignty and we commend the new Ukrainian government for not taking actions that might escalate the situation."
Officials said the last point referred to repeated Western advice to Kiev to avoid any military action which would give Moscow an excuse to tighten its grip on Crimea or invade eastern Ukraine.
Mr Deshchytsia said: "We want to keep neighbourly relations with the Russian people. We want to settle this peacefully."
On the flight to Paris, he saidUkraine was not willing to go to war to prevent Russia from annexing Crimea but said he did not think military action would be necessary. He said Moscow would back down rather than suffer economic penalties and diplomatic isolation.
Reuse content