Russia's entire Northern Fleet is on the move today as part of a show of force involving 40,000 troops, more than 41 warships, 15 submarines and 110 aircraft.
A range of military exercises were personally ordered by Vladimir Putin and coincided with his first public appearance in 10 days.
The Russian President met Kyrgyzstan leader Almazbek Atambayev in St Petersburg this morning after more than a week of intense speculation over his sudden disappearance from the public eye.
Appearing to be in good health, he did not shed any more light on the period and said: "It would be boring without gossip."
Today is the start of five days drills in one of the Kremlin's biggest displays of military power since the Ukraine crisis plunged relations with the West to depths not seen since the Cold War.
The Navy's Northern Fleet stands in full combat readiness in Russia's Arctic north, apparently aimed at dwarfing military drills in neighbouring Norway, a Nato member.
"New challenges and threats to military security require the armed forces to further boost their military capabilities," Defence Minister Sergei Shoigu said.
"Special attention must be paid to newly created strategic formations in the north."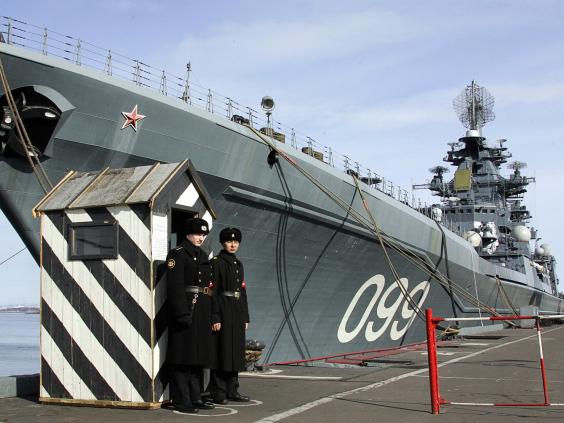 Mr Shoigu said the order came from the President, who has promised to spend more than 21 trillion roubles (£230 billion) by the end of the decade to overhaul Russia's armed forces.
Norway is currently holding its "Joint Viking" drills involving 5,000 troops in Finnmark, a county bordering Russia in the resource-rich Arctic circle where both countries are vying for influence.
The Olso government said its military drills had been planned before the Ukraine crisis.
"However, the current security situation in Europe shows that the exercise is more relevant than ever," Lieutenant General Haga Lunde said in a statement.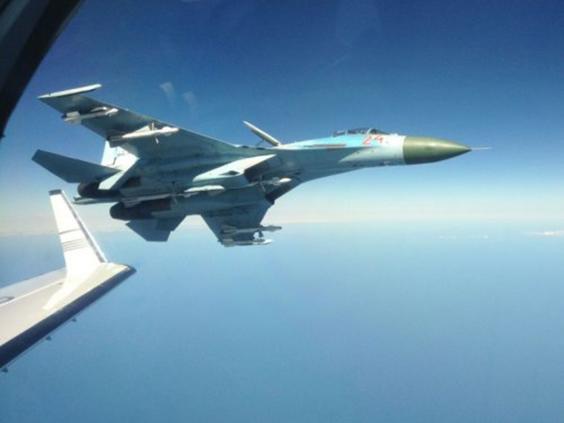 Other Russian drills involved 5,000 troops in the far east of the country, while another exercise included another 500 personnel from Russia's troubled North Caucasus region of Chechnya, the site of two separatist wars.
Those exercises were aimed at extremist insurgents, whose bloody efforts to create an Islamic state has spread across the predominantly Muslim North Caucasus, fuelled by religion and anger at local abuse of power.
The Russian exercises coincide with the country's celebrations over its internationally condemned annexation of the Crimean peninsula, carried out with the help of special forces in March last year.
Ukraine crisis: A timeline of the conflict
Ukraine crisis: A timeline of the conflict
1/22 30 November 2013

Public support grows for the "Euromaidan" anti-government protesters in Kiev demonstrating against Yanukovych's refusal to sign the EU Association Agreement as images of them injured by police crackdown spread.

EPA

2/22 20 February 2014

Kiev sees its worst day of violence for almost 70 years as at least 88 people are killed in 48 hours, with uniformed snipers shooting at protesters from rooftops.

AFP/Getty Images

3/22 22 February 2014

Yanukovych flees the country after protest leaders and politicians agree to form a new government and hold elections. The imprisoned former Prime Minister, Yulia Tymoshenko, is freed from prison and protesters take control of Presidential administration buildings, including Mr Yanukovych's residence.

Genya Savilov/AFP/Getty Imageses

4/22 27 February 2014

Pro-Russian militias seize government buildings in Crimea and the new Ukrainian government vows to prevent the country breaking up as the Crimean Parliament sets a referendum on secession from Ukraine in May.

Sean Gallup/Getty Images

5/22 16 March 2014

Crimea votes overwhelmingly to secede from Ukraine and join Russia in a ballot condemned by the US and Europe as illegal. Russian troops had moved into the peninsula weeks before after pro-Russian separatists occupied buildings.

EPA

6/22 6 April 2014

Pro-Russian rebels seize government buildings in the eastern cities of Donetsk, Luhansk and Kharkiv, calling for a referendum on independence and claiming independent republic. Ukraine authorities regain control of Kharkiv buildings on 8 April after launching an "anti-terror operation" but the rest remain out of their control.

EPA/PHOTOMIG

7/22 7 June 2014

Petro Poroshenko is sworn in as Ukraine's president, calling on separatists to lay down their arms and end the fighting and later orders the creation of humanitarian corridors, since violated, to allow civilians to flee war zones.

Getty Images

8/22 27 June 2014

The EU signs an association agreement with Ukraine, along with Georgia and Moldova, eight months after protests over the abandonment of the deal sparked the crisis.

LOUISA GOULIAMAKI/AFP/Getty Images

9/22 17 July 2014

Malaysian Airlines flight MH17 is shot down over eastern Ukraine, killing all 298 people on board. Ukrainian intelligence officials claim it was hit by rebels using a Buk surface-to-air launcher in an apparent accident.

10/22 22 August 2014

A Russian aid convoy of more than 100 lorries enters eastern Ukraine and makes drop in rebel-controlled Luhansk without Government permission, sparking allegations of a "direct violation of international law".

Reuters/Alexander Demianchuk

11/22 29 August 2014

Nato releases satellite images appearing to show Russian soldiers, artillery and armoured vehicles engaged in military operations in eastern Ukraine.

Nato

12/22 8 September 2014

Russia warns that it could block flights through its airspace if the EU goes ahead with new sanctions over the ongoing crisis and conflict

EPA

13/22 17 September 2014

Despite the cease-fire and a law passed by the Ukrainian parliament on Tuesday granting greater autonomy to rebel-held parts of the east, civilian casualties continued to rise, adding to the estimated 3,000 people killed

Reuters

14/22 16 November 2014

The fragile ceasefire gives way to an increased wave of military activity as artillery fire continues to rock the eastern Ukraine's pro-Russian rebel bastion of Donetsk

Getty

15/22 26 December 2014

A new round of ceasefire talks, scheduled on neutral ground in the Belariusian capital Minsk, are called off

AFP/Getty

16/22 12 January 2015

Soldiers in Debaltseve were forced to prepare heavy defences around the city; despite a brief respite to the fighting in eastern Ukraine, hostilities in Donetsk resumed at a level not seen since September 2014

AFP/Getty

17/22 21 January 2015

13 people are killed during shelling of bus in the rebel-held city of Donetsk

Reuters

18/22 24 January 2015

Ten people were killed after pro-Russian separatists bombarded the east Ukrainian port city of Mariupol

AP

19/22 2 February 2015

There was a dangerous shift in tempo as rebels bolstered troop numbers against government forces

AFP/Getty

20/22 11 February 2015

European leaders meet in Minsk and agree on a ceasefire in eastern Ukraine beginning on February 14. From left to right: Belarus President Alexander Lukashenko, Russian President Vladimir Putin, German Chancellor Angela Merkel, France's President Francois Hollande and Ukrainian President Petro Poroshenko.

MAXIM MALINOVSKY | AFP | Getty Images

21/22 13 February 2015

Pro-Russian rebels in the city of Gorlivka, in the Donetsk region, fire missiles at Ukrainian forces in Debaltseve. Fighting continued in Debaltseve for a number of days after the Minsk ceasefire began.

ANDREY BORODULIN | AFP | Getty Images

22/22 18 February 2015

Ukrainian soldiers repair the bullet-shattered windshield of their truck as their withdraw from the strategic town of Debaltseve. Following intense shelling from pro-Russian rebels, Ukrainian forces began to leave the town in the early hours of February 18.

Brendan Hoffman | Getty Images
Speaking in a television documentary aired on Sunday, Mr Putin said he was prepared to use nuclear weapons to gain the territory "if necessary".
He described the Ukrainian revolution to oust Viktor Yanukovych in February 2014 as an armed coup "masterminded by our American friends".
The US is planning to conduct joint exercises with forces from Estonia, Latvia and Lithuania later this month.
Additional reporting by Reuters
Reuse content