Isis' "business model" is failing as jihadis lose their grip on territory and the vital oil and tax revenue it brings, a new report has found.
The so-called Islamic State is believed to be the richest terrorist group in the world, exploiting natural resources and looting antiquities seized in its lightning advance across Syria and Iraqi in 2014.
Civilians trapped under the militant group's brutal rule are subjected to punitive taxation, confiscations and fines, while millions of pounds are made in ransoms from kidnappings.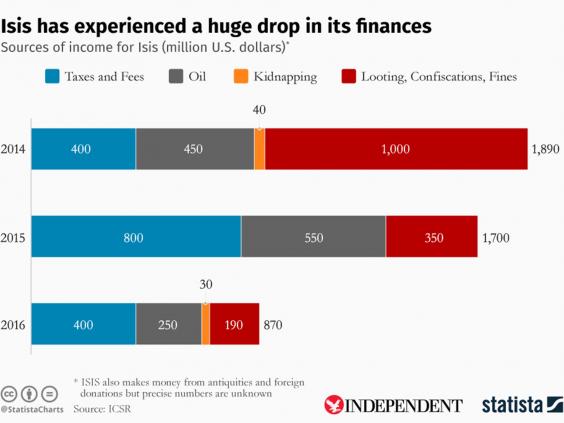 But research by the International Centre for the Study of Radicalisation and Political Violence (ICSR) at King's College London has found that Isis' revenue streams are starting to dry up as the group loses territory and international air strikes target its oil fields.
The group's true wealth is difficult to determine, but its annual revenue has plummeted from an estimated $1.9bn (£1.5bn) in 2014 to $870m last year.
Peter Neumann, director of ICSR said that while the exploitation of vast territories has been lucrative for Isis, the bureaucracy entailed brings expenses.
"It needs to fix roads," he told the Associated Press. "It needs to pay teachers. It needs to run health services. It needs to pay for these things that al-Qaeda never had to."
The report found no evidence that rumoured donations from foreign supporters and governments "continue to be significant", while taxation has become Isis' main revenue source after its ability to make money from looted antiquities in new territory faded.
Oil remains the group's second-largest money-maker, but Isis' trade has declined rapidly since the start of a targeted air campaign by the US-led coalition.
Operation Tidal Wave II, launched in October 2015, aims to destroy oil transport and infrastructure to cut the group's funding, seeing oil wells and tankers repeatedly bombed despite concern for civilian workers.
On Thursday, US Central Command announced strikes that destroyed oil tankers, refinement stills and wellheads in Isis' Syrian strongholds of Abu Kamal and Deir ez-Zor, while Russian strikes have also hit oil facilities.
The group has been forced to reduce salaries and perks for fighters, as well as increasing taxation and fees to make up the cash shortage, leaked documents from its Bayt Mal al-Muslimeen treasury show.
Estimated earnings from the looting and confiscation of artefacts from historical sites and abandoned homes across Isis territory is also on the decline.
A federal lawsuit filed in the US to recover four artefacts put up for sale by Isis showed it received at least 20 per cent of the proceeds of items excavated from archaeological sites under its control and taxed antiquities sold in its territories, even kidnapping a child to force one merchant to pay.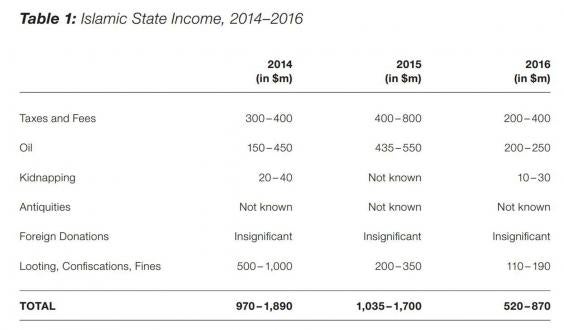 Isis' coffers were also hit by the Iraqi government's decision to stop paying salaries to government employees living in its territories in August 2015, and efforts to reduce cross-border smuggling with Turkey and Kurdish-controlled areas in Iraq.
Mr Neumann compared Isis' funding strategy as a "pyramid scheme" requiring constant expansion, which has now been brought to a halt.
"The business model was also to constantly expand and to plunder the areas that were becoming part of the caliphate," he said. 
Britain and other allies are training thousands of troops to fight Isis on the ground in Iraq and supporting the predominantly Kurdish Syrian Democratic Forces alliance over the border.
Ground operations, backed by international air power, have seen Isis driven out of key strongholds including Fallujah, Tikrit and Jarablus, with militants currently battling to hold Mosul as enemies close in on their de facto capital of Raqqa.
By November last year, the group had lost 62 per cent of its mid-2014 "peak" territory in Iraq and 30 per cent in Syria, according to coalition figures, leaving it fewer civilians and businesses to tax and less control over natural resources.
In pictures: Mosul offensive
In pictures: Mosul offensive
1/22

Iraqi army soldiers from the 9th armoured division on a truck flash the sign of victory as they drive back from Mosul to the town of Qaraqosh (also known as Hamdaniya)

Getty

2/22

Members of Iraqi forces flash the sign of victory on their vehicle as they advance towards Hammam al-Alil area south of Mosul

Getty

3/22

A member of Iraqi security forces gestures in Hammam al-Alil, south of Mosul, Iraq

Reuters

4/22

Iraqi children, one flashing the sign of victory, greet Iraqi army's soldiers from the 9th armoured division in the area of Ali Rash, adjacent to the eastern Al-Intissar neighbourhood of Mosul

Getty

5/22

Peshmerga forces look at a tunnel used by Islamic State militants near the town of Bashiqa, east of Mosul, during an operation to attack Islamic State militants in Mosul, Iraq

Reuters

6/22

An Iraqi soldier takes a photograph with his phone as his comrade stands next to a detained man, whom the Iraqi army soldiers accused of being an Islamic State fighter, who was fleeing with his family in the Intisar disrict of eastern Mosul, Iraq

Reuters

7/22

Iranian Kurdish female members of the Freedom Party of Kurdistan (PAK) hold a position in an area near the town of Bashiqa, some 25 kilometres north east of Mosul

Getty

8/22

Iraqi families, who fled their homes in Hamam al-Alil, gather on the outskirts of their town

Getty

9/22

Displaced people walk past a checkpoint near Qayara, south of Mosul, Iraq

AP

10/22

Iraqi families who were displaced by the ongoing operation by Iraqi forces against jihadists of the Islamic State group to retake the city of Mosul, are seen gathering in an area near Qayyarah

11/22

A boy who just fled Abu Jarbuah village is seen with his family at a Kurdish Peshmerga position between two front lines near Bashiqa, east of Mosul, Iraq

Reuters

12/22

An Iraqi child eats a pomegranate upon the arrival of Iraqi forces in the village of Umm Mahahir, south of Mosul

Getty

13/22

People who just fled Abu Jarbuah village sit as they eat at a Kurdish Peshmerga position between two front lines near Bashiqa, east of Mosul, Iraq

Reuters

14/22

A couple who just fled Abu Jarbuah village are escorted by Kurdish Peshmerga soldiers

Reuters

15/22

Women carry a boy over a wall as civilians flee their houses in the village of Tob Zawa, Iraq

AP

16/22

An Iraqi soldier and a civilian ride a motorbike as smoke rises behind them, on the road between Qayyarah and Mosul

Getty

17/22

A member of Iraqi forces, wearing a skull mask, waits at a checkpoint for people fleeing the main hub city of Mosul

Getty

18/22

An Iraqi soldier sits at a checkpoint in an area near Qayyarah

Getty

19/22

Iraqi men prepare food portions for Iraqi forces deployed in areas south of Mosul

Getty

20/22

Iraqi forces celebrate upon the arrival of vehicles bringing food to them

Getty

21/22

Iraqi childen smoke cigarettes upon the arrival of Iraqi forces in the village of Umm Mahahir, south of Mosul

Getty

22/22

A member of Iraqi forces distributes drinks to children in the village of Umm Mahahir, south of Mosul

Getty
The trend looks set to continue but the ICSR report, written in conjunction with the EY organisation, cautioned that the financial losses do not necessarily make the group less of an international threat.
While Isis' Paris attack – their deadliest in Europe – was centrally organised and commissioned in Syria, the Nice lorry massacre and countless other atrocities were conducted by supporters at no cost to jihadi leaders.
In bombing attacks Isis favours triacetone triperoxide (TATP), an explosive that can be cheaply made following instructions issued in the group's propaganda from readily and legally available products found worldwide.
Almost daily bombings in Baghdad and recent atrocities in Pakistan, as well as numerous plots uncovered in Europe, demonstrate Isis' continued ability to inflict bloodshed and carnage.
"The decline in revenues may not have an immediate effect on the group's ability to carry out terrorist attacks outside its territory," the report cautioned. 
"While hurting Islamic State finances puts pressure on the organisation and its state-building project, wider efforts will continue to be necessary to ultimately defeat it."