Isis has been driven out of the ancient Syrian city of Palmyra for a second time under three months after jihadis retook their former stronghold.
The Russian defence minister, Sergei Shoigu, claimed the Syrian army had fully recaptured the militant stronghold on Thursday, although monitors said air strikes and clashes were ongoing.
Regime commanders said the victory dealt a "major blow against terrorists" deprived of Palmyra's symbolic cultural and historical status.
Vladimir Putin was informed of developments as his forces backed regime troops in the assault, raining bombs down on militants from planes and helicopter gunships. 
Troops loyal to Bashar al-Assad pushed into Palmyra from its famed Roman ruins after days of fierce fighting with jihadis, who have heavily mined and booby-trapped the city during their retreat.
Regime forces are being supported by Russian air strikes and militias backed by Iran and Hezbollah, who were part of the original campaign to retake Palmyra in March last year.
The Russian President personally celebrated the victory, appearing via video link at a concert in its grand amphitheatre, but his ally's focus on Aleppo allowed Isis to sweep back in.
With rebels in eastern Aleppo defeated, Assad's focus has turned back to the city, which Isis turned from an internationally beloved historical attraction into a theatre for its brutality and destruction of cultural artefacts.
Isis staged mass executions amid Roman ruins in its first and second periods of control, publicly killing victims including teachers in the Roman theatre in January.
Syrian government forces have reached the area, posting photos of themselves in sight of Palmyra citadel and at a nearby Qatari-built "palace" online, but have not penetrated the city centre.
The UK-based Syrian Observatory for Human Rights said "intense bombardment" continued on Isis positions but the majority of militants have already been withdrawn.
"The regime forces and militiamen loyal to them of Syrian and non-Syrian nationalities have not been able until the moment to enter the inside of the city because Isis booby-trapped and planted mines in many points inside it," observers said.
As Russia announced victory, the Palmyra Coordination group said air strikes and rocket fire continued in the modern part of the city, also known as Tadmur, reporting dozens killed in continuing clashes.
Palmyra recaptured by Syrian government forces
Palmyra recaptured by Syrian government forces
1/10 Palmyra recaptured by Syrian pro-government forces

Graffiti on the ancient stones reads in Arabic 'Shooting without the permission of the chief is prohibited'

Getty

2/10 Palmyra recaptured by Syrian pro-government forces

Damaged artefacts lay inside the museum of the historic city of Palmyra

Reuters

3/10 Palmyra recaptured by Syrian pro-government forces

Syrian pro-government forces rest by Palmyra Citadel as they take control of the city from the hands of Isis

Getty

4/10 Palmyra recaptured by Syrian pro-government forces

The UNESCO world heritage site appears surprisingly intact after its recapture from the militant group

Getty

5/10 Palmyra recaptured by Syrian pro-government forces

Many had feared the ancient city would be destroyed following its capture by Isis in May

Getty

6/10 Palmyra recaptured by Syrian pro-government forces

Smoke billows from the Palmyra Citadel as Assad's forces drive the Jihadist group from the city

Getty

7/10 Palmyra recaptured by Syrian pro-government forces

Palmyra is one of the 'most important cultural centers of the world' Unesco says

Getty

8/10 Palmyra recaptured by Syrian pro-government forces

Pro-government forces play football in the streets following the recapture of the city

Getty

9/10 Palmyra recaptured by Syrian pro-government forces

The extent of the destruction caused by Isis' 10 month occupation of the city has yet to be fully realised

Getty

10/10 Palmyra recaptured by Syrian pro-government forces

The City Council of Palmyra building in ruins

Reuters
Footage showed helicopter gunships launching air strikes in intense battles, while Isis sent two suicide car bombs into regime lines on Wednesday.
Propaganda videos sent out by the terrorist group showed militants using a seized tank behind trenches and heavy guns against a column advancing from the west.
The group's channels fell silent on Palmyra on Thursday, despite providing updates from battles elsewhere, supporting activists' report of a mass retreat.
Isis first captured it in May 2015 but was driven out in March the following year after a high-profile offensive by the Syrian government and Russian forces.
As troops were pulled out of the city to fight in the final stages of the battle of Aleppo in December, jihadis seized the opportunity to overrun weakened defences and gain control once more.
The group has destroyed several ancient monuments in the Unesco World Heritage Site in acts condemned as a war crime by the United Nations, while looting other treasures to sell for profit.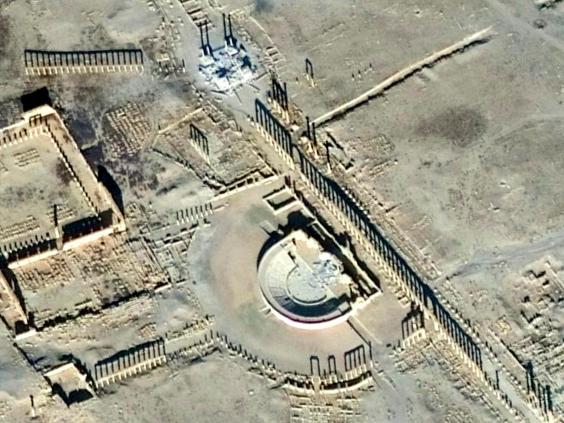 Most recently, Isis has razed the landmark Tetrapylon – a platform with four columns at each corner – and the facade of Palmyra's Roman theatre. 
Its retreat from the city comes amid continuing territorial losses in Syria, including the city of al-Bab, and Iraq, where government forces are battling to drive jihadis out of Mosul.
Jean-Marc Rickli, a research fellow at King's College London and the Geneva Centre for Security Policy, said regaining Palmyra had been "symbolic" for Isis but its loss was more in line with trends seen elsewhere.
"It was a military blow for both the Russians and the Syrian army but the general picture is that Isis will be losing more and more territory," he told The Independent.
"They will count on opportunistic strikes to score victories easily, and there are plenty of locations where they could do that in the future."
Dr Rickli said Isis' territorial losses will eventually force it to revert from being a proto-state with its own institutions, back to its origins as an insurgency movement.
He added: "We're moving from a strategy of territorial control to guerrilla operations where they attack and retreat."
Reuse content