An al-Qaeda linked militant group has claimed responsibility for starting a devastating fire in the Israeli city of Haifa that forced tens of thousands of people to flee their homes.
Ma'sadat al-Mujahideen, a Palestinian Salafist group, has claimed to be behind several previous blazes in Israel, including the Mount Carmel forest fire that killed more than 40 people near Haifa in 2010.
There is no proof of the group's involvement in the blaze, or others they claimed near Jerusalem in 2011 and in the American state of Nevada in the following year.
A previous statement from Ma'sadat al-Mujahideen demanded that Jewish people "return from whence they came since they have no place among us", threatening to continue arson attacks in Israel and among the country's allies.
Terrorism monitors at the Jamestown Foundation said the group's claims were "questionable" but that it was fixated on the use of fire as a weapon of jihad.
Ma'sadat al-Mujahideen has no known links to Hamas and has positioned itself in opposition to the Islamist group, criticising it for failing to fully implement Sharia law in Gaza, and for alleged "apostasy".
Benjamin Netanyahu, the Israeli Prime Minister, has already joined politicians in categorising the devastating fires as an act of terrorism.
"Those who try to burn the state of Israel will be punished to the fullest extent," he said during a visit to an air base where he met pilots putting out the fires.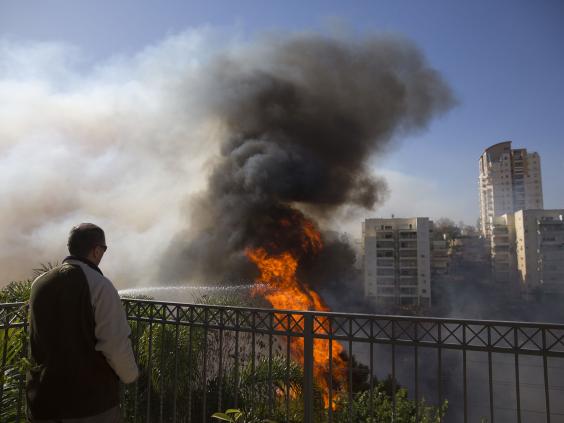 "There are elements of terror here, of that there is no doubt." 
At least 16 people have been arrested across Israel and the West Bank on suspicion of arson after fires were started across the region near Israeli homes and settlements.
Firefighters were winning the battle to douse a blaze that spread across Haifa on Friday but more than a dozen other fires continued to burn elsewhere for the fourth day in a row.
Some of more than 60,000 evacuated people were beginning to return to their charred homes to assess the damage as police and firefighting units remained alert for flare-ups due to the dry, windy weather. 
No deaths or serious injuries have been reported but dozens of people were hospitalised for smoke inhalation and hundreds of homes have been damaged.
The Palestinian Authority sent firefighters to help operations, as several countries including Russia and the US deployed planes and equipment and military reservists were sent out.
The fires come amid heightened tensions in Israel and the Occupied Palestinian Territories over more than a year of stabbing and car-ramming attacks by Palestinians and responding security crackdowns by Israeli forces.
The Israeli–Palestinian conflict intensifies
The Israeli–Palestinian conflict intensifies
1/10

Medics evacuate a wounded man from the scene of an attack in Jerusalem. A Palestinian rammed a vehicle into a bus stop then got out and started stabbing people before he was shot dead

AP

2/10

Israeli ZAKA emergency response members carry the body of an Israeli at the scene of a shooting attack in Jerusalem. A pair of Palestinian men boarded a bus in Jerusalem and began shooting and stabbing passengers, while another assailant rammed a car into a bus station before stabbing bystanders, in near-simultaneous attacks that escalated a month long wave of violence

AP

3/10

Getty Images

4/10

Palestinians throw molotov cocktail during clashes with Israeli troops near Ramallah, West Bank. Recent days have seen a series of stabbing attacks in Israel and the West Bank that have wounded several Israelis

AP

5/10

Women cry during the funeral of Palestinian teenager Ahmad Sharaka, 13, who was shot dead by Israeli forces during clashes at a checkpoint near Ramallah, at the family house in the Palestinian West Bank refugee camp of Jalazoun, Ramallah

AP

6/10

A wounded Palestinian boy and his father hold hands at a hospital after their house was brought down by an Israeli air strike in Gaza

Reuters

7/10

Palestinians look on after a protester is shot by Israelis soldiers during clashes at the Howara checkpoint near the West Bank city of Nablus

EPA

8/10

A lawyer wearing his official robes kicks a tear gas canister back toward Israeli soldiers during a demonstration by scores of Palestinian lawyers called for by the Palestinian Bar Association in solidarity with protesters at the Al-Aqsa mosque compound in Jerusalem's Old City, near Ramallah, West Bank

AP

9/10

Undercover Israeli soldiers detain a Palestinian in Ramallah

Reuters

10/10

Palestinian youth burn tyres during clashes with Israeli soldiers close to the Jewish settlement of Bet El, in the West Bank city of Ramallah, after Israel barred Palestinians from Jerusalem's Old City as tensions mounted following attacks that killed two Israelis and wounded a child
Palestinian attackers have killed 36 Israelis and several foreign nationals, while more than 220 Palestinians have been shot dead by Israeli security forces. Authorities say the vast majority were carrying out or planning attacks, while the UN and humanitarian groups have raised concern over excessive use of force.
New crackdowns were expected after Israel's police chief, Roni Alsheich, said early indications pointed toward a series of "politically motivated" arson attacks. 
The fires began three days ago at the Neve Shalom community near Jerusalem, where Israelis and Arabs live together in a peace cooperative. 
Later, blazes erupted in the northern Israeli area of Zichron Yaakov and elsewhere near Jerusalem before the largest ones spread across Haifa, the country's third-largest city. 
Naftali Bennett, leader of the nationalist Jewish Home party, ignited further controversy by tweeting that "only those to whom the land does not belong are capable of burning it." 
As debate spread on social media, Palestinians were accusing the government of taking advantage of the tragedy to incite against them. 
Additional reporting by agencies
Reuse content