A young Syrian swimmer and her 12-year-old brother have been killed by heavy shelling in Aleppo.
Mireille Hindoyan, a university student and sportswoman, was seriously injured and later died after bombs fell on the Villi district of the city, home to many people of Armenian descent.
Her brother Arman Hindoyan also died in the attack on Friday, according to Aleppo-based Armenian news service Kantsasar.
A Facebook post by the Aleppo branch of the Armenian Youth Association confirmed Ms Hindoyan had been killed in the strikes and offered its condolences to her family.
Ms Hindoyan was a "reliable and hard-working member of the sports committee", said the post.
A number of commentators claimed the deaths were a result of a rebel-led attack, although those claims could not be verified.
It came after medical charity Medecins Sans Frontieres (MSF) said there had been a "bloodbath" in Aleppo amid a sustained assault on the city by pro-Assad forces backed by Russian warplanes.
The siblings' mother was in hospital with injuries after the attack, according to news website Arevelk. Two other people hMad died in the bombing and at least seven others were injured, reported Armenian Weekly.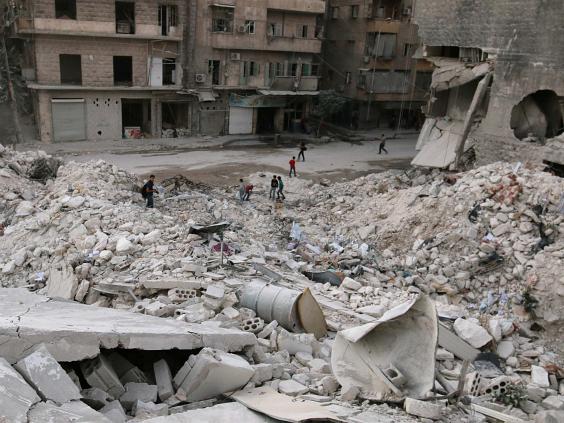 Some reports on social media suggested that Ms Hindoyan had swum in national contests, but The Independent was unable to confirm this.
During the Rio Olympics, 18-year-old Yusra Mardini from Syria made headlines as she competed as part of a team of 10 refugee athletes.
Ms Mardini was a talented swimmer in war-torn Damascus and was professionally backed by the Syrian Olympic Committee. 
She now lives in Berlin after helping to save the lives of 20 people with her sister during their dangerous journey from Syria, by jumping off a sinking dinghy into the Aegean Sea and pushing their boat to land.
Refugees welcome here: Protesters demand UK resettle more migrants in response to refugee crisis
Refugees welcome here: Protesters demand UK resettle more migrants in response to refugee crisis
1/7

The Solidarity With Refugees group said Saturday's protest aimed to "show our Government and the world that Britain is ready to welcome more refugees".

Rex Features

2/7

People march through central London as they take part in a protest rally organised by Solidarity with Refugees in a bid to urge the Government to take more action on the migrant crisis

Press Association

3/7

The protest comes days before world leaders meet to discuss crisis at UN General Assembly

Press Association

4/7

Demonstrators made their way from Park Lane to Parliament Square in London on Saturday afternoon

Press Association

5/7

Marchers chanted "refugees are welcome here" and waved banners reading "no-one is illegal" and "let's help people"

Press Association

6/7

The march was supported by charities and groups including the Red Cross, Asylum Aid, Save the Children, Hope Not Hate, Oxfam and the UN Refugee Agency

Rex Features

7/7

In the wake of Alan's death, David Cameron pledged to resettle 20,000 Syrian refugees in the UK over the coming five years but there have been additional calls to re-home those who have already reached Europe, as well as asylum seekers coming from other conflict zones such as Iraq and Afghanistan

Rex Features
Two patients have reportedly been killed and 13 more injured in an attack on the largest hospital in Aleppo, codenamed M10. A number of people were believed to be trapped. 
The hospital was hit by two devastating barrel bombs – improvised weapons that are cheap to make – rendering the area's biggest medical facility completely out of use.
At least one rocket and two cluster bombs also hit the hospital, according to the Syrian American Medical Society.
It was not immediately clear who was responsible for the attacks, but hospital facilities have been plagued by bombing by forces loyal to the Syrian government in recent weeks.
Reuse content