Two heavily armed gunmen stormed a luxury hotel in Tripoli today, and killed at least eight people, including four foreigners, before detonating themselves, according to officials.
Security at the hotel favoured by Libyan officials and visiting delegations evacuated guests, including Tripoli's Prime Minister and an American delegation, after gunmen overtook the building's security and reception staff. 
Amid the violence, reports surrounding the incident are currently conflicting, with some outlets claiming that four people have died, while others state it could be as many as nine.
Omar Khadrawi, the head of Tripoli security, told Reuters that the attacks opened fire in the hotel, and killed four foreigners, two men and two women, who are believed to be from East Asian countries."
A security officer was also killed in the clashes and three guards died when the attackers set off a car bomb in the car park outside the hotel.
"When the attackers were completely surrounded by the security forces, one of them detonated a grenade, but we don't know if it was deliberate," said Khadrawi.
The security forces say the stand-off has now been brought to an end, BBC News reported.
The attack was one of the worst against foreigners since the 2011 civil war, that toppled Colonel Muammar Gaddafi, and fractured the oil-producing North African state into competing fiefdoms with armed groups, with two national governments both claiming legitimacy.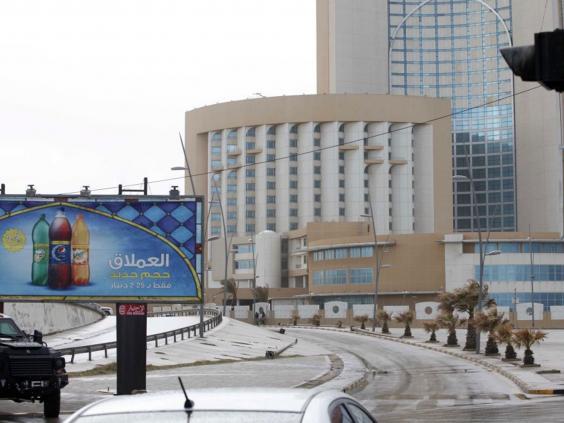 A militant group associated with Isis claimed responsibility for the attack, as revenge for the death of a suspected Libyan-al Qaeda operative in the US, according to the SITE Intelligence monitoring service.
But officials in Tripoli who have created their own self-proclaimed government blamed militants loyal to Gaddafi, accusing them of attempting to kill their Prime Minister, Omar al-Hassi. They added he was rescued without injury.
US officials said they were investigating whether a US citizen was killed in the attack.
Libya is mired in a conflict between one faction allied with the internationally recognised government, and another the other with "Libya Dawn" forces who took over the capital Tripoli in the summer and established their own government.
But in Libya's post-revolution chaos, armed groups, from brigades of former rebels to federalist fighters and Islamist militants, have grown in power and control more territory.
Islamist militants, some who claim loyalty to Isis, operate in pockets of Libya, especially eastern Benghazi and Derna, and foreigners and embassies have been targeted in shootings, kidnappings and bombings.
Additional reporting by Reuters
Reuse content