Vladimir Putin spoke to Bashar al-Assad, the King of Saudi Arabia, Iranian President Hassan Rouhani and Benjamin Netanyahu in quick succession today as efforts to implement a planned ceasefire in Syria continue.
The Russian President is playing a key role in brokering the "cessation of hostilities" due to start on Saturday after drawing up plans with the US.
The temporary truce has been agreed by the Syrian regime and opposition but there are concerns the exclusion of Isis and Jabhat al-Nusra, and permission to continue attacks on "terrorists" will make the agreement largely ineffectual.
A spokesperson for Assad said he and Putin had stressed the need to continue fighting the so-called Islamic State, al-Qaeda linked rebels and "other terrorist organisations" in their phone call on Wednesday.
The Syrian President classed all armed groups as terrorists in an interview last week, saying: "I don't think that the term 'opposition' can be used to describe somebody carrying a weapon…every terrorist is an enemy."
But the Kremlin put a more positive spin on its ally's stance today, saying Assad "confirmed the Syrian government's readiness to facilitate the ceasefire's implementation".
Their conversation was quickly followed by a call between Putin and the King of Saudi Arabia, Salman bin Abdulaziz al-Saud, who reportedly "welcomed" the truce agreement and pledged to support Russia in its implementation.
In pictures: Russian air strikes in Syria
In pictures: Russian air strikes in Syria
1/10

Volunteers from Syria Civil Defence, also known as the White Helmets, help civilians after Russia carried out its first airstrikes in Syria

2/10

The aftermath of Russian airstrike in Talbiseh, Syria

3/10

Smoke billows from buildings in Talbiseh, in Homs province, western Syria, after airstrikes by Russian warplanes

AP

4/10

Russian Air Forces carry out an air strike in the ISIS controlled Al-Raqqah Governorate. Russia's KAB-500s bombs completely destroy the Liwa al-Haqq command unit

5/10

Caspian Flotilla of the Russian Navy firing Kalibr cruise missiles against remote Isis targets in Syria

6/10

Caspian Flotilla of the Russian Navy firing Kalibr cruise missiles against remote Isis targets in Syria, a thousand kilometres away. The targets include ammunition factories, ammunition and fuel depots, command centres, and training camps

7/10

Russia claimed it hit eight Isis targets, including a "terrorist HQ and co-ordination centre" that was completely destroyed

8/10

A release from the Russian defence ministry purportedly showing targets in Syria being hit

9/10

A video grab taken from the footage made available on the Russian Defence Ministry's official website, purporting to show an airstrike in Syria

10/10

Russia launched air strikes in war-torn Syria, its first military engagement outside the former Soviet Union since the occupation of Afghanistan in 1979. Russian warplanes carried out strikes in three Syrian provinces along with regime aircraft as Putin seeks to steal US President Barack Obama's thunder by pushing a rival plan to defeat Isis militants in Syria
The Saudis oppose Assad and have allegedly been supplying selected rebel groups with weapons via a Turkey-based operations centre, as well as floating the possibility of a ground invasion to oust the Syrian President.
Among his few supporters is Saudi Arabia's arch enemy, Iran, which has admitted sending "military advisors" to support the Syrian army but is believed to directly deploying its Revolutionary Guards into combat.
President Rouhani was also on the long list of leaders speaking to Putin today, discussing "joint efforts to resolve the Syrian crisis", according to the Russian President's office.
He was followed by the Prime Minister of Israel, who reportedly requested the call to discuss co-operation with Russia in the Middle East and diplomatic relations between the countries continue to improve following the establishment of ties 25 years ago.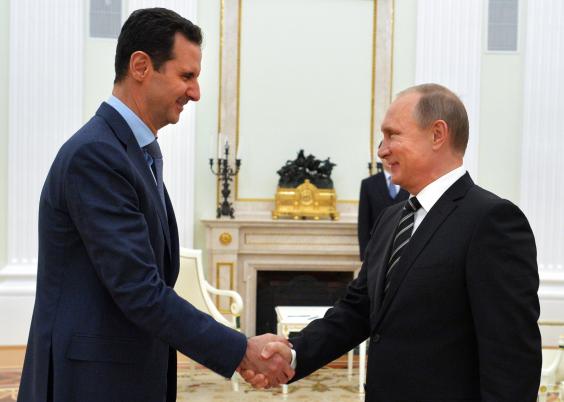 Russia's internal security council met on Wednesday afternoon to discuss the issues raised in the conversations, although Putin's office has not yet released details of the meeting.
It came as the country's defence ministry announced its latest round of air strikes in Syria, having carried out 187 strikes in 62 sorties over just two days.
Major General Igor Konashenkov said areas covered by the impending ceasefire were not targeted and only militants designated as terrorist groups by the United Nations were hit in the provinces of Hama, Raqqa, Deir Ezzor, Aleppo and Homs.
The Kremlin has insisted Isis the main target of its four-month campaign but opposition groups and Western leaders have alleged its strikes have mainly targeted areas controlled by the opposition, killing countless civilians.
Major questions remain over how Saturday's truce will be enforced and how groups will be reprimanded for any violations.
A temporary ceasefire was initially planned to start last week following discussions in Munich but was derailed by continued fighting including a regime advance in Aleppo province.
Reuse content