The burial of a woman who was brutally killed in Kabul for allegedly burning a copy of the Koran, saw Afghan women break with tradition on Sunday and help to carry the 27-year-old's coffin to its final resting place.
The woman, now named as Farkhunda, was beaten to death by a mob in Kabul last week following accusations she had burned a copy of the Koran. The mob of men threw her body off a roof after beating her, ran over it with a car, set it on fire and then threw it into a river next to a well-known mosque in their brutal attack.
Farkhunda, a veiled woman who had just finished a degree in religious studies and was about to take up a teaching post, had got into a dispute with a group of men who sold amulets at the Shah-Do Shamshera shrine, her family said. She had told women not to waste their money on the amulets, calling the sellers parasites.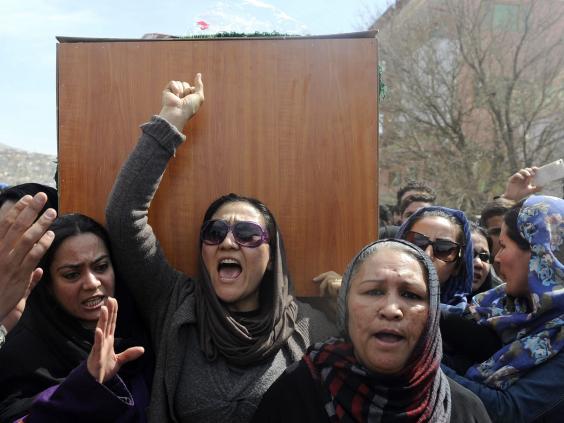 Her father, Mohammed Nadir, said the men responded by claiming Farkhunda had torched the Koran, causing people to believe she was "not a Muslim" and for her to be beaten to death.
But authorities have been "unable to find any singly iota of evidence to support claims that she had burned a Koran," the country's top criminal investigator, General Mohammed Zahir said.
"She is completely innocent," he added, revealing that 13 people had now been arrested in connection with the killing, including two men who sold amulets. Thirteen policemen have been suspended pending investigation following allegations members of the force stood by and did nothing to stop the attack from happening last Thursday.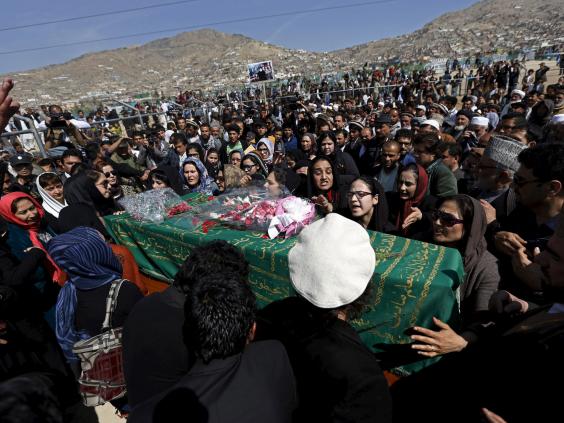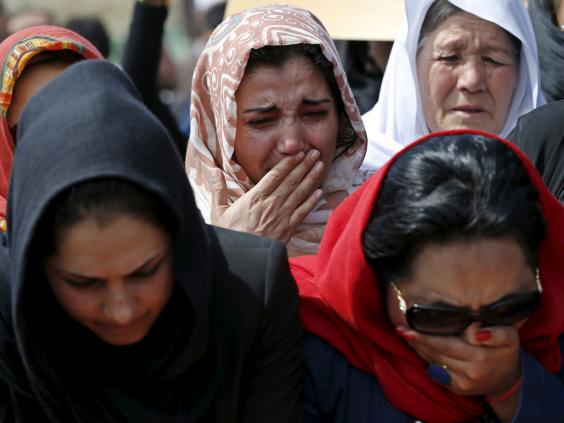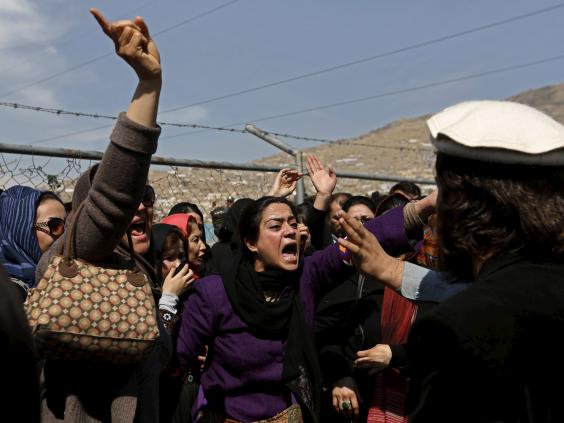 Farkhunda's funeral was broadcast live on Sunday and was addressed by politicians, officials and senior police officers. Hundreds of people gathered at the graveyard chanting "we want justice" while the women who attended to help bury her carried the coffin from an ambulance to an open-air burial ground and finally her grave.
The women attendees, who are usually excluded from these rituals, were surrounded by a group of men who had formed a chain to offer them protection and support as they carried Farkhunda's coffin.
Farkhunda's brother Najibullah told the crowd: "She is a sister to you all, and it is your duty to bury her."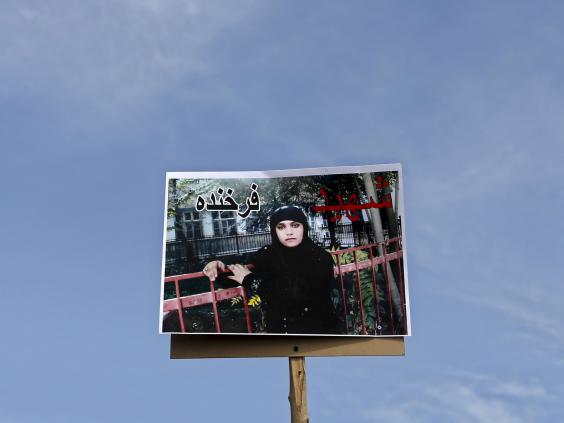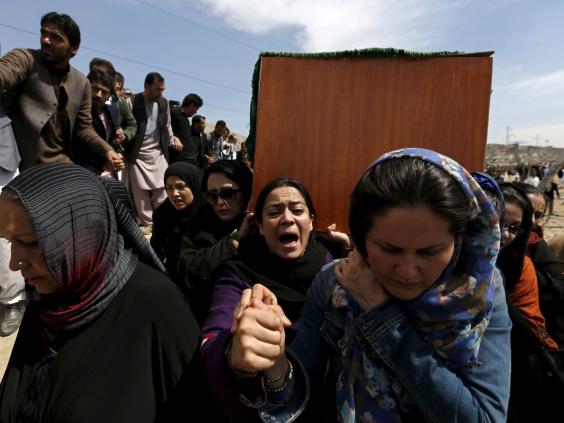 Najibullah said he is changing his second name to Farkhunda in memory of his sister, and denied media reports his sister had been mentally ill. He said this claim was a made-up defence by his father, who had wanted to protect his family after police told them to leave the city for their own safety.
President Ashraf Ghani, now in Washington on his first state visit to the United States since taking office in September, condemned the killing as a "heinous attack" and ordered the current investigation.
Activists have condemned the killing, calling for justice for Farkhunda and for women in Afghanistan.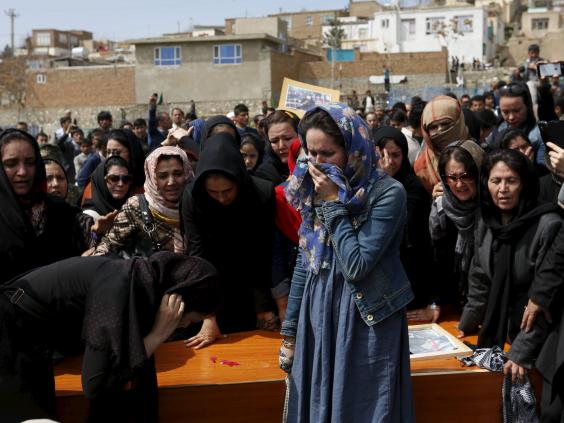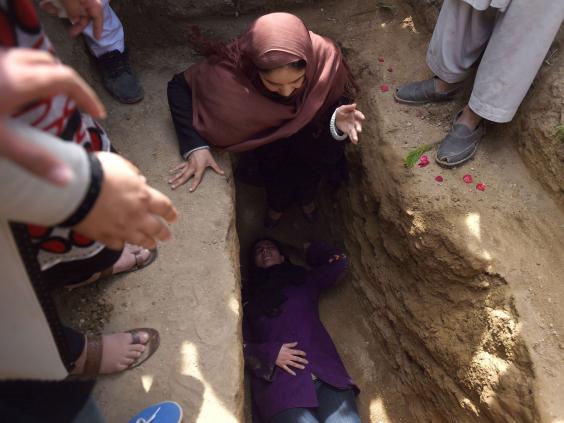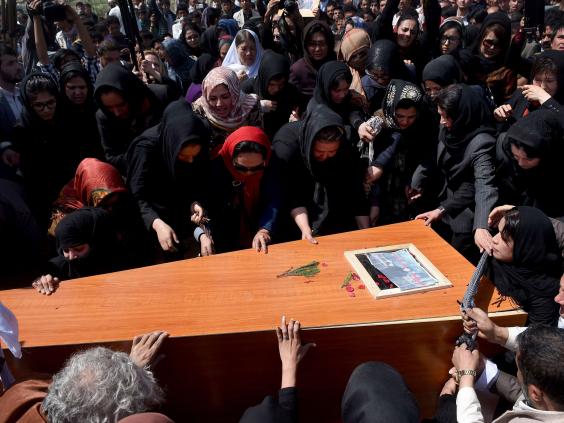 "We want justice for Farkhunda, we want justice for Afghan women. All these injustices happening to Afghan women are unacceptable," a prominent women's rights activist, known as Dr Alima, said.
"In which religion or faith is it acceptable to burn a person to death? Today is a day of national mourning and we will not keep quiet."
Despite the end of the Taliban's rule in 2001 following the US-led invasion of Afghanistan, and the supposed end to the restrictions placed on women under the previous regime, activists claim women are still treated as second-class citizens.
In pictures: Afghan women fight for their rights to take seats in parliament
In pictures: Afghan women fight for their rights to take seats in parliament
1/10 Afghan lawmaker Fatema Aziz from Kunduz in the parliament in Kabul

When the Taliban ruled, women rarely left their home. When they did venture beyond their four walls, they wafted through crowded markets covered from head to toe in the all-encompassing burqa

2/10 Afghan lawmaker Habiba Sadat from Helmand in the parliament in Kabul

While most women in conservative Afghanistan may still wear the burqa, today's Afghan women have choices they never had before, like running for parliament

3/10 Afghan lawmaker Toorpekai Patman from Kabul in the parliament in Kabul

In the last elections in 2010, 69 women won seats in Afghanistanís 249-seat parliament. The next parliamentary vote will be held in 2015, but first are the April 5 presidential and provincial council elections

4/10 Afghan lawmaker Samia Azizi Sadat from Parwan in the parliament in Kabul

Under Afghan law, 20 percent of council member seats are reserved for women, who are also figuring prominently in presidential campaigns

5/10 Afghan lawmaker Hamida Ahmadzai, who represents Afghanistan's colourful Kuchi in the parliament in Kabul

Throughout the country, including in the south and the east where the hard-line Taliban are waging a stubborn insurgency, women have been elected to parliament. "In our Parliament we have 69 women, that is a large number, bigger even than European parliaments," said Hamida Ahmadzai, who represents Afghanistan's nomadic Kuchi tribes

6/10 Afghan lawmaker Shukria Kaihan from Kunduz in the parliament in Kabul

Despite being rivals, the candidates work together to improve their public speaking and messaging abilities for the campaign trail

7/10 Afghan lawmaker Lailoma Wali Hakimi from Nangarhar in the parliament in Kabul

Despite the risks faced by female candidates, many of whom were subjected to violence and intimidation, women ran strong campaigns and garnered more votes than all their male opponents. As a result, Afghanistan is one of the few countries with quota laws where a woman was elected outside the quota

8/10 Afghan lawmaker Najia Haimoq from Baghlan in the parliament in Kabul

"The men in Parliament might not always listen to us, but we can say whatever we want"

9/10 Afghan lawmaker Sima Joyanda from Ghor in the parliament in Kabul

Where Taliban routinely stage violent attacks to warn voters away from the polls female parliamentary representants say that there are not afraid. "We have our rights and we have our free speech now"

10/10 Afghan lawmaker Dr. Farishda Amini from Nimroz in the parliament in Kabul

Three presidential hopefuls have taken the bold step of choosing a woman as a running mate, including one of the front-runners
Under the Taliban, women could neither attend school nor work, and were forbidden from leaving the house without a male guardian.
While the last decade has seen much progress, with millions of girls now attending school and women entering employment, particularly in major cities, some rural areas have seen little changed and hard-won rights are at risk of being reversed as aid and foreign troops are withdrawn.
Additional reporting by agencies
Reuse content