Everyone knows that Henry VIII had six wives, but could he also have had a seventh? The king, so far as we know, never considered marrying any of his many mistresses, but did entertain such thoughts towards the wife and (later) the widow of his closest friend. Unfortunately, when Henry was unattached, the object of his amour was married, and by the time she was widowed, Henry was himself again a husband. A sad story of what might have been then – if it is ever really possible to feel sorry for Henry VIII.
The woman in question was Katherine Willoughby who, as a 14-year-old, had married the near 50-year-old Charles Brandon, Duke of Suffolk, in 1533. She bore Brandon two sons, but the king soon had his eye on her. They began to exchange New Year gifts in 1534, and the Imperial ambassador, Eustace Chapuys, noted that he had been "masking and visiting" with her in March 1538, only months after Queen Jane Seymour's death.
Henry clearly enjoyed her company, and the frustrations of his later marriages can only have enhanced his feelings towards her. It is possible that by 1546 he was disappointed that Catherine Parr, his sixth wife, had failed to give him a second son, and more than ever saw this younger, perhaps more attractive, woman who was now a widow and the mother of two healthy boys, as the solution to his problem. He would not have been the first man to think that a new, more exciting, relationship would somehow restore his lost youth.
But it was not to be. Katherine Willoughby, like her friend Catherine Parr, was a feisty lady and a deeply committed Protestant. The cooling of relations between King Henry and Queen Catherine seems to have been due at least in part to Catherine's readiness to engage her husband in religious discussions, debates which Henry, who considered himself no mean theologian, sometimes found rather too challenging. In the final analysis it made little sense to exchange one virago for another, and the ambassadors and courtiers who, in 1546, thought that Henry was about to take a seventh wife were disillusioned. How Katherine Willoughby felt is not recorded, but it would have been an offer she could hardly have refused.
Wolf Hall cast in pictures
Wolf Hall cast in pictures
1/15 Wolf Hall

Mark Rylance as Thomas Cromwell in Wolf Hall

BBC

2/15 Wolf Hall

Damian Lewis as Henry VIII in Wolf Hall

BBC

3/15 Wolf Hall

Claire Foy as Anne Boleyn in Wolf Hall

BBC

4/15 Wolf Hall

Anton Lesser as Thomas More in Wolf Hall

BBC

5/15 Wolf Hall

Jonathan Pryce as Cardinal Wolsey in Wolf Hall

BBC

6/15 Wolf Hall

Mark Gatiss as Stephen Gardiner in Wolf Hall

BBC

7/15 Wolf Hall

Kate Phillips as Jane Seymour in Wolf Hall

BBC

8/15 Wolf Hall

Thomas Brodie Sangster as Rafe Sadler in Wolf Hall

BBC

9/15 Wolf Hall

Tom Holland as Gregory Cromwell in Wolf Hall

BBC

10/15 Wolf Hall

Max Fowler as Mark Smeaton in Wolf Hall

BBC

11/15 Wolf Hall

Jessica Raine as Jane Rochford in Wolf Hall

BBC

12/15 Wolf Hall

Bernard Hill as Duke of Norfolk in Wolf Hall

BBC

13/15 Wolf Hall

Natasha Little as Liz Cromwell in Wolf Hall

BBC

14/15 Wolf Hall

Joss Porter as Richard Cromwell in Wolf Hall

BBC

15/15 Wolf Hall

Richard Dillane as the Duke of Suffolk in Wolf Hall

BBC
But even if Henry and Katherine did not marry, is there any evidence that they became lovers? The birth of a child, a child the King subsequently acknowledged as his, would have answered the question, but neither he nor Katherine added to their families between 1538 and 1547. It has been suggested that Henry became impotent towards the end of his life; but whatever the truth of the matter, he had no more children by any of his last three consorts. Perhaps, at the end, he himself recognised that the survival of the dynasty depended on the son and two daughters he already had.
King Henry died in January 1547, but life was far from finished with Katherine. In June 1551 she suffered the tragedy of losing both her sons in a single day to the so-called "sweating sickness", and then had to watch helplessly when her step-granddaughter Lady Jane Grey was sent to the block three years later. By now, England was ruled by the Catholic Queen Mary, and Katherine, together with other Protestants, decided to seek safety and greater freedom in Europe. It was only after many tribulations that she and her second husband Richard Bertie (who had served as her gentleman-usher) found sanctuary in Poland. According to one account, the Polish king, Sigismund, had paid court to her during her widowhood, so it is possible to speculate that she might have married not one king but two.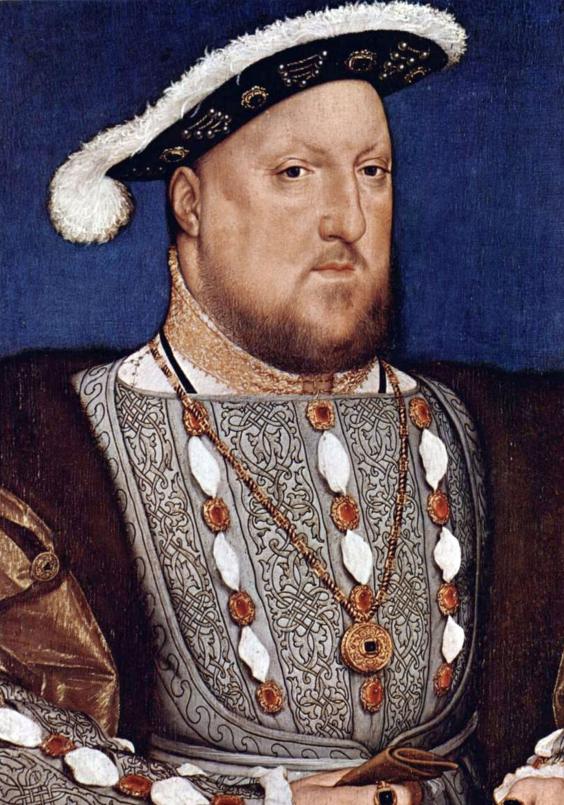 Katherine and her family returned to England after Queen Elizabeth I succeeded in 1559. She now had two more children – a daughter Suzan, and a son Peregrine, born during her exile and so named for her travels, or peregrinations. This was an era in which marriages were arranged with little regard for the feelings of the children whose union formed the central part of the contract, but it was a matter on which Katherine held a very firm – and to our minds progressive – opinion.
In 1550, she had refused to contract her eldest son by Charles Brandon to Protector Somerset's daughter – "I cannot tell what more unkindness one of us might show another, or wherein we might work more wickedly than to bring our children into so miserable a state not to choose by their own liking", she wrote – and although she did not wish Peregrine to wed the Earl of Oxford's sister, the marriage still went ahead. She had already broken with convention by marrying a servant, and did not deny others the freedom she enjoyed herself.
Katherine died in September 1580, aged 61. Her last years were spent promoting the Protestant faith at every opportunity. This was a potentially dangerous business – her puritanism was sometimes as much at odds with Queen Elizabeth's reformed faith as it was with Catholicism – but in the end she died in her bed, a survivor and, as one commentator has called her, "one of the most remarkable women of her time".
'Henry VIII's Last Love', by David Baldwin (Amberley, £20) is out now
Reuse content