Alastair Cook might have only scored 32 of England's 719 runs at Sophia Gardens but he still formed half of one of England's most important partnerships in their victory in the first Ashes Test, at least as far as assistant coach Paul Farbrace is concerned.
The other half is Trevor Bayliss, England's Australian head coach who only took up his position in May, and who is setting in motion a rapid turnaround.
"Neither of them has a big ego," says Farbrace. "Neither thinks it's all about them. They're both down-to-earth people, and the two of them have started really well together. What Trevor did really well was that he fitted into what we'd been doing, as opposed to everyone else having to try to fit around him, or him coming in and rewriting everything, starting everything from scratch. He isn't that sort of a bloke. He'll do his work quietly.
"What Trevor made very clear, the first thing he said, is that Cookie is the leader of the team, and everybody else is there to support him. I think that's something that will do Cookie a lot of good."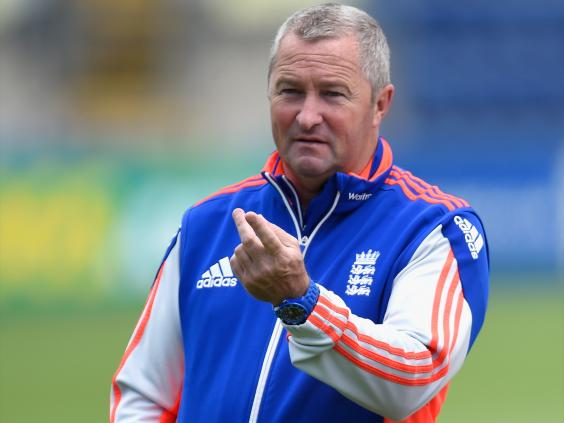 Above all else Bayliss has brought a sense of calmness to the setup. "He wasn't jumping around on Saturday night all excited, shouting from the roof tops. He reminded the players that they'd done very well, but that there was a game to be played in a few days' time and the Aussies will come back very hard at us.
"He keeps a very even level, and if he can maintain that over the next few years it will be a big influence on the England team. He's got a very good cricket mind, very shrewd, but his calmness is probably the most important thing. You would never know, looking at him, what the score was. I think you need to have that – because as well as this Test match that's gone, we know there are going to be tough times during this series, over the next four years that Trev's in charge."
It is this influence, Farbrace thinks, that has allowed Cook to convey to his players it is not all about scrapping and determination, but the freedom to express  themselves with bat and ball.
"Quite a few of the lads who played in this Test match [at Cardiff] have had a bit of time away from the England team over the last few weeks – and I think it gave them a chance to freshen up, take stock of where they were at as individuals," says Farbrace.
"We could see pretty much within the first day of practice at Cardiff that there were a lot of very motivated people who wanted to go and play with a bit more freedom. [Cook told the players] now was the time for us to actually show our skills, for the players to express themselves and enjoy playing for England and play with a bit of freedom."
Ashes 2015 First Test in pictures
Ashes 2015 First Test in pictures
1/45 Day One

Alastair Cook wins the toss and elects to bat first

Getty Images

2/45 Day One

Josh Hazlewood celebrates the wicket of Adam Lyth

Getty Images

3/45 Day One

Brad Haddin and Michael Clarke celebrate after dismissing Alastair Cook

Getty Images

4/45 Day One

Joe Root runs as Mitchell Starc looks on from the ground

Getty Images

5/45 Day One

Joe Root celebrates reaching his half-century in the first innings

Getty Images

6/45 Day One

Gary Ballance passes his 50 for England in the first innings

Getty Images

7/45 Day One

Joe Root passes his 50 for England on day one of the first Test

Getty Images

8/45 Day One

Nathan Lyon unsuccessfully appeals for the wicket of Joe Root

Getty Images

9/45 Day One

Steve Smith drops Gary Ballance before he reaches his century

Getty Images

10/45 Day One

Joe Root celebrates reaching his century

11/45 Day One

Gary Ballance reacts after being caught lbw by Josh Hazlewood

12/45 Day One

Joe Root raises his bat as he is dismissed for 134

13/45 Day One

Mitchell Starc goads Ben Stokes after taking the wicket of the Englishman

GETTY IMAGES

14/45 Day One

Jos Buttler was out for 27

GETTY IMAGES

15/45 Day Two

Wales rugby player Jonathan Davis started the day's action

Getty Images

16/45 Day Two

Stuart Broad struggled to cope with the high ball once again

Getty Images

17/45 Day Two

Moeen Ali hit 77 on his Ashes debut

Getty Images

18/45 Day Two

Mitchell Starc finished with five wickets as England were dismissed for 430

Getty Images

19/45 Day Two

Mitchell Johnson failed to take a single wicket in the first innings

Getty Images

20/45 Day Two

Warner failed to reproduce the fireworks that has tormented England in the past

Getty Images

21/45 Day Two

David Warner survived one lbw shout when James Anderson's ball pitched outside leg stump

Getty Images

22/45 Day Two

Alastair Cook dives to his right to take the wicket of David Warner

Getty Images

23/45 Day Two

England celebrate after James Anderson takes the wicket of David Warner

Getty Images

24/45 Day Two

Joe Root signals for help after Alastair Cook is hit by the ball

Getty Images

25/45 Day Two

Alastair Cook writhes in agony as Joe Root sees the funny side

Getty images

26/45 Day Two

Joe Root looks on as Alastair Cook receives treatment

Getty Images

27/45 Day Two

Cook gives the universal gesture that he's ok while tending to the injured area

Getty Images

28/45 Day Two

Steve Smith trudges off the field after being dismissed for 33 by Moeen Ali

Getty Images

29/45 Day Two

Moeen Ali (L) celebrates taking the wicket of Australia's Steven Smith

GETTY IMAGES

30/45 Day Three

Jimmy Anderson celebrates as the England bowlers restricted Australia to 308

Getty Images

31/45 Day Three

Australia celebrate the wicket of Gary Ballance, who was out for a duck

Getty Images

32/45 Day Three

Nathan Lyon was Australia's best bowler, taking four wickets

Getty Images

33/45 Day Three

After a poor first innings Ian Bell responded with a half-century to steady the ship

Getty Images

34/45 Day Three

Ian Bell falls on 60

Getty Images

35/45 Day Three

Joe Root batted his way to a decent 60

Getty Images

36/45 Day Three

Joe Root sweeps a shot away in his second innings

Getty Images

37/45 Day Three

No 10 Mark Wood made an impressive cameo at the end of the day, making 32 runs off just 18 balls

Getty Images

38/45 Day Three

Mitchell Johnson reacts to a missed chance in the second innings

Getty Images

39/45 Day Three

Mitchell Starc fields a ball from the boundary

Getty Images

40/45 Day Three

Mark Wood reverse-sweeps a shot towards Michael Clarke

Getty Images

41/45 Day Four

Alastair Cook leads England out on day four

Getty Images

42/45 Day Four

Stuart Broad runs off in celebration after having Chris Rogers caught for 10

Getty Images

43/45 Day Four

David Warner passes his 50 in the second innings

Getty Images

44/45 Day Four

David Warner was dismissed by Moeen Ali in the second innings for 52

Getty Images

45/45 Day Four

Alastair Cook leaps in joy as Moeen Ali traps David Warner lbw

Getty Images
Come the Lord's Test, Farbrace expects "Australia will come back tough, wanting to put things right, but it's important we match that.
"Trev said at the start of the series it was important we match fire with fire ... we've probably got to do exactly the same, probably even more so, come Thursday." One player Farbrace thinks will be critical to England's success is Ian Bell. He and the Australian captain, Michael Clarke, are the only men remaining from the landmark 2005 series. Then he was a newcomer, now he must pass his experience on to the rest. "There is no question, if we're going to have success through this series, Ian Bell is going to have to be a main player for us. He is a fantastic player, he has the experience of many Ashes series behind him, and he's been very successful.
"His 60 in the second innings, that was a really important innings for him, and for the team. He didn't just get himself to 60, he played brilliantly to do it."
Bell, 33, might well have been vice-captain, but that role has been given to Joe Root.
"The thinking was that if, for someone like Rooty, you're looking at the future, it was important he had some experience as vice-captain," Farbrace says.
"But Belly will always give, regardless of whether he's the vice-captain or not. Moeen Ali is a great example of someone that Bell took under his wing last year in the Indian series and spent a lot of time batting against in the nets, talking to him about his pace and variations. Scoring runs, taking catches, he is a massive player for us."
Hardys of Australia, proud sponsors of England Cricket. Show your support this summer using #HardysENG or #HardysAUS to win prizes
Reuse content